BWW Reviews: Larson Left His Mark with RENT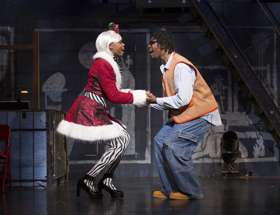 It's with a touch of sadness that RENT celebrates its 20th anniversary of its first national tour. The national tour company of the Jonathan Larson musical about artists trying to make it big in New York City rolled into Columbus for an eight-show stay March 19-24 at the Palace Theatre (34 West Broad St. in downtown Columbus).
Many media outlets, including Rolling Stone, Ranker, and The Guardian, all list RENT in their top 10 of all-time top musicals, putting the 1999 musical in with the HAMILTONs, WICKEDs, the LES MISERABLES, and THE PHANTOM OF OPERAs of the world. Yet with just one classic to his credit, creator Larson will never join the Parthenon of Stephen Sondheim, Andrew Lloyd Webber, Lin Manuel Miranda, Claude-Michal Schonberg or Stephen Schwartz.
On the morning of the show's first preview, Larson died from an aortic dissection. He never got to see how big his creation would become. Larson would have applauded the most recent adaptation of the musical, which won a Pulitzer Prize and three Tony awards in 1996.
One of the Unique Features of the two-act musical is that it's as pliable as Play-Doh. It can be twisted, turned and squeezed into different shapes and stages without losing its original form. The show's latest set is a multi-level stage composed of bicycle parts and other assorted debris.
The company brings a sense of life to the familiar themes of addiction, AIDS, death and life in the Bohemia of NYC. Logan Marks (who plays filmmaker Mark Cohen, the show's nerdy narrator) and Joshua Bess (who takes on the role of guitarist Roger Davis, who has AIDs) anchor the storyline as roommates. Marks provides an acerbic wit to an at-times detached observer while Bess gives Davis a lush singing voice to an otherwise brooding character.
A true ensemble piece, RENT has many working parts that have to click together. The relationships in the show are so complex that the Playbill for the show includes a polyromantic love hexagon to guide viewers through the maze of relationships. To wit, Mark used to date Maureen Johnson who is now dating Joanne Jefferson while Mimi Marquez has an on-again, off-again relationship with both Roger and his former roommate and current landlord Benny Coffin III.
Lencia Kebede (Joanne) and Lyndie Moe (Maureen) produce a combustible chemistry of a couple, whose relationship status is always listed as "it's complicated." Their incendiary duet on "Take Me or Leave Me," stands out as one of the center pegs in the musical.
Deri' Andra Tucker, a former New Orleans Saints cheerleader, provides a spark of energy as well as a beautiful voice as Mimi. Mimi and Roger go through a believable arc from awkward ("Would You Light My Candle) to intense ("Take Me Out Tonight") to estrangement (with "Without You" providing a poignant coda to their relationship).
A chance meeting between Angel Schunard (Javon King) and Tom Collins (Devinre Adams) provides the most stable of relationships in the musical. The two's playful affection on "I'll Cover You" in the first act make Adams' gospel, solo reading of the reprise starker and more moving in the second.
The show, however, is at its best when the entire company becomes involved in often overlooked gems "Life Support" and "Will I" mixing in well with the playful "Le Vie Boheme" and the powerful "Seasons of Love," a tune that is still capable of raising hairs on arms after over two decades.
Larson may have only one hit to his credit, but it is one of hell of a good one to have. It's a shame the world won't get to see what else he could have produced, if he had been given more time.
Remaining shows for RENT include 7:30 p.m. shows on March 20-21, 8 p.m. shows on March 22-23 and 6:30 p.m. on March 24 with afternoon matinees 2 p.m. March 23 and 1 p.m. March 24 at the Palace Theatre (34 West. Broad Street in downtown Columbus).