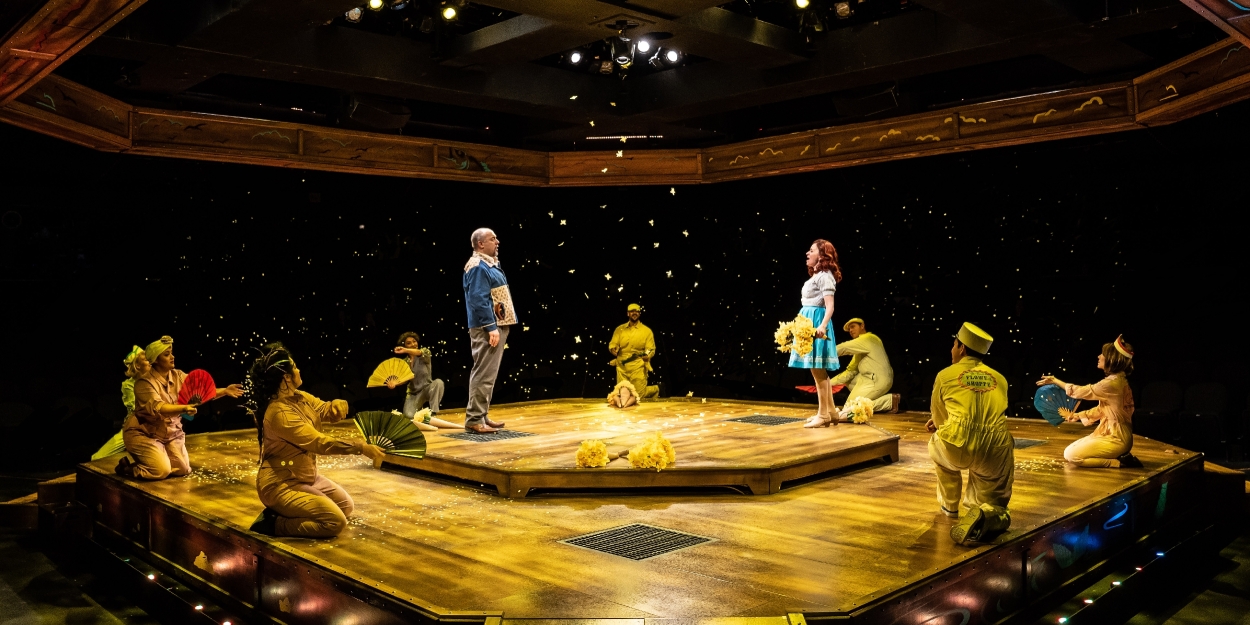 Review: BIG FISH at Marriott Theatre, Lincolnshire IL
Production runs through March 19
Bring tissues - lots.....
The new theater season has begun. The current production at Marriott Theatre is Big Fish which is based upon the novel by Daniel Wallace and the Columbia Motion Picture written by John August. The book is by John August and music and lyrics by Andrew Lippa. Under the direction of Henry Godinez and associate director and choreographer Tommy Rapley, this story of a big fish, a witch, Karl the giant, a mermaid and a circus run by a werewolf are brought to life in all their glory. In the end, though, it is about love and family.
Immediately we learn that Edward Bloom (Alexander Gemignani in his commanding Marriott debut) loves to tell tales and has been telling these tales to his son Will, now an adult (touchingly portrayed by Michael Kurowski) but also when he was a child (young William Daly in his Marriott debut). The love of Edward's life, his wife Sandra, is portrayed by the always engaging Heidi Kettenring, last seen at Marriott as Dolly Levi. Will is engaged to Josephine (the versatile Lydia Burke) and he is afraid his father will embarrass the family (especially himself) if he talks at their wedding. Edward tricks Will into telling him that Josephine is pregnant. Edward finds out he has cancer and has several months to live. Will and Josephine return to Alabama from New York so Will can find out the truth about Edward's tales and also about the character of his father.
Edward's tales include a witch (Lucy Godinez ), a mermaid (Ayana Strutz), a giant named Karl (Jonah D. Winston in his Marriott debut) and Amos Calloway (Emma Rosenthal) who runs a circus and is a werewolf. Apparently this is where he saw Sandra for the first time and was smitten. He follows her to Auburn College. She is engaged to Don Price (Brandon Dahlquist) who is from Edward's hometown where the 2 have always been in competition. Don and Edward engage in a fight at which point Sandra tells Don goodbye. Edward proposes and assures her they will love each other forever and promises her a lifetime of daffodils - her favorite flower. Will finds a deed in the name of Jenny Hill (Allison Sill) who loved Edward from the time they were teenagers. Will asks Edward about Jenny but Edward kicks him out. As Edward is in pain, Sandra comforts him. He tells her the roof should hold up another 10 years after he's gone. In one of the most moving moments of the evening, Sandra sings to Edward she doesn't need a roof. Will confronts Jenny Hill about the deed and Jenny tells Will that Edward returned to his hometown many years before and found out the town is to be flooded. Edward rescues the town by visiting Karl and Amos who are now successful and rich due to Edward helping them to believe in themselves. They give him money and land. Edward convinces the citizens to leave and start a new community. Will receives a call and must go to his father in the hospital. He helps Edward to "escape the prison" (hospital) and go to the river where Edward's big fish tale was told for the first time. At Edward's funeral, Will sees that each guest appears to be a reflection of the characters of Edward's tales. Will asks the name of the last guest, a tall man, and the guest responds simply "I'm Karl". Years later, Will, Josephine, Sandra and Will's son (William Daly in a dual role) are at the river and Will begins to tell Edward's big fish story.
Collette Pollard's set design and lighting by Jesse King bring each tale to life. Amanda Vander Byl's imaginative costumes are colorful and compliment each character. The orchestra under the direction of Kevin Reeks is a treat to the ears. The story of Edward and his tales is ultimately about love, family and friends. This production will make you laugh, cry several times but in the end, will make you think of those people in your life you hold dear. That's what good art does.