BWW Review: A Less Than Full THE FULL MONTY at Theo Ubique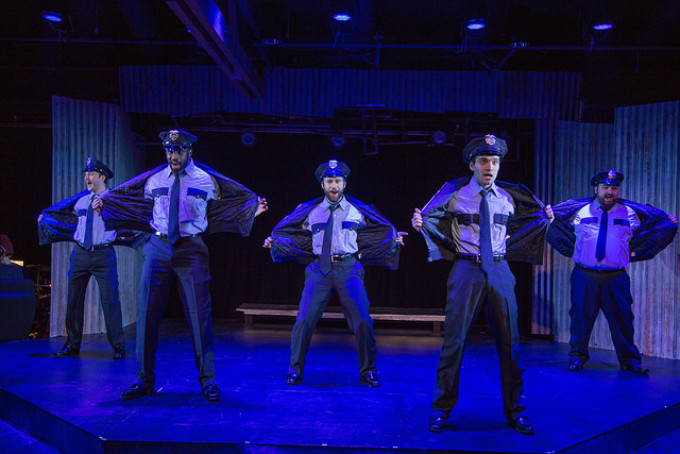 Everything feels fresh and new in Theo Ubique's new space on Howard.
Everything, that is, except for the show.
To borrow a lyric from THE FULL MONTY, things could be better 'round here.
While the show does feature a tuneful pop, rock and jazz-fueled score and lyrics (both by David Yazbek in what was his first foray into writing for the stage; he won a Tony in June for THE BAND'S VISIT), the book for the 2000 musical by Terrence McNally (based on the 1997 British comedy film) hasn't aged particularly well.
In a nutshell: unemployed steel factory workers in Buffalo hatch a scheme to strip completely nude ("the fully Monty") for a one-time money windfall, hopefully reclaiming some self-respect and pride along the way.
Given our current political and economic climate, this should be resonating a bit more than it does. Unfortunately, the show is a bit of a dud on arrival.
As the ringleader and chief scheme-hatcher Jerry (who decides to turn to stripping one night only to pay back child support or else lose joint custody of his son), Matt Frye's performance is missing a bit of charm. He's angry the world has changed and is steadfast in his refusal to change with it. While there is a great amount of truth to his performance of an unemployed steel worker with zero employment options, his Jerry is a mopey sad sack. The performance is a one note ode to toxic masculinity. You never really root for him and instead end up wanting to blame him for the Trump presidency.
The couples struggling to chart the new economic reality end up being the heart of this production as a result. Former factory manager Harold (Jonathan Schwart) can't bear to tell his materialistic wife Vicki (Emily Barnash) that he no longer has the funds nor means to keep her in the lavish lifestyle she has grown accustom. Overweight and lovable Dave (Nick Druzbanski) suffers from both body and masculinity issues when his wife Georgie (Molly LeCaptain) is forced to become the breadwinner. Both men seem blind or ignorant to the reason why their wives fell in love with them. All four turn in some terrific performances that almost succeed in salvage this mess. LeCaptain, in particular, continues to be one of those musical talents in town to watch.
Nerdy factory security guard (and mama's boy) Malcolm (Joe Giovannetti) and accident-prone Ethan (Neil Stratman) also elevate the proceedings with performances that are both touching and funny.
As the middle aged guy who is desperate to show he still has the moves, Marc Prince also hits his mark as Noah, aka "Horse." This despite the lyrics of a solo, "Big Black Man" that border on being racist.
As the retired show biz pro and sarcastic rehearsal accompanist Jeanette, Kate Harris does her best to liven up things with a few improvisational quips, but the scripted jokes for her character don't seem to land even in her capable comedic hands.
Chicago theater mainstay John Cardone again turns in a solid performance in a host of small roles. He has developed a niche as the go-to actor companies use to fill in all the secondary roles and Cardone makes the most of each and every one of them.
As a whole, things never seem to come together, though. The entire production is more "meh" then mesmerizing. The same 85 seats that felt intimate in the company's old home at the No Exit Café feel cavernous here. The stadium seating at the back of the house is oddly off center from the stage (tip: arrive early and grab one of the seats on the far right that are stage center). It is almost as if no one took into consideration sight lines as the new space was constructed.
Perhaps most egregious, the band, led by musical director Jeremy Ramey, did not appear very tight. Jeff Burden's trumpet and Alex Piazza's trombone were off a few times. Worse still, at several points in the performance on Monday night, the entire band completely drowned out the unamplified singers; the few microphones suspended immediately around the stage seemed to have little effect unless actors were standing directly under them and singing up.
One does have to wonder what director Fred Anzevino was hoping to achieve here. The company he co-founded has made a reputation out of taking large musical spectacles and stripping them down to their most moving and intimate essence. THE FULL MONTY is already an intimate musical. Where was he hoping to go from there?
After seeing this production, one hopes the only answer now is "up."
THE FULL MONTY runs through Jan. 27, 2019 at Theo Ubique's new home, 721 Howard. Tickets $39-$44. Option diner available for $25. 800.595.4849. www.theo-u.com