Flat Rock Playhouse Studio 52 Presents Disney's ALADDIN JR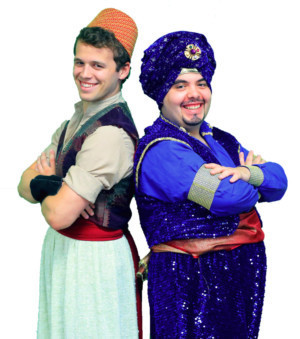 Experience a whole new world, shining, shimmering, splendid at the Flat Rock Playhouse's next Studio 52 Family Friendly Series production of Disney's Aladdin Jr.! Flying into the Playhouse Downtown this June 21st - July 15th, this musical will bring the favorite childhood story and iconic animated film to life right before your eyes. With an Academy Award-winning score by Alan Menken, Howard Ashman, and Tim Rice, audiences will soar above the clouds and explore the depths of the Cave of Wonders. Featuring all your favorites songs, A Whole New World, A Friend Like Me, and Prince Ali, enjoy the magic, adventure, and mayhem of this classic tale
Disney's Aladdin Jr. begins in Agrabah, home to Aladdin who is down on his luck until he discovers a magic lamp and the Genie who has the power to grant three wishes. Meanwhile the Sultan, princess Jasmine's father, wishes her to select a suitor despite her refusal to accept the pompous princes he has presented to her while the villainous Jafar and his sidekick Iago concoct an evil plan to become the new Sultan that leads him on a chase to find the magic lamp and the Genie within. When Jasmine runs away from the castle and happens to find Aladdin, the two get swept up on a magical adventure to outsmart Jafar and discover the confidence and strength they need to be their true selves and follow their own hearts.
Disney's Aladdin Jr. will feature a cast of locals as well as the 2018 Flat Rock Playhouse Apprentice Company including Sawyer Pollock as Aladdin, Sophie Scarpulla as Jasmine, Brian Wittenberg as Genie, Wildlin Pierrevil as Jafar, Tuan Malinowski as Iago, Cory Simmons as Sultan and Kyra Hewitt as Abu. Featured in the ensemble are Cassidy Beal, Evan Bertram, Kya Bielecki, Xavier Cacanindin, Sawyer Casto, Hallie Chapman, Ella Christian, Marissa Connelly, Christian Corral, Eleni Demos, Blair Ely, Jaylan Evans, Jayna Gerber, Brody Grant, Jeremiah Harris, Jake Kantor, Aniela Lane, Azaria Miller, Eden Pace, Molly Penny, Jamie Riedy, Brianna Stone, Caitlyn and Layla Zeferino.
Disney's Aladdin Jr. will be directed by Matthew Glover with Jami Brooks as Student Assistant Director. The show will be choreographed by Maddie Frank with Blair Ely as Dance Captain. Ethan Andersen will be the Music Director with Evan Bertman as Vocal Captain. Zeinab Caskey serves as Stage Manager with Riley Hewitt as Student Stage Manager with Clara Hockenberry on the crew. Adam Goodrum will serve as Production Manager. Sam Yeager and Chris Simpson will serve as Co-Scenic Designers with CJ Barnwell, Janet Gray, and Kurt Conway serving as Scenic, Lighting, Costume, and Sound Design respectively. Cassidy Bowles will be designing the properties.
Disney's Aladdin Jr. is presented by the Downtown Series Sponsor Rug and Home, Studio 52 Productions Sponsor Park Ridge Health, and Executive Producer Kimberly Clark.
Disney's Aladdin Jr. runs June 21st through July 15th at Flat Rock Playhouse's Downtown. Performances Thursday at 3:00 PM, Friday and Saturday at 1:00 PM and 4:00 PM, and Sunday at 3:00 PM, except on Friday 7/13 at 7:00 PM and Saturday 7/14 at 2:00 PM and 7:00 PM. Tickets are $14 - $28 and can be purchased by calling the Playhouse box office at 828-693-0731, toll-free at 866-737-8008 or online at www.flatrockplayhouse.org.
Flat Rock Playhouse Downtown is located at 125 S Main St, Hendersonville, NC 28792.
In 1937, a group of struggling performers, led by Robroy Farquhar, organized themselves as the Vagabond Players. The Vagabonds worked in a variety of places over the course of three years, and in 1940 found themselves in the Blue Ridge region of Western North Carolina. The local and tourist community welcomed them with open arms when they presented their first summer season of plays in a 150-year-old grist mill they converted into The Old Mill Playhouse at Highland Lake. So successful was that summer, they returned in 1941. After WWII, the Vagabond Players reorganized, came back to the region and opened a playhouse in nearby Lake Summit. The Lake Summit Playhouse thrived during the post war years and soon the Vagabond Players were looking for a larger and permanent home. In 1952, the troupe of performers, and a newly formed board of directors, made an offer to buy an 8-acre lot in the Village of Flat Rock. This new home made the Vagabonds "locals" and a rented big top gave birth to Flat Rock Playhouse. As the beautiful Western Carolina region continued to grow, so did the Playhouse and in 1961, by Act of the North Carolina General Assembly, Flat Rock Playhouse was officially designated The State Theatre of North Carolina. What began as a few weeks of summer performances in 1940 is now a nine-month season of plays including Broadway musicals, comedy, drama, and theatre for young audiences. The Playhouse's dual mission of producing the performing arts and providing education in the performing arts includes a professional series; a summer and fall college apprentice and intern program; and Studio 52, year-round classes and workshops in theatre and film for students from kindergarten through adults. Flat Rock Playhouse now hosts over 100,000 patrons annually and is a significant contributor to the local economy and the Arts in North Carolina.