Review: WEST SIDE STORY This Summer's Best Bet at EPAC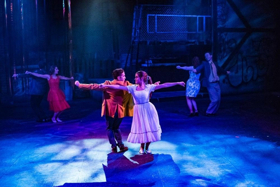 WEST SIDE STORY, book by Arthur Laurents, lyrics by Stephen Sondheim, and music by Leonard Bernstein, a triple-header team, WEST SIDE STORY, that walked off with six Tony nominations in 1957, is somehow the musical that lost to THE MUSIC MAN for Best Musical that year. Now, there's not a thing wrong with THE MUSIC MAN, but everything has always been very right about the classic tale of Romeo and Juliet meet the gritty streets of New York.
It's particuarly right in Ephrata Performing Arts Center's production, directed by Edward R. Fernandez. Heavy credit must go to Kristin Pontz, whose choreography is spellbinding - it's reminiscent of Jerome Robbins' original work without being derivative, and blends in magnificently with Preston Cuer's fight choreography. If you had no other reason to see this prodction, the dance alone is sufficient here. From the mambo to street rumbles, this production is entirely about movement, and marvelously so.
Then there's the music. The miracle that is Leonard Bernstein's Latin jazz score is sometimes overlooked, or held back, in many productions. Here it's a character of its own, counterpointing the dance, surrounding the vocals, and providing notes of discordance that punctuate the tensions of the characters. And tensions there are in WEST SIDE STORY - romantic tensions, family tensions, racial tensions, class struggle, and a healthy dose of adolescent and young male hormones (which, as Anita notes, are best channeled to their partners after a good fight, underscoring the sexual tension in the show as well). If the plot weren't aimed at it to begin with, WEST SIDE STORY would explode anyway, and the music would help carry it.
WEST SIDE STORY is one of those shows you've almost certainly seen. High schools do it, usually trying to play down the hormones and sexual tension. Community theatres do it. It's been revived on Broadway more than once, most recently just this last decade. The movie has always been popular. So it's normally hard to watch a production and find anything new in it. It's not necessarily dated, but it's usually not fresh. The current production, however, feels fresh, not just because teen gangs and gun violence have only become more widespread, including in our own area, but because Fernandez wisely has cast a number of the area's better very young actors playing the Jets and the Sharks. Too often, non-high-school productions of the show have actors just slightly too old to be realistic youth gang members playing a few years younger; here, the Jets and the Sharks exude individually the feeling of adolescent and post-adolescent explosiveness.
Victoria Gaffey's Maria is fresh and sweet-voiced, with an ability to project the fresh-off-the-boat-from-Puerto Rico impression that is integral to the plot. Her innocence of events during "I Feel Pretty" is palpably painful to watch, as she goes about her explanation of her happiness with no idea that her brother is dead. Brad DeLeone's Tony has a remarkable voice, obvious talent, and needs, like Gaffey, to be back on the EPAC stage in short order. The two have ridiculously excellent chemistry, and their acting chops are considerable.
Bernardo, Maria's brother, played by Ian Sanchez, and Anita, played by Cara Clase, are equally fine in their work, with Sanchez able to switch from tough gang leader to devoted brother to lover without missing a beat, and Clase a model of temperament and temper, passionate in all things - her "A Boy Like That" is venomous and wonderful.
The Jets and Sharks ensembles are excellent as well; the "Jet Song" opening is enough to make anyone want to sign up, with an air less of youth gang than of La Cosa Nostra to its "family" sentiment, and with both ensembles notable in "Tonight" and the rumble. However the Jets must be praised fully for a marvelous delivery of the show's pointed and still relevant "Gee, Officer Krupke."
The adult cast includes Bobby Checchia as Krupke, nightstick in hand; Bobby Checchia as Lieutenant Shrank, both fiercely legalistic and airily racist; and veteran performer John Kleimo as Doc, channeling his inner Jack Klugman to make Doc's limited stage time memorable in its power.
This is your summer must-see show. At EPAC through August 4; visit ephrataperformingartscenter.com for tickets and information.