Latest News on John Kleimo
John Kleimo News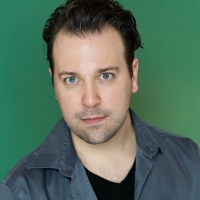 Jordon Ross Weinhold to Star as Reverend Hale In EPAC's THE CRUCIBLE
by Chloe Rabinowitz - Jun 15, 2022
The Ephrata Performing Arts Center will be presenting the Tony Award-winning classic American play, The Crucible by Arthur Miller, June 16th through 25th, 2022. Lancaster stage veteran Jordon Ross Weinhold (EPAC's A Gentleman's Guide To Love And Murder and The Boys In The Band) will be stepping into the role of Rev. John Hale for the entire run.
BWW Review: SOMETHING ROTTEN at EPAC
by Rich Mehrenberg - Oct 10, 2021
Don't let the name fool ya. EPAC's production of Something Rotten is totally fresh. In fact, it is their best show post-pandemic, by far. (Any show that rhymes 'penis' and 'genius' in it's first ten minutes is gonna crack you up!)
BWW Review: THE DEVIL POURS IT STEADY at Orpheus Theater
by Rich Mehrenberg - Jul 20, 2021
The Devil Pours It Steady is the latest offering by local playwright, Tyler Rossi. The show is available for streaming now through July 23rd and is produced by the Orpheus Theater. Rossi's resume includes many compelling dramatic pieces including Verboten and End of the Line. The current work falls a little short.

Randy Jeter Stars In EPAC's RAGTIME
by Stephi Wild - Apr 9, 2019
Ephrata Performing Arts Center will present RAGTIME, April 25 - May 11, 2019, at the Sharadin Bigler Theatre. RAGTIME is the Tony Award-winning musical with a book by Terrence McNally, lyrics by Lynn Ahrens and music by Stephen Flaherty.

BWW Review: WEST SIDE STORY This Summer's Best Bet at EPAC
by Marakay Rogers - Jul 27, 2018
WEST SIDE STORY, book by Arthur Laurents, lyrics by Stephen Sondheim, and music by Leonard Bernstein, a triple-header team, WEST SIDE STORY, that walked off with six Tony nominations in 1957, is somehow the musical that lost to THE MUSIC MAN for Best Musical that year. Now, there's not a thing wrong with THE MUSIC MAN, but everything has always been very right about the classic tale of Romeo and Juliet meet the gritty streets of New York.
BWW Review: THE WIZARD OF OZ at EPAC
by Rich Mehrenberg - Dec 8, 2017
There's no place like home and there's no place like the Ephrata Performing Arts Center for the holiday season. EPAC sidesteps the glut of 'A Christmas Carol' productions performed at community theaters this time of year, and instead, puts on Decembers shows that are big, fun, and targeted for the entire family.
GLENGARRY GLEN ROSS Comes to EPAC on September 8, 2016
by A.A. Cristi - Aug 22, 2016
David Mamet's award winning drama Glengarry Glen Ross, follows four real estate agents in Chicago as they come under intense pressure to be top performers at any cost. After successful runs in London and Chicago, Glengarry Glen Ross moved to Broadway in 1984 and to the silver screen in the 1992 film of the same name starring Al Pacino, Jack Lemmon, Alec Baldwin, and Kevin Spacey. The combined stage and film versions of Glengarry Glen Ross won the Pulitzer Prize, a Tony award, and several Academy Award nominations.