The Illustrious Blacks Arrive at Joe's Pub Next Month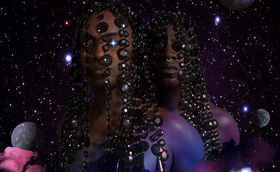 The Illustrious Blacks have arrived to save the world one beat at a time!
Once Upon a time in a galaxy not far away, there lived two kings. Each was the ruler of his own deliciously glorious planet. The first king, Manchildblack, was well known throughout the cosmos for his ethereal vocals, celestial sonics and earthy musical messages. The other king, Monstah Black, was a star in the solar system for his gravity defying performances, gender bending fashions and spacey disposition. One magical night, an inexplicable ultra-magnetic pull forced the two planets to collide. A technicolor-ed explosion occurred, turning night into day, with a feast of aural and visual delights. It was then that the universe was changed forever. Manchildblack and Monstah Black united and became The Illustrious Blacks!
The acclaimed duo fuse music, dance, theater & fashion as the main ingredients to expand minds, shake bootys and encourage all to be bold, be brave and be you!
Shows are Thursdays, September 7, October 26 & November 30. BUY TICKETS!