THE GREEN ROOM 42 Spotlights The Music Of Eddie Bean Tonight, March 4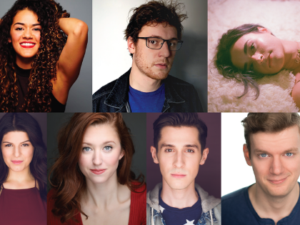 THE GREEN ROOM 42 - Broadway's newest intimate concert venue - will present The Music of Eddie Bean tonight, Monday, March 4 at 9:30 PM. The composer and artist Eddie Bean makes his debut at the club with an eclectic showcase of his music. Eddie's writing directly taps into his love of theatre, foundational classical training, and former rock band glory day debauchery. He will be joined by a ragtag band of patiently suffering musicians and several featured vocalists to perform a variety of original material spanning theatre projects new and old, angsty songwriting, art songs, and a healthy dose of wry banter.
The show features performances by Tiger Darrow, Trevor Dorner (Million Dollar Quartet, national tour), Molly Dunn, Josh Greenblatt (Jersey Boys, tour), Kalyn West (The Prom), and Emily Grace Tucker (Elf, national tour). The band includes Janna Graham (Merrily We Roll Along), Magda Kress and Henryk Kress.
The Music of Eddie Bean will be performed at The Green Room 42 (570 Tenth Avenue at 42nd Street, on the 4th Floor of Yotel) on Monday, March 4 at 9:30 PM.. The cover changes is $15-$45. There is no food and drink minimum. For tickets, please visit www.TheGreenRoom42.com.
THE GREEN ROOM 42 recently celebrated its second anniversary as the theater district's premiere destination for live music and events. The space lets audiences experience shows up close and personal. During the shows, guests can enjoy Mediterranean-inspired dishes alongside signature cocktails, craft beer and wine with no food/drink minimum. Tickets can be purchased at www.TheGreenRoom42.com. The Green Room 42 is located at 570 Tenth Avenue in New York City; @TheGreenRoom42.