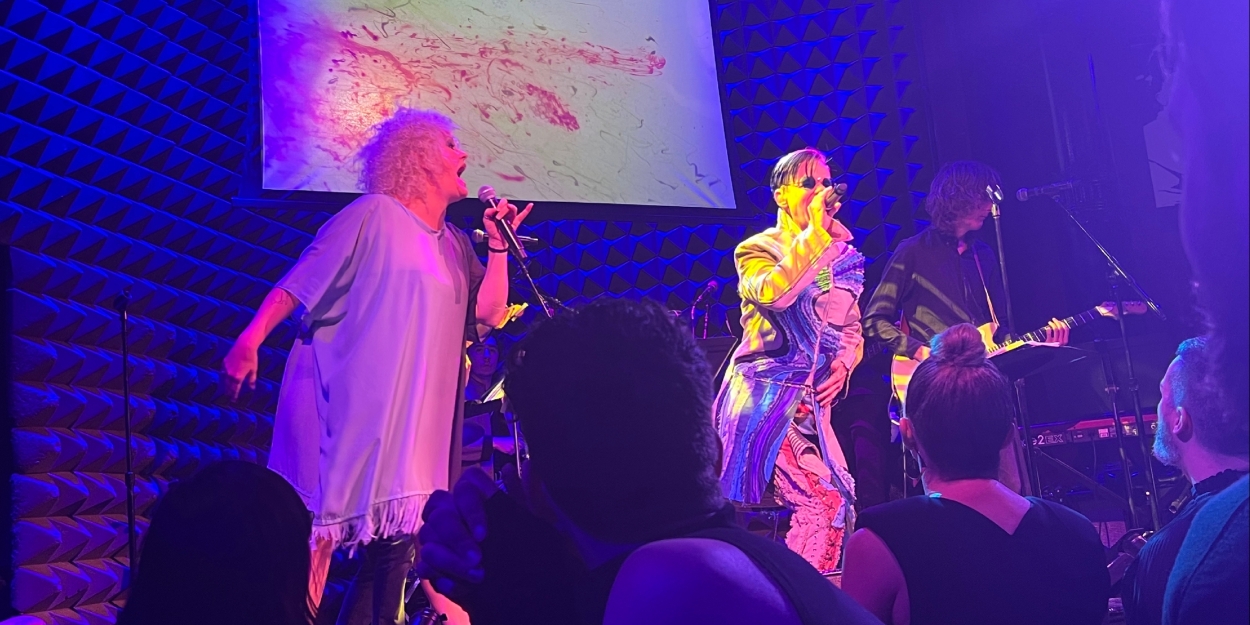 Review: A Night of Full Psychedelic Satanism with JOHN CAMERON MITCHELL & AMBER MARTIN: CASSETTE ROULETTE at Joe's Pub
It was a night you never wanted to end.
John Cameron Mitchell and Amber Martin ended their five-show run of Cassette Roulette Sunday night, January 26th, at Joe's Pub. The show, running over two hours long, was, as Amber Martin put it, "full psychedelic satanism," that you never wanted to end. For those wondering what that means, it means it was a nonlinear, back-in-time, off-the-cuff, artistic, karaoke of their lives, story-rich, hilarious, funky, show. Joined by J. Hoard as an opener and the Tits of Clay Band, it was a truly magical, one-of-a-kind night.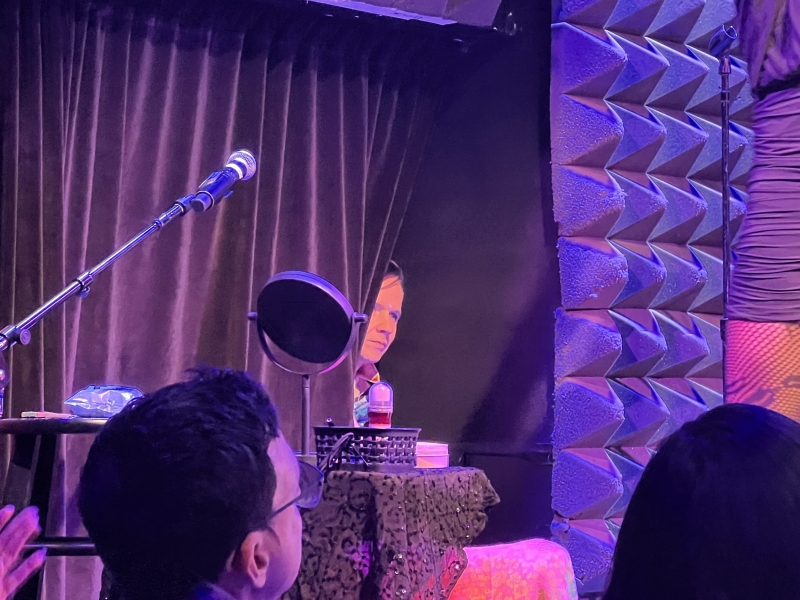 J. Hoard, dressed in a stunning red mesh unitard, opened the show accompanied by Brandon Kazen-Maddox on the hands. Hoard played the synthesizer and sang as Kazen-Maddox signed ASL to the music. The way Kazen-Maddox signed was a performance within itself. They had a way of moving to the music that beautifully blended dance and language, using their entire body and not just their hands. J. Hoard sang his own music that spoke about love and being open. Not many cabaret shows have openers, but this night was unlike any other cabaret show. John Cameron Mitchell met J. Hoard by chance in Prospect Park and their friendship blossomed from there. It was evident John had a lot of pride seeing J. Hoard perform when he peeked out the curtain to get a view of the performance.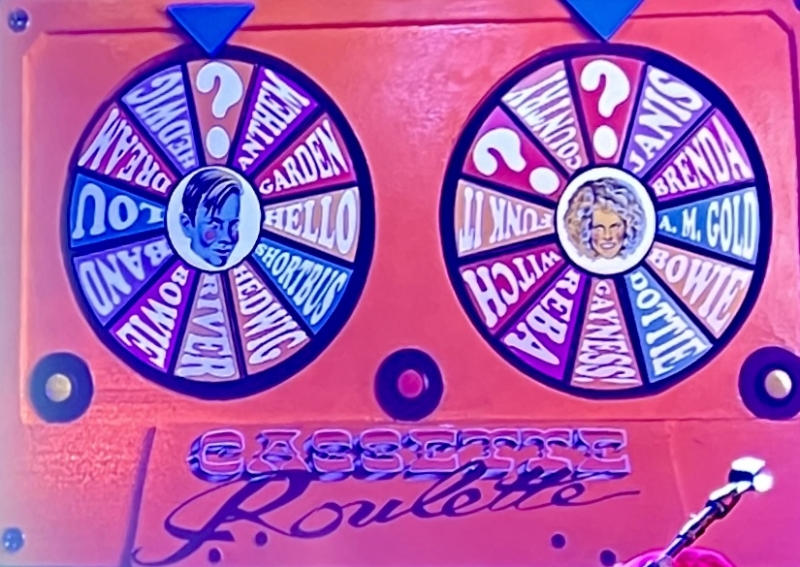 Amber Martin and John Cameron Mitchell tore up the room as they blasted out from the curtain singing Cassette Roulette, the inspiration for the show's name, no doubt. The duo played their own game of cassette roulette, giving their show a sense of unique spontaneity. The audience got to decide the direction of the show by pressing the "clit," a button that spun their individual roulette wheels. John Cameron Mitchell's wheel was comprised of Hedwig and the Angry Inch, David Bowie, New American Dream, Anthem, and others. As Amber introduced her wheel she quipped, "For those of you in the room who don't know who the f*ck I am, you're gonna find out." Although her statement might be true for some, once you learn who Amber Martin is, you never forget.
Amber Martin has had a long cabaret career filled with many accolades. Growing up in the '70s and '80s, people like Carol Burnet, Lily Tomlin, Janis Joplin, and Dolly Parton were very influential to her. She and John met 15 years ago, and she later joined him for his Origin of Love tour. That is where they came up with the idea for the Cassette Roulette show at Joe's Pub. The majority of the people may have come to see John, but Amber really stole the show. She had a few characters, including a spot-on impersonation of Reba and Mary Lennox from The Secret Garden. But her character that really shined was Brenda Snail: a unibrow-wearing, mole-having, kooky diva. Brenda had the look of a discount Liza Minnelli, the personality of a star, and the voice of a man that had too many drinks before karaoke. She sang a rendition of "I Will Always Love You" and pranced about the room, getting intimate with the audience. John sat in the crowd, enjoying the show just as much as the rest of them, while Brenda mumbled her words and fast-forwarded through the song to get to the high notes. She moved the audience to tears... tears of laughter.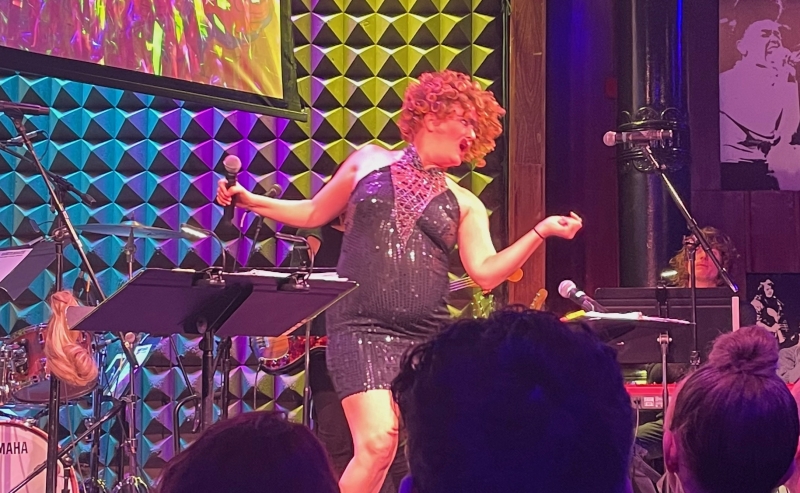 John Cameron Mitchell showed his intellect by the way he alluded to the biblical and philosophical works that have influenced his own art. The most evident was from his popular song, "The Origin of Love" which is a beautiful retelling of an ancient Greek myth from Plato's Symposium. He also sang a song from one of his more recent albums, "New American Dream," entitled "Sophia." Before the music began, John explained a story from the Gnostic Gospels, in which Sophia is the mother of the god of the old testament. He drew inspiration for the song from this queer and feminist interpretation of the bible. Though John has a unique voice, what's most impressive about him is his storytelling and his mind.
Amber and John are a duo like no other. Every artistic choice they made felt simultaneously improvisational and well thought out. From the outfits they wore to the makeshift vanity for Amber on stage, to the live projections on the screen behind them, it was a perfect medley of music and show. As a cabaret enthusiast and someone who has worked in the field for over 3 years, I have seen hundreds of shows. This was the best cabaret show I've seen by far. It was unscripted, genuine, and pure genius.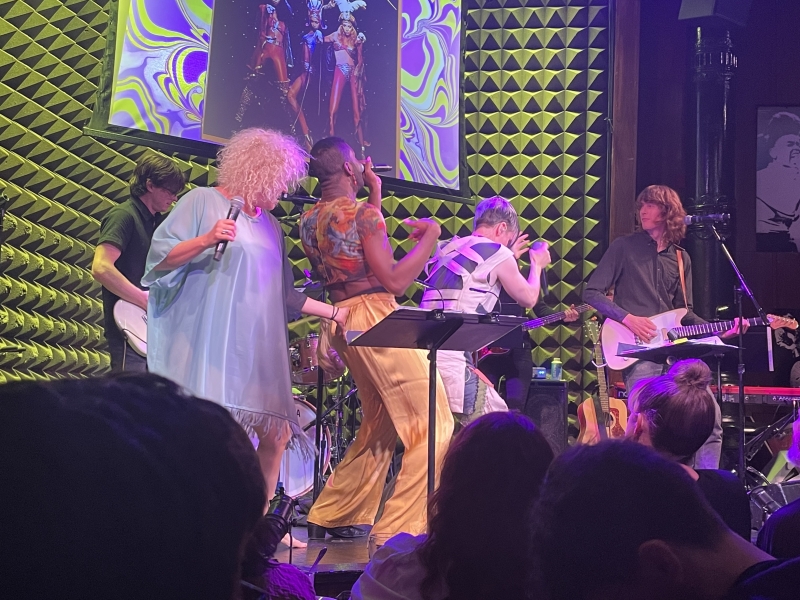 John and Amber do not have any other upcoming show at Joe's Pub but keep a look out for Amber's upcoming country album coming out soon
John Cameron Mitchell's website is here.
Amber Martin's website can be found here.
J. Hoard's website is accessed here.
Brandon Kazen-Maddox's website is easily visited here.
Find other great shows like this one on the Joe's Pub website here.