Live & In Color Presents ARE WE THERE YET?! A Musical Road Trip hosted by Ann Harada.
The evening will feature a roadmap of songs from Live & In Color's artistic community and will serve as a fundraiser to support the company's development of new works.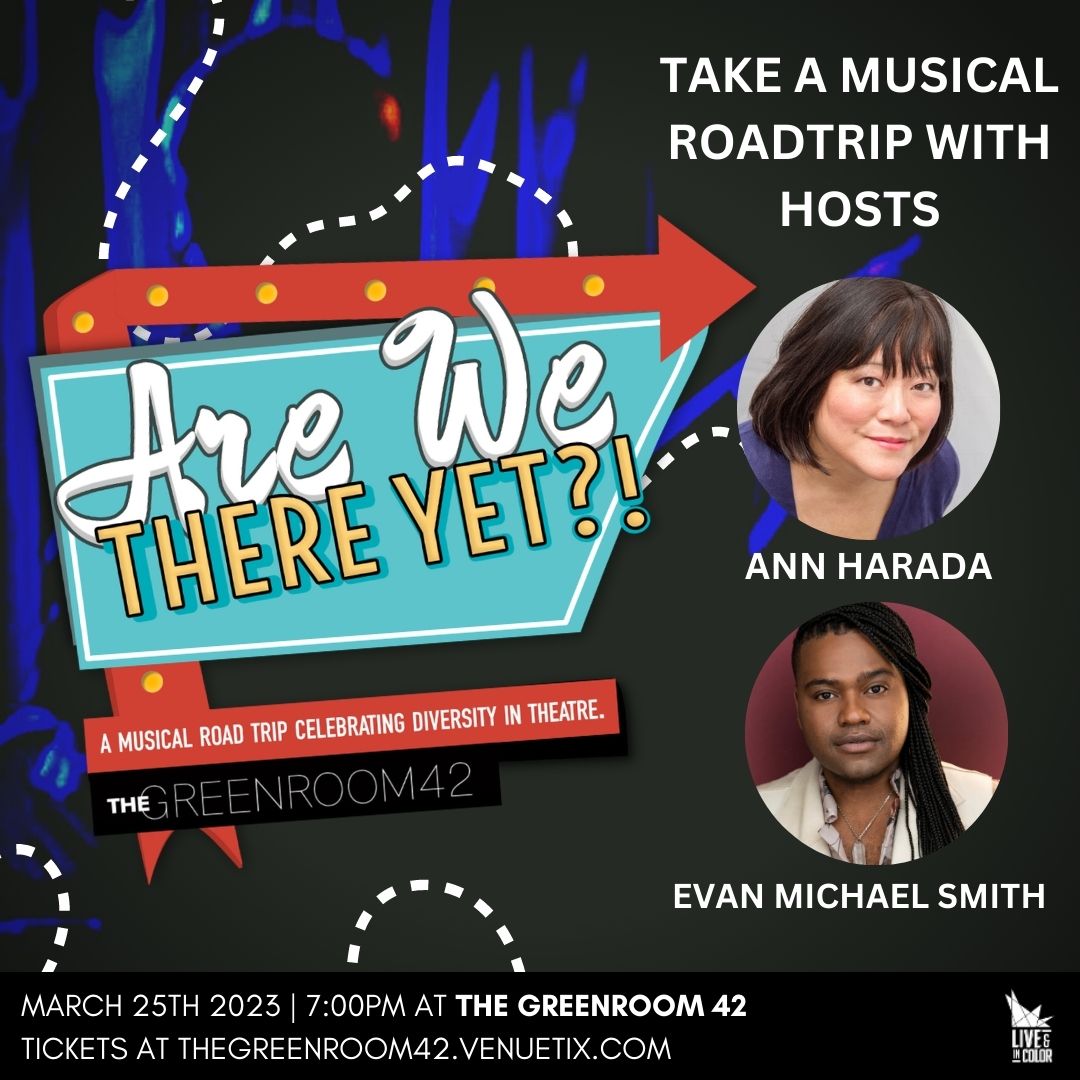 Pack your bags! Live & In Color is taking a tour of the artists and pieces pushing the industry toward equity and inclusion. The evening will feature a roadmap of songs from Live & In Color's artistic community and will serve as a fundraiser to support the company's continued mission to develop commercially bound plays and musicals created by artists who exist within the intersections of underrepresented identities and center inclusion.
The set list features songs from Black Girl In Paris by AriDy Nox & Jacinth Greywoode, Desaparecidas by Jaime Lozano & Florencia Cuenca, "From The Hearth" By Sio Tepper, Howdyland! by JB Tang Jackson & Dominique Gélin, "Into the Dawn" by Jessica Wu, MAYA by Cheeyang Ng & Eric Sorrels, Siluetas by Erlina Ortiz & Robi Hager, Within Elsewhere by Joshua Betancourt & Trent Jeffords, and The Waiting by EmmaLee Kidwell & Maria Andreoli.
This one-night-only event is directed by Abigail Grubb, with music direction by Katie Coleman, and will be hosted by Ann Harada & Evan Michael Smith. The evening will feature sensational performances from Evan Michael Smith, Falan Nuhring, Florencia Cuenca, Gabriella Mancuso, Emmanuel De La Rosa, Kimberly Chatterjee, Morgan Smart, Maya Santiago, Sio Tepper, and many more.
Live & In Color is celebrating the impact our artists and their work have had on the industry. While we may not be quite "there yet" in terms of equal representation in the canon for underrepresented voices, we are proud of the strides we have made in giving our artists a platform to have their work developed and produced.
Taking place Saturday March 25th, 2023 7:00pm. For tickets to this event, visit https://cloud.broadwayworld.com/rec/ticketclick.cfm?fromlink=2229442®id=13&articlelink=https%3A%2F%2Fthegreenroom42.venuetix.com?utm_source=BWW2022&utm_medium=referral&utm_campaign=article&utm_content=bottombuybutton1.
Founded by Devanand Janki, Live & In Color is a creative incubator for new plays and musicals bound for commercial success, with a core mission of diversity and inclusion in all aspects of the theater industry-on and off stage, and at every level of creative and business touchpoint. In its first seven seasons, Live & In Color has developed the musicals Little Girl Blue by Laiona Michelle, With Bells On! by Tommy Newman & Devanand Janki (Based on the play by Darrin Hagen), Within Elsewhere by Trent Jeffords and Joshua Betancourt, M?Y? by Cheeyang Ng and Eric Sorrels, Present Perfect by Nancy Nachama Cheser and Jaime Lozano, Pangaea by Janet Noh and Lee Summers, The Family Resemblance by Masi Asare and Call It Courage by Adam Overett. Plays developed during the retreat include The Wetlands by AriDy Nox, La Egoista by Erlina Ortiz, Narrow Daylight by SEVAN, The Home We Left Behind by Valerie David, Invictus Mingus by Frank Harts, The Galilee House by BV Marshall and Esspy by Nandita Shenoy. Named one of the SDC's "Top standout moments for diversity and inclusion," Live & In Color develops new work for the stage that promotes and celebrates diversity. Emphasizing non-traditional casting, multi-ethnic participants, and bold theatricality, Live & In Color offers unique development opportunities for new plays and musicals that encourage dialogue. Live & In Color envisions an American Theatre where established and aspiring artists of color have generous opportunities to practice their craft by providing a safe, beautiful space in Salem, CT where artists can gather to develop new works that give voice to under-represented communities. For more info visit liveandincolor.org.