Christine Ebersole, Judy Kaye, and More Will Reunite on BACKSTAGE BABBLE
The reunion is set for February 19 at 8 PM EST.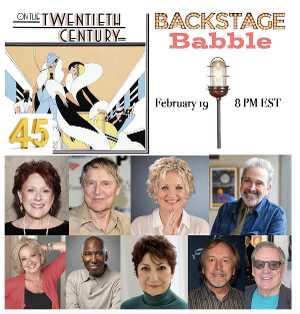 On February 19 at 8 PM EST, Charles Kirsch, the 15-year-old host of the hit theater podcast Backstage Babble, will present a reunion of the 1978 Broadway sensation On the Twentieth Century in honor of the 45th anniversary of its opening night.
The panel will stream live on YouTube and be available afterwards.
The reunion will feature many of the members of the original cast, including two-time Tony winner John Cullum (Oscar Jaffe), George Lee Andrews (Max Jacobs), as well as Pulitzer Prize finalist Craig Lucas, Mel Johnson Jr., and Susan Cella, all of whom performed in the ensemble.
Two of the actresses who portrayed the starring role of Lily Garland at some point in the run, Broadway legends Christine Ebersole and Judy Kaye, will also appear on the panel, as will two members of the creative team: veteran casting director Joanna Merlin and choreographer Larry Fuller.
Theater historians herald On the Twentieth Century as one of the last vestiges of the Golden Age of Broadway, and this panel will be an in-depth look into the magic of that original production-a must for any lover of the Golden Age of Broadway.
Charles Kirsch is the host of Backstage Babble, which since August 2020 has presented over 130 in-depth interviews with leading figures in the theater industry including Harvey Fierstein, Chita Rivera, and Joel Grey. He has also hosted three game night benefits for the non-profit organization Dancers Over 40, and his YouTube reunions of Follies and Applause have garnered thousands of viewers. He is a contributor to Cast Album Reviews, Encore Magazine, and the new book 50 Key Stage Musicals, edited by Robert W. Schneider and Shannon Agnew.