Betty Buckley, Shaina Taub, THIS ALIEN NATION and More Coming Up This Month at Joe's Pub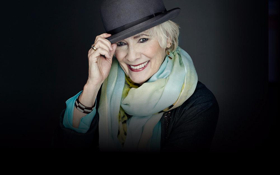 Joe's Pub at The Public has announced its nightly performances from October 11-22, 2017, including This Alien Nation, Betty Buckley, Shaina Taub, Weimar New York and more. Scroll down for details!
---
GUESTS: Laura Gomez, JAROSLAV KALFAR, CHRISTINE LEWIS,
MICHELLE HERRERA MULLIGAN, JUNE THOMAS & THOR JENSEN
Wednesday, October 11 at 7:00PM
$25 Adv / $30 Door
Host Sofija Stefanovic welcomes some of her favorite outsiders for a celebration of immigration.
Each month, at one of New York's finest venues, some fish-out-of-water tell true tales from their lives. Hear anecdotes about language barriers, cultural missteps, rumbles, romance, and more! From addresses to the President, to songs about first kisses, the evening is set to be one of worldly proportions. In a multicultural world that harbors some strong anti-immigration feelings, being an outsider can be uncomfortable, hilarious, and weird. But it also makes for some great stories. Come for the stories, leave with some feelings - and enjoy drinks, laughs and cries in between.
Wednesday, October 11 at 9:30PM
$20 Adv / $30 Door
Nominated for a Grammy as part of Heritage Blues Orchestra, Chaney Sims is a home-grown musician who has delighted audiences around the world, and now debuts her new, eclectic program of songs. Drawing on old school soul, blues, folk, and work songs, and incorporating a sprinkling of her own compositions, Sims interprets them through her lens as a queer woman of color and unequivocally proves that her artistry and experiences are deeply entwined. Communing with the incomparable talents of singer/songwriter and guitarist Ganessa James, multi-instrumentalist Yako 440, and a strings trio that includes violinist and composer Juliette Jones, Sims will kick off a new chapter of performing with the tapestry of her sultry voice, inspiring verses and passionate spoken word found in Heart Strings.
Betty Buckley: STORY SONGS #2
Thursday-Sunday, October 12-15 at 7:00PM & 9:30PM
$25-$75
On the heels of her nationally-acclaimed album, Story Songs, Betty Buckley and her band return to Joe's Pub with a new collection of songs - Story Songs #2. Music from the worlds of rock, pop, The American Songbook and musical theater are featured, including songs by Joni Mitchell, Lisa Loeb, Stephen Sondheim and new pieces from T Bone Burnett, Jason Robert Brown and Joe Iconis. Her ensemble of musicians is headed by Grammy-nominated pianist/arranger Christian Jacob, with Tony Marino on bass, Dan Rieser on drums and virtuoso guitarist Oz Noy.
FEATURING Jonathan Groff & Grace McLean
Monday, October 16 at 7:00PM
$20
Songwriter/performer Shaina Taub presides at Joe's Pub with a monthly concert residency. The run will act as a creative laboratory for her and her band to test new songs and play selects from Old Hats and Visitors as well as special guests joining along the way. Taub is a Jonathon Larson Grant winner and previous composer-in-residence at Ars Nova. She composed a musical adaptation of Twelfth Night as a part of Public Works and starred as the role of Feste. Taub's songs have been performed by Audra McDonald and Sutton Foster and she writes tunes for Sesame Street. Taub is a member of the 2017 Joe's Pub Working Group. This performance will feature special guests Jonathan Groff and Grace McLean.
Monday, October 16 at 9:30PM
$25
From the writers of Despicable Me and This Is Us comes a new musical, A.D. 16, which imagines what would happen if a teenage Mary Magdalene got a crush on the boy next door-teenage Jesus. With a book by Bekah Brunstetter (Cake, Be a Good Little Widow) and music & lyrics by Cinco Paul (Bubble Boy), A.D. 16 boasts an R&B-flavored score that evokes the best of TLC, Tony! Toni! Tone!, En Vogue, Prince and more. A touching and hilarious coming-of-age story, A.D. 16 asks the question: what if your first crush was REALLY perfect? Come see this exciting new show live in concert, featuring Broadway's Ciara Renee (Big Fish, Pippin), Caroline Bowman (Wicked, Evita), Ben Fankhauser (Beautiful, Newsies), Brittney Johnson (Sunset Blvd) and Greg Hildreth (Cinderella, Frozen).
FEATURING JASMINE 'JAZZY' SKURTU & JONATHON HERAUX
Tuesday, October 17 at 7:30PM
$15 Adv / $20 Door
Taimane means diamond in Samoan, perfectly reflecting the different facets of her nature. Whether delicately finger-picking through Bach or ripping through Led Zeppelin, Taimane can morph genres - from classical to rock to flamenco - and stretch her ukelele beyond the melodies of Hawai`i, where she grew up. When Don Ho caught wind of the talented teen, he invited her to join him as part of his venerable variety show at the Waikiki Beachcomber, further fueling Taimane's desire to perform. In addition to her own distinctive versions of well-known pieces, Taimane weaves in original compositions that are as far ranging as her musical tastes. With the fierceness of a rocker and the grace of a dancer, Taimane and her music wow ever-larger audiences. Her Hawaii trio features herself on ukulele and vocals, Jasmine 'Jazzy' Skurtu on guitar and vocals and Jonathan Heraux on percussion.
Tuesday, October 17 at 9:30PM
$25
A decade after its debut at Joe's Pub, Weimar New York, the theatrical cabaret conceived by Earl Dax is, unfortunately, more resonant than ever. Conceived during George W. Bush's administration, the show used the rubric of Weimar Germany to celebrate the spirit of creative resistance that thrives in response to conservative political forces. Weimar New York: Wtf!?! channels our collective sense of shock, outrage and disbelief at the state of affairs that have become our defacto reality.
In tandem with Montreal's Festival Phénomena on October 15, Dax presents a reimagined version featuring American and Canadian artists including the legendary Pheobe Legere; interdisciplinary artist Geo Wyeth (fka Novice Theory); "negro gothic" performance artist M Lamar; banjo-wielding vaudevillian Curtis Eller; opera singer, storyteller, actor and 2016 Creative Capital grantee Joseph Keckler; multimedia artist and drag king Alexis O'hara; and social practice artist and AIDS activist Jordan Arsenault. WTF?! is hosted by stand-up comic, actress, and playwright Kate Rigg.
THE LOSERS LOUNGE TRIBUTE TO The Bee Gees
Thursday, October 19 at 7:00PM
Friday & Saturday, October 20 & 21 at 7:00PM & 9:30PM
Sunday, October 22 at 1:00PM
$30
Joe McGinty and The Loser's Lounge play a very special tribute to celebrated pop group The Bee Gees. The Losers are a NYC-based band that started out playing small clubs on the Lower East Side in 1993. Now in their 23rd year, the band performs every other month at Joe's Pub, plus shows at Lincoln Center, selling out regularly. Known for their incredible interpretations of classics, the Losers have grown into a unique performance experience that combines music, comedy and cabaret. They return with the irreverent antics and special guests that you can only find on their stage.
Thursday, October 19 at 9:30PM
$15
As the moon makes its climb, you're cordially invited to mark the occasion over a Nightcap | by Ike. Comic entertainer Ikechukwu Ufomadu plays host, his signature wit and wry humor weaving together an evening of special guests and musical interludes. Ufomadu is an actor and comic entertainer, who creates and hosts many live shows, including: Ike at Night (Under the Radar/The Public Theater, The Bushwick Starr), Ike Night (Ars Nova, SF Sketchfest, JACK), Ike for the Holidays (St. Mazie, Manhattan Inn), and performs stand-up. As an actor, he's worked with several OBIE-winning theater companies including: Young Jean Lee's Theater Company, 600 Highwaymen and Hoi Polloi.
Sunday, October 22 at 7:00PM
$20
A Texas native turned New Yorker, Jay Brannan is an authentic, solo singer/songwriter who loves to sing, loves to travel, and writes from the heart. He has been playing his sweet and sad folk songs, tempered with a healthy dose of humor since 2006. He also appeared as an actor in John Cameron Mitchell's indie film sensation Shortbus, in which his song "Soda Shop" was the highest selling song on the film's soundtrack album. Brannan has released a string of albums, all of which topped the iTunes Singer/Songwriter and Billboard Heatseakers charts including goddamned, In Living Cover, Rob Me Blind, Around the World in 80 Jays and Always, Then & Now. Brannan will perform songs from his newest EP New York, New York, as well as old favorites.
Cole Escola: HELP! I'M STUCK
Sunday, October 22 at 9:30PM
Sunday, October 29 at 7:00PM
Tuesday, November 7 at 9:30PM
SOLD OUT!
Too weird for pretty much anything else, the feral writer/performer and brains behind a slew of absurdly funny online videos (like his portrayal of a mom in an orange juice commercial), Cole Escola (Difficult People, Man Seeking Woman, Mozart in the Jungle), brings his unique voice to the stage, playing multiple characters in a series of comedic vignettes that operate on the fringes of coherence and social acceptability. The show is directed by Christian Coulson.
---
For tickets, go online at joespub.com, call 10AM-7:00PM daily at 212-967-7555 or visit in person at The Public Theater Box Office, 425 Lafayette Street, NYC (Opens daily at 2PM). There is a $12 food / two (2) drink minimum per person per show, unless otherwise noted.
Named for Public Theater founder Joe Papp, Joe's Pub at The Public opened in 1998 and plays a vital role in The Public's mission of supporting young artists while providing established artists with an intimate space to perform and develop new work. Joe's Pub presents the best in live music and performance nightly, continuing its commitment to diversity, production values, community and artistic freedom. The organization also offers unique opportunities like New York Voices, an artist commissioning program that provides musicians the resources and tools needed to develop original theater works. Commissioned artists have included Ethan Lipton, Toshi Reagon, Bridget Everett, Allen Toussaint and more. In 2011, the Pub received a top-to-bottom renovation, leading to improved sightlines, expanded seating capacity and a new menu from acclaimed Chef Andrew Carmellini. With its intimate atmosphere and superior acoustics, Joe's Pub presents talent from all over the world as part of The Public's programming downtown at its Astor Place home, hosting approximately 800 shows and serving over 100,000 audience members annually.
The Public Theater is theater of, by, and for the people. Artist-driven, radically inclusive, and fundamentally democratic, The Public continues the work of its visionary founder Joe Papp as a civic institution engaging, both on-stage and off, with some of the most important ideas and social issues of today. Conceived over 60 years ago as one of the nation's first nonprofit theaters, The Public has long operated on the principles that theater is an essential cultural force and that art and culture belong to everyone. Under the leadership of Artistic Director Oskar Eustis and Executive Director Patrick Willingham, The Public's wide breadth of programming includes an annual season of new work at its landmark home at Astor Place, Free Shakespeare in the Park at the Delacorte Theater in Central Park, The Mobile Unit touring throughout New York City's five boroughs, Public Forum, Under the Radar, Public Studio, Public Works, Public Shakespeare Initiative, and Joe's Pub. Since premiering HAIR in 1967, The Public continues to create the canon of American Theater and is currently represented on Broadway by the Tony Award-winning musical Hamilton by Lin-Manuel Miranda and John Leguizamo's Latin History for Morons. Their programs and productions can also be seen regionally across the country and around the world. The Public has received 59 Tony Awards, 169 Obie Awards, 53 Drama Desk Awards, 54 Lortel Awards, 32 Outer Critic Circle Awards, 13 New York Drama Desk Awards, and 6 Pulitzer Prizes.