Click Here for More Articles on NEW YORK CITY
BWW Review: BenDeLaCreme Raises Hell in INFERNO A GO-GO at the Laurie Beechman Theatre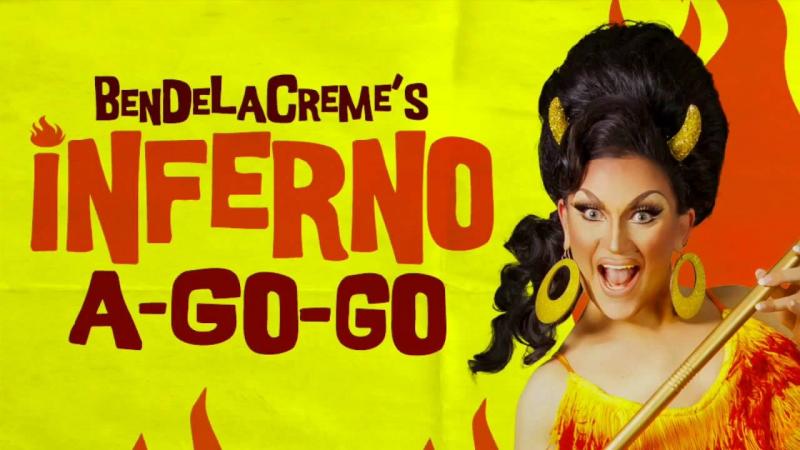 Welcome to the exciting world of "14th century Italian literature." If that's not exactly a thrilling prospect for you, don't worry: BenDeLaCreme's INFERNO A GO-GO has more than enough sugar the help the medicina go down.
In her May 25 performance of the show, in its second run at the Laurie Beechman Theatre, the RUPAUL'S DRAG RACE alum invited the audience on an exciting voyage through Dante's Inferno, noting that the show would hew closer to the text than one might imagine. From the jump, it was clear that this production was airtight. The sequence in which a cloaked figure takes the stage, speaking in a computerized demonic voice before dropping the veil and revealing it was DeLa herself, felt more like a cartoon sight gag than something you could pull off onstage, yet she nailed it.
She was also quick to dispel any notions that this show would be a repeat of what DRAG RACE fans had seen before. Asking who had come to see her because of ALL STARS 3, she deadpanned, "Don't spoil the ending. I didn't finish."Aside from "20 seconds of pandering," it was all sewn up with a joke about throwing out craft and going on reality TV, plus a nod to her ALL STARS 3 mic drop moment, before returning her attention to the show at hand.
BenDeLaCreme transformed the Miley Cyrus classic "Party in the USA" (Lukasz Gottwald/Jessica Cornish/Claude Kelly) into "Party in the H-E-L" (which is a little rude to Helsinki, honestly). The queen was a bit hoarse, though that was largely beside the point, given the her ability to sell both the comedy and horror of a lyric like "It's an agony they'll never quell."
Over the course of the show, she led the audience through those nine circles (cleverly nicknamed "suffer rings") all the way to Satan himself. Though the stage itself was sparse, the production was a visual feast, complete with a backdrop of dioramas created by the star and blown up on a projector screen. INFERNO also featured an impressive amount of DeLa interacting with other characters, via puppetry and pre-taped video performances, all played by the queen herself. To set the tone, she first showed Amelia Bedelia-esque dioramic versions of deviled eggs, "raisin' hell" (with raisins, naturally), and "idle hands are the devil's playground," at one point exclaiming, "These are the jokes tonight, people!"
While it at first appeared to be all in good fun, it became increasingly clear that the star was calling prescribed notions of good and evil into question, both from Dante's time and ours. In the Second Circle, where the lust-filled souls were punished, DeLa cracked a joke about a punishment for those headless torsos on Grindr. Afterward, she noted that the heterosexuals in the crowd might not be in the joke. Adopting a ghost voice, she cracked, "This might just not be for you but not everything can beeeee."
Genuinely, the night's only outlier was a bit with a pair of audience members shaking blue fabric to make a river Styx onstage, requiring a bit too much setup for the ensuing payoff, but that too was in the rear-view in a matter of moments.
Conversely, what followed was possibly the show's most delightful bit of video work, as a group of purplicious, serpent-haired Furies, all played by the star, hypnotically lip-synced to The Chantels' "Look in My Eyes." When DeLa retook the stage in the flesh, she encountered one of the night's most delightful characters, the Messenger of God, in the Sixth Circle, where heretics are sent. With a bit of a Valley Girl dialect and an endless supply of disdain, the Messenger introduced herself, shrugging, "Maybe you recognize me from, like, every Renaissance painting." Their hilarious debate about questioning those in positions of power signaled a convergent journey of self-actualization for the queen, all the more impressive because of DeLa's exceptional comedic timing with herself.
If anything, at little more than an hour, the show was nearly bursting at the seams. INFERNO was incredibly well-paced, transitioning from circle to circle and keeping the story moving. But with as many themes as she explored, including racism, homophobia and gentrification, the concepts sometimes flew by nearly as quickly as the jokes.
That's less of a critique and more of a true-blue desire to see what DeLa could do building a show around just one or two of the evening's concepts, considering that stunning pathos she brought to a harpy puppet. In a vignette from the Seventh Circle, the queen learned that people who took their own lives were transformed into trees, as per the source material. It's dicey to grind what is largely an upbeat solo variety show to a halt, the air filled with nothing but white noise as she empathizes with these souls and begins to question the hierarchy more ever.
Yet it wasn't remarkable that DeLa recovered from it, so much as there was nothing to recover from. The road-trip narrative lends itself to changes of tone and scenery, of course, but it was never more evident that the crowd could fully surrender to the queen, who didn't just have a road map but paved all the roads herself.
Without giving too much away, the journey's conclusion was more internal than external.
DeLa broke the fourth well to joke about the "heavy-handed" closing metaphor and how all the legwork for the show was a hell all its own. But it was fitting that the show ends with the character embarking on a new journey of self-discovery, considering the myriad themes she dipped a toe into in the future.
And, if and when she does, if it's anywhere near as complex and meticulously constructed as INFERNO A GO-GO, BenDeLaCreme has my attention. After all, we've already been to hell and back.
---
Troy Frisby is an entertainment writer and digital news producer based in New York. Follow him on Twitter @TroyFrisby.