Review: BRIEFS: A SECOND COMING Offers Thrills & Frills at NYU Skirball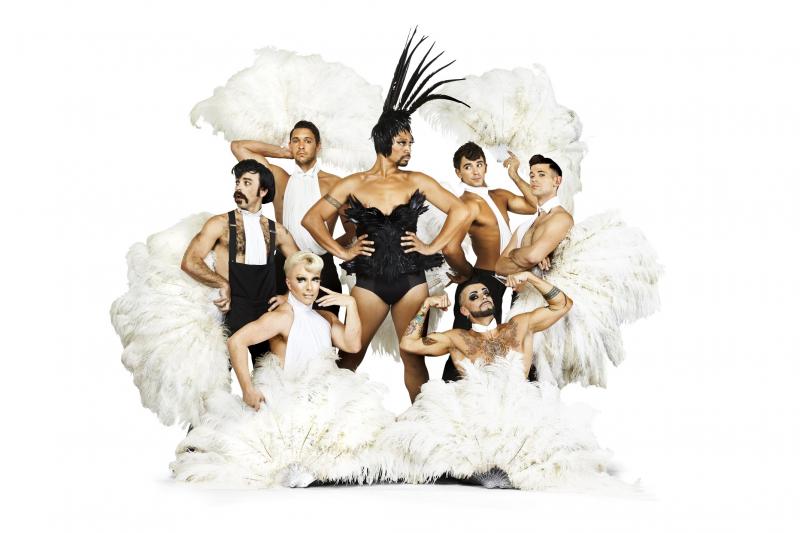 Birds of a feather flock together, so they say, and in the case of BRIEFS: THE SECOND COMING, that pursuit can involve actual feathers.
To be sure, throughout the January 7 show, the Australian all-male burlesque troupe, who came together to challenge what masculinity can look like, certainly had no shortage of plumage, either literal and figurative.
After a superfluous extraterrestrial-inspired prelude, the ensemble surrounded emcee Fez Fa'anana with a mass of feathers, performing a synchronized routine to INXS's "Need You Tonight" and Technotronic's "Pump Up the Jam" that perfectly showcased their burlesque bonafides right upfront. Illuminated by blacklight, the plumes came down, with Fa'anana and Company proceeding to shake it in their titular white undergarments. "By now, you should know if you're at the wrong show," joked Fa'anana. And that was true to some degree, though there were certainly more radical joys to be had later in the show.
THE SECOND COMING put its best foot forward by next handing the reins to Thomas Worrell, who used them to dangle from midair and show off his aerialist abilities. For most of the show, Worrell's contributions were the most straightforwardly sensuous performances on display, both by his skills and of the way he held his body while somersaulting through an aerial hoop or dangling by a foot. Many of the other segments were undercut with comedy in keeping with the troupe's mission of subverting concepts of gender, whether through drag or exaggerating masculine energy to the point of literal animalism. But Worrell's wasn't, his unwavering grace representing a different avenue for achieving its said mission.
Louis Biggs was another early crowd favorite, taking the stage in full sexy nerd regalia. Handing an audience member a Rubik's Cube to twist out of six-sided perfection, he soon took it back, mouthing "What the fuck?" before promptly solving the puzzle in about 30 seconds (and licking it to boot). Putting his yo-yo slinging prowess on display next, the set proved more amusing than sultry, unless you have a specific kink for yo-yos being skillfully flung around arms, legs and, well, other anatomical parts. But it was enough that one showgoer screamed "I love you" from the back of the house, which, at the very least, was keeping with the show's "the more noise you make, the fiercer the drag" ethos.
While the individual numbers were light and fun, with Fa'anana popping up in new outfits to keep the show moving at an amiable clip, there wasn't as much edge to them as one might imagine in the first act. Yet the final vignette before intermission served as a thrilling springboard for more complicated performances to come. As "Crookers" by Royal T and Roisin Murphy demanded every bit of ferocity they had with every beat, Fa'annana wielded a baton, Worrell balanced precariously on a chair in various poses, Mark "Captain Kid" Winmill showed off his hula hoop skills, and drag performer Dallas Dellaforce stomped in place in a nude bodysuit with a fan exaggerating her oversized blonde wig even further. They were all individually confined in lit squares on an otherwise pitch dark stage, ready to be unleashed.
Speaking of leashes, when the second act began, it was with a dog-themed number featuring all six members of the group, including Lachy Shelly, split into dog and pet parent pairs. The bit was full of bone-juggling fun and the performers diving through hula hoops, escalating until it ended with one of the humans getting a mouthful of faux dog poop. Disgusting? Sure. But it was a clear sign that their talk of pushing boundaries wasn't just for show.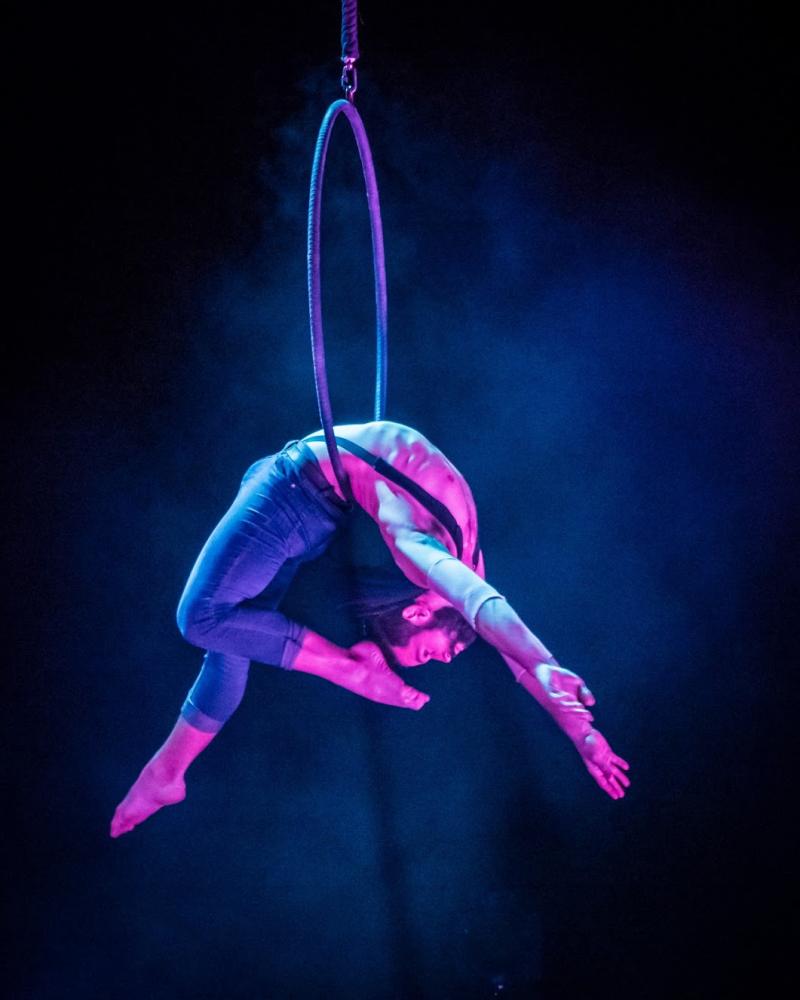 In fact, everything was heightened in act two, like Dallas Dellaforce's Dr. Jekyll and Mr. Hyde-esque lip sync. Parsing it too much would do a disservice to the number, but it managed to throw Marilyn Monroe's "Lazy" dialogue from THERE'S NO BUSINESS LIKE SHOW BUSINESS into a mixing bowl---along with some vulgar SERIAL MOM and DEATH BECOMES HER excerpts, an '80s beat, and a menacing fake eyebrow---and end up telling the most cohesive, compelling story of the night.
Still, nobody won the crowd's love more than Monkey, who wore a simian-like headpiece and, well, monkeyed around, from making fire and holding a ring of it between his teeth to lusting after a banana. And amid an unlimited supply of gag-worthy moments, it was a yellow tutu-sporting Monkey, leaping into the air and landing on the tips of his toes in pointe shoes, that sparked audible gasps from the audience.
Mark "Captain Kidd" Winmill was the final performer to give a solo performance, but the boylesque number was well worth the wait. Stalking around like a matador, Winmill was decked out in enough feathers to stuff 20 pillows, shedding them bit by bit and not wasting an inch of space on the stage in the process. In keeping with the theme, an enormous bird bath appeared, and Winmill proceeded to grab one to a trapeze, ping-ponging through the air and dipping into the bath like a seductive whirligig. It was riveting in a different way that anything that had come before it, not nearly as contained as Worrell's, nor was it trying to be.
But THE SECOND COMING wasn't quite over yet. The full troupe resurfaced in costumes bearing the Australian Aboriginal flag, with Fa'anana explaining its significance to them. While not a major focus of the night, that moment of intersectionality was nice to see, particularly since the show kicked off Stonewall 50, NYU Skirball's year-long commemoration of the Stonewall uprising's 50th anniversary.
The performance ended on a moment of collective joy, with the audience called to get on their feet and join in a dance party to the Barbra Streisand-Donna Summer classic "No More Tears (Enough is Enough)."
After all, plumage has many purposes---as armor, as self-expression, and, hopefully, as a signal to birds of a similar feather that your flock could always use more members.
---
Troy Frisby is an entertainment writer and digital news producer based in New York. Follow him on Twitter @TroyFrisby.
---
Join Team BroadwayWorld
Are you an avid Cabaret fan in NYC? We're looking for people like you to share your thoughts and insights with our readers. Team BroadwayWorld members get access to shows to review, conduct interviews with artists, and the opportunity to meet and network with fellow theatre lovers and arts workers.
Interested? Learn more here.
---
Related Stories
Troy Frisby is a writer and producer for ZMG, producing entertainment and news video content for clients including AOL and MSN. Troy is a pop culture writer who is obsessed with anything even remot... (read more about this author)