Click Here for More Articles on NEW YORK CITY
BWW Interview: Sherry Vine & Joey Arias Chat About the Evolution of Drag and Their Stripped-Down New Show at Feinstein's/54 Below
Between the two of them, drag icons Sherry Vine and Joey Arias have more than 50 years of performing experience combined. Not only that, but their working relationship and enduring friendship began more than 20 years ago. Though they've toured with one another around the world over the years, it's been a few years since they've teamed up for a big show in New York, where they first met.
Thankfully, the legendary divas will reunite onstage in the city for a new show at Feinstein's/54 Below on May 11, as part of Garth Schilling's (also known as Miss Vodka Stinger) drag-themed Thursday night series called LATE NIGHT DRAG. The run will also include Cacophony Daniels, Marti Gould Cummings, Varla Jean Merman, Ray DeForest, RUPAUL'S DRAG RACE star Alexis Michelle, and Miss Vodka Stinger herself with the Martha Rayes.
Prior to Vine and Arias' show, the pair pressed pause on their first day of rehearsal to speak with us over the phone about their individual careers, more than two decades of collaboration, and reuniting onstage in the city that brought them together.
This interview has been edited for length and content.
---
TF: First, I wanted to discuss the show and what your fans can expect from it.
SV: Well, I think that it's different than anything we've done together because we are not using tracks; it's all with a live pianist. Anything else we've always done in New York has been with tracks.
So instead of a full production of a track with all of these different instruments, it's just us with a piano, and it's very cabaret.
JA: And it makes sense for 54 Below because it's so cabaret. It's like Broadway and all of the Broadway performers come and they want to see you do your thing with a live musician. And Sherry sounds great.
TF: So it's been, what, more than four years since your last full live show together here?
SV: Yeah, it's been four-and-a-half years. We did this... really an epic show at XL, the nightclub. We had video and dancers and tons and tons of costumes. And this time, we're like, "Let's break it down and do us." So it's really just like two of us. Of course, there's some comedy and Joey doing her Billie Holiday. We're doing some classic duets of ours that have been re-purposed, rearranged with the piano player [Garrit Guadan] so they're completely different. And also some new stuff that we've never done before.
JA: And, of course, Sherry's, like, naughty songs.
SV: A little, a little, a little, a little naughty (laughs).
JA: So this should be really great because, just, the venue we're going to be at. Everyone's looking forward to this. People have been calling, saying, "Oh my God, I can't believe it. You and Sherry are coming back together. Amazing! With a piano player!" And he's amazing, he's fantastic.
SV: Yeah, he's great!
TF: So why has it been four, four-and-a-half years [since your last New York show], and why is now the right time to come back together in this way?
SV: Well, we both have been doing our own thing and we both travel so much, so it's really hard to do something like this together. I don't do a lot of stuff like this in New York City because I still work in the bar scene, so a lot of people are like, "I'm not going to pay to go see her when I could see her for free at Industry." But us being together, I think, makes it special and an event. And we do work together a lot out of town, throughout the years. But we just haven't done it in New York.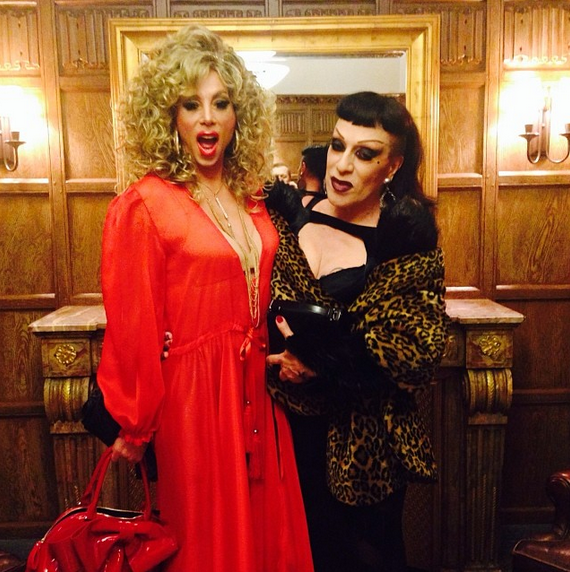 We're getting ready to go out on a little tour after the show at 54 Below, so that's kind of like our little kicking off the tour. We're doing Rehoboth, and then London, Berlin, and then I think we're going to add San Francisco, Seattle, like, the West Coast. And Staten Island.
JA: It so crazy that we're doing this show together. It really is. Like Sherry said, she does the bars. I don't do the bars. I do shows at Joe's Pub, and it's great that we combine our musical talents and comedy and singing to bring it together. And I love the title 54 Below because we're that age. We're 54 years old! (Laughs) And we're below!
TF: How did you come up with the concept for this show and decide you were going to do it at 54 Below?
SV: Actually, we decided just because we were invited by [Miss] Vodka Stinger. She's doing a series, so she called and asked if we would be interested. At first, I was like, "Well, I don't know. It's 11:30 on a Thursday night." And she's like, "Oh, it'll be so fun." And I'm like, "Oh, well, let's just do it." Because we knew we had this tour coming up, so we're like, "Let's give it a shot. If nothing else, we'll have fun. Even if we don't make money, we'll have a grand time."
TF: Once you agreed to do it, how did the decision to do a stripped-down version come together?
SV: It's funny. It evolved quickly because, at first, we were like, "Okay, we'll do certain songs with tracks, and then we'll have a couple songs at the piano." And then we just started talking, and Joey was like, "Girl, we should do everything with the piano and just break it down. Minimalist."
And I'm like, "I love that. It'll be different than anything." People have heard some of these songs that we've done for years with the track. But they're going to be completely reimagined, so everything will be very new and fresh.
TF: You've been working together for more than 20 years, and I wanted to know how you first met and how you started working together.
JA: I was introduced to Sherry Vine years ago through a dear friend who was kind of a boyfriend for a bit. Anyway, we went to the Bastille Day party in the West Village. And he says, "You should meet my friend Sherry Vine because you two are going to be best friends." I was like, "I don't like when people tell me that."
And there's Sherry Vine singing "La Vie en Rose" and looking like Edith Piaf... It was fantastic. We were talking and we got introduced, and he kept saying, "You two are going to be best friends." I just smiled, and we laughed, and it was a good, I guess, six months afterwards or something, and we were doing Bar d'O. And it was Raven [O], Edwidge and I, and Edwidge had to leave town for six months or something. I turned around and called Sherry Vine and said, "Do you want to join us at Bar d'O?" She did, and it became the classic Bar d'O threesome: Raven with just evilness, and Sherry with her jokes and sexuality, and me with my sensuality. It was an instant hit.
SV: Yeah, the "Three Dragateers."
TF: (Laughs) Sherry, you were pretty new to drag at that point, weren't you?
SV: Oh my God, I was brand new. A baby.
TF: I was curious, Joey, what you saw in Sherry at that time, where you were like, "She's got it. This is what I'm looking for."
JA: I just saw Sherry. I loved her voice. I loved her personality. Her vibe, her energy, was amazing... She just gave you so much energy and so much fun that it was just perfect. Between Raven and myself, it seemed like a perfect fit. All of us grew like a family, doing these shows like three days a week, so we had to learn each other's dealings of what it was like to share the stage. Sherry blossomed big time, and her act grew up up there.
TF: Sherry, what's your recollection of that time, of being asked to be a part of Bar d'O?
SV: It was amazing, and it's very true what Joey said. That's where I developed the stand-up and the improv-ed part of the act. Before that, I was very theatre. Everything had to be scripted. I would never [say anything] on the microphone that wasn't scripted and rehearsed.
And, at Bar d'O, you've got to toss that out, and I remember being terrified. But it was the best learning experience. Like Joey said, "Honey, you are gonna sink or swim." That's where I developed, I think, the whole act. It's funny to be so confident now to just walk out onstage completely freeform, compared to how terrified I was back then in the beginning. But yeah, I was the baby.
TF: You started drag in graduate school, while getting your MFA. How did that inkling grow in your mind until you started to do it?
SV: Well, I had kind of played around with drag but nothing, certainly, serious, and certainly not thinking of it as a career. In graduate school, one of my teachers was Anna Deavere Smith. She's brilliant. She pulled me aside one day, and she was like, "You're going to have a really hard time in Hollywood. You don't fit any type. You're not the leading man, you're not the nerd, you're not freaky. You are going to have to carve your own path." And I really took those words to heart, like, "Okay, I can do that." And she's like, "You should go experiment."
One of the assignments was to do this monologue and you could pick any monologue you wanted, but it had to be something that you would not normally, conventionally be cast as. I came and did a monologue from FOR COLORED GIRLS WHO HAVE CONSIDERED SUICIDE/WHEN THE RAINBOW IS ENUF. I didn't dress as a woman or a Black woman or anything. I just did the monologue. And she said, "I think you're onto something. You should explore that."
And I would read plays like A STREETCAR NAMED DESIRE and be like, "I want to be Blanche." That's the good part! So instead of just thinking about it, I just was like, "I am going to do that." When I first moved to New York, it was to start a theatre company with some friends that I grew up with. One was a writer, and he was writing plays, and I was the leading lady. Theatre Couture. I was fighting performing in shows at bars and stuff. I was like, "No, this is just for the theatre," and then I was like, "I fucking hate waiting tables so much." (Laughs) I was like, "If I can make as much money performing in drag, then I'm gonna go for it." And that's how it evolved.
TF: Joey, I read that your first time in drag was at a Halloween party that was thrown by Andy Warhol and Truman Capote.
JA: Yes, it was! I was always afraid of drag. I was kind of, like, nervous being around drag queens. They were always doing Judy Garland and Barbra Streisand. It was always entertaining, but I was just terrified and I didn't like it! Every time I was dragged to a drag bar, I was like, "I've got to get out of here. I don't want to be here!" And then, years later, [I experienced] the Pyramid Club. Also, there was Lady Bunny, Sister Dimension, and all of a sudden there was this kooky, crazy drag stuff. I was there with [late German performance artist] Klaus [Nomi], and we were laughing, and I was thinking, "Oh my God. That's hysterical."
Then I was invited to that party with Andy Warhol and Truman Capote, and it was all of these artists, like Keith Haring, [Jean-Michel] Basquiat, Kenny Scharf, Ann Magnuson--- the list goes on and on. And you had to be in drag. I was freaking out, thinking, "Oh my God. I need to be there." So my friend Barry Hendrickson, who owns this wig shop [Bitz-n-Pieces] right around the corner here, he actually helped me get it together. By the time I was done, I looked like this supervixen model from a Russ Meyer film. I remember going to the party and I was so freaked out by it. I was wearing one-inch heels, and my feet were killing me. I got there, and they let me in, of course. They were like, "Wow, you look amazing. What's your name?" And I saw this bookshelf I remember seeing the name "Justine de Sade." I said, "Uh, uh, uh, I'm Justine... de Sade."
Then Andy came up to me, and he was in drag. He said, "Wow, I heard you're Justine." He whispered in my ear, he said, "What's your real name?" I said, "Joey Arias." And he goes, "Oh my God. You have to look like this forever!" Everyone's freaking out, going, "You need to be in drag all the time." And I was like, "Oh, no, no, no, no, no."
I'd been doing shows, you know, channeling Billie Holiday--- like, not in drag. And then, after Wigstock, people were offering me money, let's say $2,000. And I kept saying, "Okay, straight look, $10. In drag, $2,000. I think I'm gonna do drag."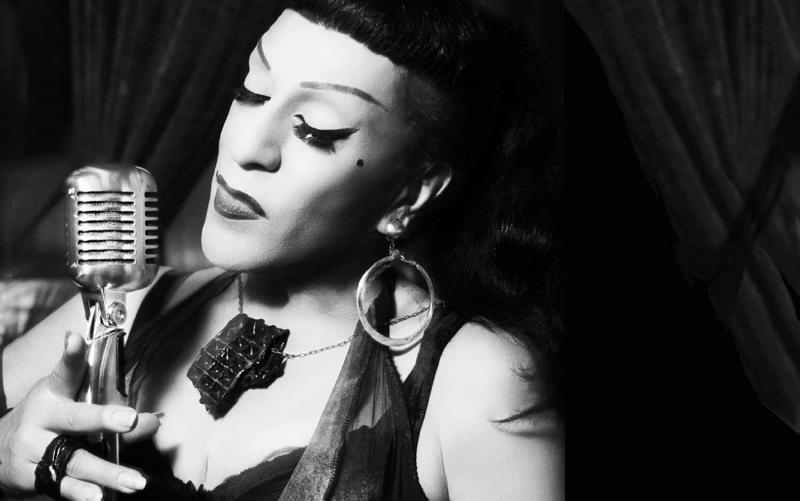 TF: (Laughs) Seems like the right choice.
JA: I embraced it and started going for it, and [famed party promoter] Susanne Bartsch started hiring me. And then [fashion designer Thierry] Mugler was following me, and then Mugler got me and corralled me and turned me into a brand because of the Bettie Page look and then really got me defined in the haute couture looks. I embraced drag and I love it. I think it's amazing. Why put a tie on when you can put your tits on (laughs)?
TF: I saw in another interview from a couple of years ago that you said you weren't sure if you consider yourself a drag queen these days and that you generally say you're an artist. Do you still feel that way? How do you define yourself?
JA: Well, when you're in the drag world, you've got to be respectful to all your partners in crime, and so I embrace the drag world. I am an artist, a performance artist, and there's times when I don't perform in drag. I could've changed it to "Z Chromosome," to be this new character in the drag world. But at the end of the day, it's still drag when it's onstage.
RuPaul, I'm not going to speak for her, but we know that she doesn't really want to be in drag that much, and she does it because she has to because it's a brand. As much as she could, she wants to be out of it. But I embrace it. I have to admit I'm doing drag, and I'm an artist. You can call me whatever you want! I'm not ashamed of it. I love it, and it's something to share [with] all the young people that are coming up in the world who are looking at drag and want to get involved. And you've got to give them that inspiration. I don't want to be like, "Well, I'm not a drag queen! I'm an artist!" You've got to respect it and let the new generation be inspired by that.
SV: There are performers who perform in drag who don't like to be called a drag queen.
TF: Right, [some performers prefer] "female impersonation" or other terms, I know.
SV: Yeah, and I've just always found that very... I had someone say to me once, when we started the theatre company, "Oh, you should bill yourself as Keith Levy and not Sherry Vine." Kind of like Lypsinka, you know, John Epperson [has]. And I'm like, "No." I like drag. I felt it was a little derogatory towards drag queens. Drag queens are artists and actors and dancers and performers. I feel really strong about that. I consider myself an actor first, and Sherry Vine's a character, but I'm a drag queen.
JA: You think about kabuki theatre. These people grew up as children learning the art of transformation into the female role. And they go home as a man to their kids and their wives and stuff, and their daytime is, like, being a woman onstage. And my stage is the streets of New York City.
TF: In that vein, Sherry, I listened to your episode of THE GASP. On the podcast, you mentioned that when you were working at Bar d'O that it was the only all-live show with drag queens at that time. I was wondering if that's something you've had to fight against as a drag queen, the idea of being a live performer versus lip-syncing.
SV: When I first moved here and started performing in drag, there was this wave of live singing. It was literally the exact same year as Shi-Queeta [Lee], Varla Jean Merman, Jackie Beat, maybe a little earlier in L.A. But it was this new wave, I call it. Of course, Joey had already started singing live. But you didn't see it at the drag gay bars; it was all lip sync. And then, all of a sudden, you had this group singing live, and you had Candis Cayne and Lina [Bradford] dancing. It was a whole new wave or renaissance in drag.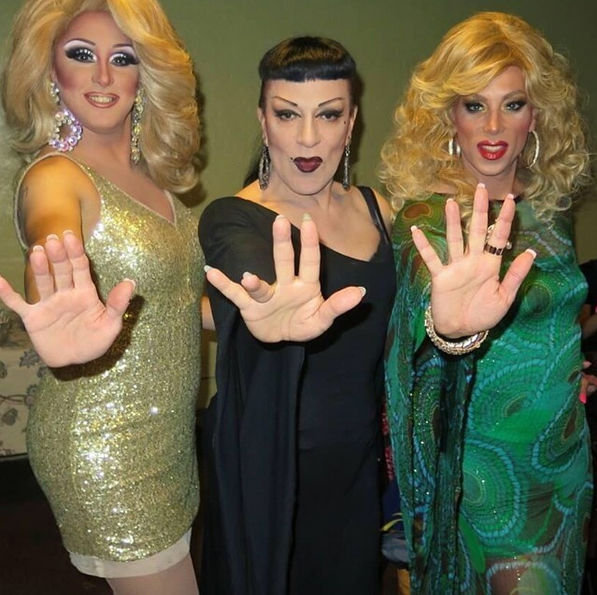 Some people hated it and some people love it. I think mostly it was embraced. Certainly in the early '90s, Bar d'O was the only place where was all live singing, no lip-syncing. And there's nothing wrong with lip-syncing at all. It's just something that we don't do. It's just something different. I remember some of the older queens being like, "You're ruining drag." (Laughs) And it's funny because I was researching a while ago---maybe a year ago---looking at old videos on YouTube of interviews of drag queens. They were done in like the '50s and '60s, but they were queens from the '40s and '50s talking about, "Ew! These queens now lip-syncing. What's that? That's not performing!" I think they always used to perform live, and then they started lip-syncing, and now it's kind of both.
TF: Yeah, it seems like it's a little more democratized now. People can do what they want a little bit more freely.
SV: It's not surprising. There would be people at Bar d'O literally, like, they wouldn't believe it was live. They had never seen a drag queen sing, and now it's a little bit more commonplace.
TF: So after your Bar d'O days, how did you decide you wanted to keep working together and putting on shows?
SV: During Bar d'O, I guess in the late '90s, we had started doing a lot of bigger shows together, like in Europe, and we did the Sydney Mardi Gras festival several times, where we did really big produced shows.
JA: Staged, costumes, live music...
SV: Tons of costumes and wigs, like, big shows. That's where we really started working a lot together. At that time, I moved to Berlin, and Joey had been cast in Cirque du Soleil in Vegas. That was definitely six years apart. But every year since Bar d'O ended, we do a big Bar d'O reunion show around... the week before Christmas. We do it at Indochine, and we've done that every year. So it's been like 15 years of that.
JA: (Laughs) What's amazing is to see each other and, even with Raven, everyone growing in their own lifestyle and their art form and then coming together to create a show. Like what we're doing here at 54 Below, it's just so magical to be with Sherry and pick these songs and share the stage and entertain people.
SV: What people have said, which I love, about us is, "You know, knowing the two of you, I can't really imagine you together. But then I see you and it works." Because we're so completely from different worlds, and yet, together, it works.
TF: When you're planning, how do you make sure you're hitting all the things that you're known for and still make it feel like one crazy, wild, amazing show?
SV: I think we know each other well enough that we know... One of the songs we're doing, I wrote a parody to Led Zeppelin's "Immigrant Song" all about the Trump Administration's ban on immigration and stuff. So it's not a dirty, comical parody, it's political. And I know how much Joey's obsessed with Led Zeppelin. She used to do "Immigrant Song" as Justine. I'm like, "What do you think of this?" She's like, "I love it! We'll do it with the piano and break it down." "Okay."
It's something like that, where we throw ideas out. She's like, "Let's do The Ronettes' 'Be My Baby.'" I'm like, "Oh,my God. That's so not Sherry Vine." But we break it down, work on it and make it our own.
JA: Exactly. We hit the points of who Sherry Vine is and who Joey Arias is. What we do together that brings us together as sisters was an original song called---
SV: "Duece Is on the Loose."
JA: And it became entertaining just because we're two different entities sharing the stage and bringing our magic together. We're not afraid to share that magic with each other because we respect each other's world where we come from, as we've grown and grown in the entertainment world.
TF: Is there anything else you can tease?
SV: The "Immigrant Song" and "Be My Baby" are two brand new, unexplored ones. "Duece Is on the Loose," like I said, that's new. That was written for us by this amazing composer named Matt Doers, and he wrote this amazing song for us to open the show. We're gonna do a little classic Marilyn-Jane Russell GENTLEMEN PREFER BLONDES, and our theme song is "Sisters" from THE COLOR PURPLE. We've done that for over 20 years, every show, and we're going to finally do a reimagining of that song.
TF: So how do you think you've both evolved as performers over the years?
SV: I think that you whittle away insecurities. I think I know what I can do, and I know for sure what I can't do. And then it's just "exploiting" what you are good it. I know that I am Carol Burnett. I'm not fierce, like, doing a split. You know, I'm not gonna be that queen. Whenever I'm doing something, it's, "What would Carol do?" I'll experiment and do other stuff, but I know I have lot of confidence in what I can do, and I also know what I can't do. I think that's the trick to becoming a really strong performer, in my opinion. I see some people performing and they have no idea how to edit or what they're good at and what they're not good at. I'm like, "Why are you doing all this other stuff? This is what you're good at, girl. Focus on that."
JA: I will try and push myself into a world, like with Sherry [and] the Broadway thing, which I'm very uncomfortable with. But then, like Sherry says, I know where I'm good and when I'm bad and how far I can go with that. At the end of the day, I would say it's always a long and winding road, and I've never taken the main highway. I've always turned to the dirt road and the dark alleys to get to the situation where I've been at. That makes it exciting.
---
Joey Arias and Sherry Vine's show is set for May 11 at 11:30 PM, as part of Feinstein's/54 Below's Late Night Drag series. For tickets and information go to 54below.com.
Troy Frisby is an entertainment writer and digital news producer based in New York. Follow him on Twitter @TroyFrisby.
Related Articles
Troy Frisby is a writer and producer for Zazoom Media Group, producing entertainment and news video content for clients including AOL and MSN. Previously, he (read more...)