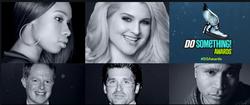 VH1's Do Something! Awards is back and ready to show the world that the youth of today do more than text and tweet. DoSomething.org, the country's largest not-for-profit for young people and change, teams up again with VH1 for the 2013 Do Something! Awards.
This year's high-energy celebration will honor celebrities Jennifer Hudson, Jesse Tyler Ferguson, Kelly Osbourne, LL COOL J and Patrick Dempsey for their amazing social change leadership. These five incredibly influential superstars were chosen based on the amazing work that they have done and their stories will be told for the world to see.
The spotlight will also be on five "do-gooders," 25 and under, who are in the trenches, creating substantial change in our world. Sasha Fisher, Daniel Maree, Jillian Mourning, Lorella Praeli and Ben Simon will each receive a grant of $10,000 to help with their cause. It's safe to say, these honorees have done more in their quarter lives than most have done in their whole lives!