Starz Announces Casting for VIDA Season Two and Drops New Official Trailer for WARRIORS OF LIBERTY CITY
Today at the Television Critics Association (TCA) Summer 2018 Press Tour, Starz announced Roberta Colindrez ("I Love Dick," "The Deuce") will be joining the cast of "Vida" as a new series regular in an expanded 10-episode second season during which series creator and executive producer Tanya Saracho will make her directorial debut. Starz also released the official trailer for upcoming docu-series "Warriors of Liberty City" and key art for "America to Me."
Please see below for more information on each series.
"Vida"
The Starz Original series "Vida" from Showrunner and Executive Producer Tanya Saracho ("How to Get Away With Murder," "Looking," "Girls") centers around two Mexican-American sisters from the Eastside of Los Angeles who couldn't be more different or distanced from each other. Circumstances force them to return to their old neighborhood, where they are confronted by the past and shocking truth about their mother's identity. Season one received wide critical acclaim and was an official episodic selection of the 2018 SXSW Film Festival. The half-hour Latinx series has received a 10-episode second season order. Colindrez will play "Nico" a new bartender at THE FAMILY bar.
Roberta Colindrez is a Mexican-born Argentinean-Honduran actor known for playing a variety of non-traditional roles in television, film, and theatre. Her breakout came in 2015, when she starred as Joan in the five-time Tony(R) award-winning musical, "Fun Home." Most notably, Colindrez delivered a standout performance as Devon in Amazon's "I Love Dick," and Irene in HBO's "The Deuce." Colindrez also stars in Paul Shoulberg's upcoming indie feature, Ms. White Light.
Follow "Vida" Online: Twitter: https://twitter.com/VIDA_STARZ Facebook: https://www.facebook.com/VidaSTARZ/ Instagram: https://www.instagram.com/vida_starz/ Join the conversation with #Vida and #STARZ
"Warriors of Liberty City"
"Warriors of Liberty City" is a docuseries that explores Liberty City - a crime-ridden neighborhood in Miami and arguably the NFL's largest, most successful football factory. The series follows a season with the Liberty City Warriors, a youth football program founded by an unlikely mentor: hip-hop pioneer LUTHER Campbell, better known as "Uncle Luke." BEYOND football, the Liberty City Warriors Optimist Club is a youth organization that sponsors sports teams, dance, cheerleading, tutoring and academic support. Life, like football, is a contact sport, and for the kids and families of Liberty City, being a Warrior holds the key to both.
"Warriors of Liberty City" premieres on Starz on Sunday, Sept.16th at 8:00 PM ET/PT.
"America to Me"
Academy Award(R)-nominated filmmaker Steve James (Hoop Dreams, Life Itself) examines racial, economic and class issues in contemporary American education in the multipart unscripted documentary series "America to Me." Poignant and funny, epic and intimate, "America to Me" spends an academic year at Chicagoland's elite Oak Park and River Forest High School (OPRF), allowing its students, families, faculty and administration to tell stories of the pressures and challenges teens face today in their own words.
"America to Me" premieres on Starz on Sunday, August 26th at 10PM ET/PT.
image: http://www.thefutoncritic.com/images/shows/starz20180728.jpg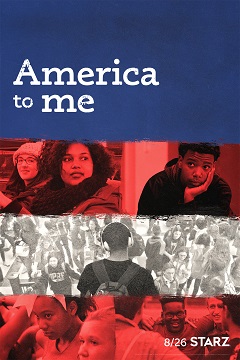 About Starz
Starz (www.starz.com) a Lionsgate company (NYSE: LGF.A, LGF.B), is a leading global media and entertainment company that provides premium subscription video programming on domestic U.S. pay television networks and produces and distributes content for worldwide audiences, including its investment in the Starz PLAY Arabia OTT service. Starz is home to the flagship STARZ(R) brand and Starz ENCORE channels and provides high-quality, entertaining premium subscription video programming with 17 premium pay TV channels and associated on-demand and online services, including the Starz app. Sold through U.S. multichannel video distributors, including cable operators, satellite television providers, telecommunications companies, and other online and digital platforms, Starz offers subscribers more than 5,000 distinct premium television episodes and feature films every year and up to 1,500 every month, including Starz Original series, first-run movies and other popular movie and television programming.