Review Roundup: Critics Weigh In On AMERICAN ANIMALS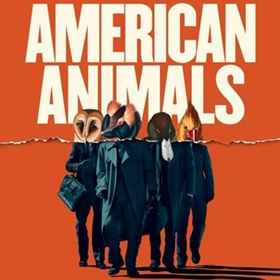 The extraordinary and thrilling true story of four friends (Evan Peters, BARRY Keoghan, Blake Jenner, and Jared Abrahamson) living an ordinary existence who brazenly attempt to execute one of the most audacious art heists in US history. But not everything is as it seems, and as the daring theft unfolds through each of their perspectives, each of them start to question whether their attempts to inject excitement and purpose into their lives is simply a misguided attempt at achieving the American Dream.
The film, directed by Bart Layton, opens in select theaters June 1, 2018. Check out what the critics are saying here:
Guy Lodge, Variety: "In "American Animals," Layton brings that same preoccupation to a (mostly) narrative form for the first time, and the results are sensational: a riveting college-boy crime caper that speeds along on pure movie-movie adrenaline, before U-turning into a sobering reflection on young male privilege and entitlement. Performed with piss, vinegar and some poignancy by a fractious quartet of bright young things - with the ever-more-intriguing Barry Keoghan first among equals - Layton's crowdpleasing Sundance competition entry is tricked out to the max with lithe structural fillips, flashes of cinematic quotation and formal sleight of hand that gradually reveals a pointed thematic purpose."
Todd McCarthy, The Hollywood Reporter: "The basic story is bizarre enough to arrest one's interest from the outset - well-off kids deciding to become criminals out of no pressing need - but Layton shrewdly adds another layer by gradually introducing present-day on-camera commentary from the actual foursome who schemed to pull off the heist. Perhaps it took a documentary filmmaker to cook up such a dual-perspective narrative. In the event, the device adds a great deal to the film's impact, as the distance of time provides a more thoughtful consideration of the men's youthful indiscretions as well as a rueful assessment that adds an almost absurdist comic edge to their increasingly amateurish behavior."
Odie Henderson, RogerEbert.com: "Speaking of heist movies, "American Animals" is packaged as genre kin to films like "Oceans 11" and "Rififi." But what makes a heist movie fun is that its robbers are punching up, not down. There's a Robin Hood mentality to most of them, with the mark being someone or something that either deserves it or can afford to do without whatever's stolen. If that's not the order of the day, these films at least give viewers anti-heroes who are doing the crime out of an understandable desperation. Even "Bonnie and Clyde," despite all its murdered innocents, had as its central robbery target what was considered to be an enemy of the people."
David Edelstein, Vulture: "Layton is too fancy in American Animals' first act. He opens on heist day, cutting between the young men making themselves up as oldsters and documentary interviews with their parents, who say that nothing in their kids' childhoods could have predicted what happened. ("Everything in our family was geared towards our kids to be successful.") The bigger problem is that stupidity just isn't a very interesting subject. What pulls you in is the planning - which involves tasing the librarian (Ann Dowd) - and the dread that builds as the Day That Will Live in Idiocy approaches. Keoghan makes a good, jittery, unformed protagonist while Peters is perfect as a passing-for-normal sociopath. You begin to feel for these kids as the film turns into a dopes' Crime and Punishment and the question on their minds is clearly "What were we thinking?""
Adam Chitwood, Collider: "When American Animals begins, text appears on the screen stating "This Is Not Based on a True Story," but after a few seconds the "Not Based on" drops out, and we're left with "This Is a True Story." The film chronicles the real-life heist of precious rare books from Transylvania University in 2004 Kentucky, pulled off by a quartet of mostly well-off college students. The central mastermind duo behind the heist is Spencer (Barry Keoghan), a talented young art student, and his adrenaline-fueled troublemaking best friend Warren (Evan Peters). First pitched as something of a joke, the two begin to meticulously plan a heist of a couple of rare books kept in a secure library on the Transylvania University campus. Spencer is spurred by the notion that all great artists had to endure some kind of hardship to become great, and he's lived a perfectly nice family life. Warren, meanwhile, is a bit of a free spirit, spurred to act mostly out of the desire to see if they could actually pull this off."
Related Articles
View More TV

Stories
More Hot Stories For You