The Krickets To Release Sophomore Album REDBIRD 10/26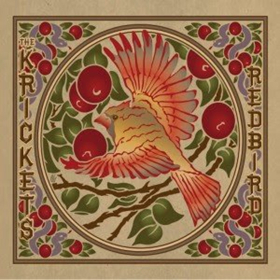 Mobile Alabama-based quartet, The Krickets, announce the release of their sophomore album, Redbird, on October 26, 2018, produced by Sam Ashworth (Lone Bellows, Joy Williams), was recorded at Brown Owl Studios in Berry Hill in a fast and furious five days. The album includes special guest Bruce Bouton (Garth Brooks, Reba McEntire) on pedal steel, dobro and lap steel and Jeff Taylor on mandolin and accordion on "May We Find".

Comprised of Katrina Kolb (bass), Melissa Bowman Weigle (banjo),Emily Stuckey Sellers (guitar, mandolin, percussion), and Lauren Spring(guitar, banjo, mandolin, fiddle), The Krickets are a sisterhood of singer-songwriters. Their 11 song harmony-driven "swamp-folk" album, Redbird, reveals stories of love, hope and struggle told with an unapologetic feminine strength.

Glide premieres the video for the first single, "Redbird", view it here. The song "Redbird" was inspired by a dream Emily continually had after her Grandmother passed. In the dream, her Grandmother was trying to whisper something important in her ear. She would wake up before she could understand what she was communicating. While having these dreams, she saw redbirds everywhere. Once she wrote the song, the dream stopped.

The video, shot by Vivid Bridges Studios and Sunset Pictures Company with Director Benjamin Arthur Rosenau, depicts Emily's dreams about her Grandmother. Folklore says seeing a redbird or a cardinal means you're being visited by someone who has passed away and the video touches on the connection one feels with a loved one after they've gone. The frustration and contemplation she feels over the dream is reflected in the video through the music and flashback scenes with the character of her grandmother.

Other stand-out tracks on the album are "A Love Like Mine" which is about the feeling of complete happiness felt when in a favorite place. "May We Find" closes the album with an a cappella three-part harmony. It's a message of hope and love and closes the album with the band's wish and blessing to the listener, may we all find peace and a call to celebrate the moment.

The women of The Krickets originally got together to play a Breast Cancer Benefit for the Cricket Fund in memorial of Christina "Cricket" Russell. They only wanted female musicians for their "Mammos and Martinis" event and although they'd never played together, they gave it a shot, had great chemistry and had a blast. They decided to keep playing together and call themselves The Krickets in Christina's honor. (Not to be confused with Buddy Holly's Crickets, hence the 'K'). They decided to try out a Kickstarter to make an album, rallied more support than they ever imagined and went to Muscle Shoals to record with producer Ben Tanner of the Alabama Shakes. The album, Spanish Moss Sirens, won Folk Album of the Year at the IMEAs and Folk Song of the Year at the Independent Music Awards in 2016.

Like Spanish Moss Sirens, Redbird began with a kickstarter campaign and the band went to Nashville in April 2018 to work with Grammy nominated producer, Sam Ashworth. They worked on two songs a day, usually beginning with a percussion track and a light acoustic guitar track laid down by Ashworth to get them started. The brutal schedule of recording 11 songs in 5 days, alongside Emily's morning sickness, left them dazed, but ultimately so proud of the album they made.

The Krickets donate $1 from the sale of every album to The Cricket Fund which provides women's health services to the uninsured.

In June of 2018, member Melissa Bowman Weigle decided to leave the group to stay closer to her family so bassist Katrina Kolb's sister, Amanda, a multi-instrumentalist and singer, stepped in to fill that void.

The Krickets will be playing select dates in 2018 and touring in 2019. Check thekrickets.com for the schedule.
Related Articles View More Music

Stories
More Hot Stories For You