Sideline's New Album FRONT AND CENTER Out Now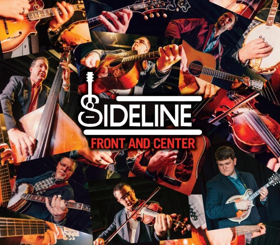 FRONT AND CENTER, SIDELINE's first outing for the Mountain Home Music label, is available for purchase now. Produced by Tim Surrett, the album gallops and gambols, spins and turns, soars and weeps - and charms throughout. This is the real deal; heart and soul Bluegrass, tightly woven from unbreakable threads of talent and commonality. The project has already landed a #1 Bluegrass Today chart single with the compelling "Thunder Dan" and reviewers are rallying to the siren song of these North Carolina 'Grassers:
Upcoming tour dates include:
4/27/18 Wilkesboro, NC Merlefest
4/28/18 Stella, NC White Oak Shores
5/4/18 Erwin, TN Unicoi County High School Auditorium
5/5/18 Woodford, VA Mr. B's Bluegrass Festival
5/10/18 Denton, NC Doyle Lawson & Quicksilver Bluegrass Festival
5/18/18 Amelia, VA Amelia Family Bluegrass
5/24/18 Snow Camp, NC Little John's Mountain Music Festival - HOST BAND
5/25/18 Snow Camp, NC Little John's Mountain Music Festival - HOST BAND
5/26/18 Snow Camp, NC Little John's Mountain Music Festival - HOST BAND
5/29/18 Pigeon Forge, TN Dollywood
ABOUT SIDELINE
A pedigreed six-piece powerhouse that has set the pace in Bluegrass for over two decades, SIDELINE was founded by Steve Dilling (banjo), Skip Cherryholmes (guitar) and Jason Moore (bass). The three have all made historical and significant contributions to the genre as members of highly-awarded groups, with multiple Grand Ole Opry appearances, and years of global touring behind them. What started as a side project for these seasoned players soon expanded as the core members were joined by Bailey Coe (guitar) and Troy Boone (mandolin). Newcomer Daniel Greeson replaced longtime bandmember Nathan Aldridge on fiddle in 2018. With songs that range from pulse-pounding barn burners to those sung from the heart, this sextet brings perfected timing and dynamic - as well as visceral emotion - to their music. With three previous successful album releases, audiences have found that whether live or recorded, the group moves easily from well-chosen, neo-traditional covers to new material curated with a holistic sense of identity and mission. Add their on-stage energy and powerful harmonies to the mix, and you have the best of the revered Carolina 'Grass sound.
Related Articles View More Music

Stories