Sean Paul's Dutty Rock Productions Signs Chi Ching Ching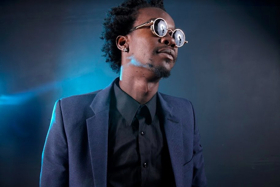 Chi Ching Ching is gearing up for his 2018 debut album Turning Tables and drops the LP's first single "Rock Di World" this Friday, Dec 15th, 2017 (Amazon, Apple Music/iTunes, Spotify) via Dutty Rock / Dub Shot Records.
The rising Jamaican talent is the first artist signed to Dutty Rock Productions, the label owned and founded by multi-platinum music icon Sean Paul. In previous years, Sean Paul has used Dutty Rock as a platform to produce and launch various riddim compilations. Signing Chi Ching Ching is the latest development for Dutty Rock.
Chi Ching Ching expresses his enthusiasm. "Joining the Dutty Rock Productions is an excellent move, Sean Paul and I have always been friends. He has always been supportive of my career. Words cannot explain how grateful I am to have an icon, who is one of the biggest superstars in dancehall`s history and sold over 20 million records, supporting and pushing Chi Ching Ching. The world await pan da 'Rock Di World' single yah fi a while now, suh is a good look."
Sean Paul adds, "Ching is a vibrant young dancehall artist with a big future. I'm pleased to be presenting 'Rock Di World' off his upcoming album Turning Tables on the Dutty Rock label and making the first steps in the movements."
Chi Ching Ching has been cementing his reputation as one of the hottest dancehall stars. The 6'7" street dancer and lyricist merges his two worlds of sound and movement together on his recent hits like "Roast or Fry (Breadfruit)" (2.2m views) and "Way Up Stay Up (Remix)" ft. Beenie Man & Popcaan (rounding up 1m views) and on "Crick Neck" (10m views)-his collab with Sean Paul.
He has caught the media's attention with praise from The FADER and PAPER Mag. The latter says he is "known for creating many of the catchy slang terms that define dancehall and have subsequently crept into mainstream American hip-hop, Chi Ching Ching has quickly risen within dancehall ranks."
His latest single "Rock Di World" is already making waves, with its video racking up over 450k views.