Schimmel Center Presents '1964 The Tribute'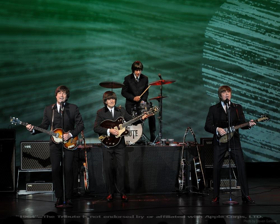 Schimmel Center at Pace University continues its 2018-19 Rock and Roll Series with 1964 The Tribute, a live Beatles tribute concert, on Thursday, February 21, 2019 at 7:30pm. Tickets start at $19 and can be purchased at SchimmelCenter.org, by phone at 212-346-1715, or by visiting the Schimmel Center Box Office at 3 Spruce Street in Manhattan. Box office hours are Tuesday-Saturday, Noon-5pm, and then beginning three hours prior to each performance, through intermission.
Founded in 1984 by musicians Mark Benson and Tom Work, 1964 The Tribute has been touring the globe for 35 years, meticulously re-creating a pre-Sgt. Pepper era Beatles concert with artful precision and unerring accuracy. Period instruments, clothing, hairstyles and onstage banter are all incorporated to make the experience as authentic as possible, showcasing the Beatles' invasion of America. Audiences can expect to hear many of the Beatles' greatest early hits, including "I Want to Hold Your Hand," "Twist and Shout," "Please Please Me," and "A Hard Day's Night."
Featuring Mark Benson as John, Mac Ruffing as Paul, Tom Work as George, and Bobby Potter as Ringo, the band headlines over 120 shows around the globe each year, having performed in noteworthy venues such as Red Rocks Amphitheatre, Shea Stadium, and Carnegie Hall, among others.In addition, they have toured to the U.K., Germany, Austria, Ecuador, Chile, Mexico, Canada, the Cayman Islands, and many other countries worldwide.
Mark Benson (John Lennon) was introduced to music at an early age and started servicing, repairing and building guitars. He made guitars for Eddie Van Halen and Jackson Browne and sold vintage guitars to The Rolling Stones, The Who, Bad Company, and many others. In 1984, Mark and Gary Grimes started 1964 The Tribute. He currently produces all aspects of the show and produced the 1964 The Tribute albums All You Need Is Live, Nine Hours In November, Bootleg Vol. 1 and 30/50 Celebration.
Mac Ruffing (Paul McCartney) played in several Southern California original, Top 40 and Beatles cover groups all while working full time as a land surveyor. Mac, not a natural 'south paw,' spent the better part of a year training himself to play the bass guitar left handed, like Paul McCartney. In 1993 he joined the Beatles tribute Beatlemania Live!, touring the world, and in 2009 joined the touring cast of the Beatles show RAIN. He joined 1964: The Tribute full time in 2013.
Tom Work (George Harrison) is a co-founder of 1964: The Tribute and is the act's first George. Since the late 1960s Tom has played and sung in a variety of ensembles, including orchestras, cover bands, and even a barbershop quartet. He also worked in many musical theatre productions, both onstage in leading roles, and as a producer and music director. After a 12 year sabbatical, Tom returned to 1964 :The Tribute in 2006 and has been with them ever since.
Bobby Porter (Ringo Starr) began taking snare drum lessons in fifth grade and made it a personal goal to be like Ringo. He spent several years playing Los Angeles nightclubs and the Las Vegas casino circuit, where he backed such greats as Chris Montez, Billy Swan, Jewel Akens, Al Wilson, J.J. Jackson, The Coasters, The Drifters, The Dell Vikings, and many others. He performed in two Beatles tributes before joining 1964: The Tribute and realizing his Ringo goal.
Photo Credit: Steven Gardner