Deadsy to Perform at San Quentin State Prison With Queens of the Stone Age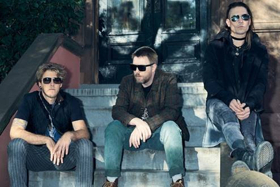 Synth-Rock antiheroes, Deadsy, will be performing at San Quentin Prison on Friday, November 16 alongside Queens of The Stone Age. San Quentin State Prison (SQ) is a California Department of Corrections and Rehabilitation state prison for men, located north of San Francisco in the unincorporated town of San Quentin in Marin County.
Original members Renn Hawkey (Dr. Nner) on Keyboards, Elijah Blue (Exeter) on guitar and Vox, Alex Puro (Alec Püre) on drums, and percussion and Carlton Bost (Carlton Megalodon) guitar and synth guitar, will all be performing a semi-acoustic set in the main chapel at San Quentin State Prison. The show marks their first live appearance in over a decade since the release of their last album Phantasmagore (Immortal/Sony). "We feel very fortunate to be able to play at San Quentin and do something a bit different and more personal than we're used to" says Elijah Blue.
The band first gained recognition in 2002 with the release of their debut album, Commencement (Dreamworks/SKG/UMG). With songs "Key To Gramercy Park" and their monolithically futuristic cover of Rush's "Tom Sawyer" instantly separating them from their modern rock pier group, Deadsy beat their own artistic path gaining legions of fans devoted also to the bands high concept aesthetic of its color-coded members and white chain accessory.
Deadsy are also currently in the studio, working on their third studio album, first single due out early 2019.