D.O.A.'s 1978 LP/CD To Be Released 5/3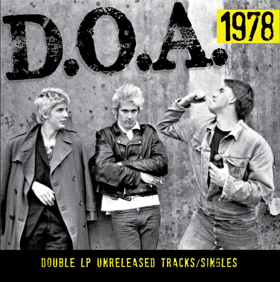 D.O.A. "1978" is a 21 track collection of unreleased demos, rare tracks, and early singles from Canada's punk pioneers. Joey shead Keithley went deep into the Sudden Death vault and came up with some super exciting and raw punk rock.

The album title and art concept is spike haired nod of the head to that early, dynamic era of D.O.A.and to the seven great former members of D.O.A., who have passed on. Their spirit and talent played a huge role into launching the band into worldwide prominence.

The two constants on the album are Joey shead and Chuck Biscuits who play on every track. From the start of "1978" the listener is drawn in by their wild, "I don't give a s" approach to punk rock. Now some 40 years later you can hear it all, starting with the never seen light of day demo version of The Enemy. This demo has a different set of lyrics that speaks to fighting Nazis, strange, what is old is new and vital again.

There's a ton of exciting tracks that range from the never heard before: Bored and Suicidal, The Mutant, No God No War, Rip Dis Joint, No Way Out and Rent-A-Riot to classic early singles like fed Up Ronnie, Disco Sucks, World War 3, The Prisoner and Thirteen. You also get demo versions of America the Beautiful and Liar for Hire with Biscuits drumming, which are wildly different than the classic versions you hear on "War on 45."

On "1978" you hear the origins of hardcore and you get a full blast of D.O.A's politics and raucous humour. The album will be released as a double 12" LP/CD on May 3rd, go to Sudden Death Records for more info.
Against all odds Canada's punk godfather Joey shead Keithley elected to political office
In his hometown of Burnaby, BC, Canada, Joe ran a campaign based on affordable housings for all, help for the disadvantaged, sustainability and grassroots democracy. Facing well financed and vicious opponents, Keithley took a shoestring budget and his punk rock attitude and was elected as a city councilor. Burnaby is BC's third biggest city and Canada's most culturally diverse, 150 languages can be heard on the streets of Burnaby. Joe's always been involved in politics, including organizing Canada's first Rock Against Racism concert way back in 1979, so it just seemed like a natural progression for him to stand for election.
"When I ran it was pretty straight forward... I said housing should be a right and not a privilege and everybody's vote has to count," said Keithley. "I'm just using D.O.A.'s mantra: TALK - ACTION = 0 and applying it to politics. It's been fun to get in there and kick some ass!"
Since being elected, Keithley has helped set up the first homeless shelters in the city. He is also a key member of Burnaby's critical Affordable Housing Task Force. He has also stood up against junkets and perks to local politicians. Keithley was recently quoted as saying, "Give me some time, but I have my sight set on running for Canada's Prime Minister, so I can help attain justice and fairness for all Canadians."
It all comes full circle as he began his quest back in 1978 till now, hence the album name "1978."
D.O.A.'s last studio album Fight Back was hailed as their most innovative since War on 45 (1982).
It's a scathing and timely piece in which Joe deals with all manner of unseemly low characters and issues. The album opens with acerbic "You Need an Ass Kickin' Right Now," next rips right into the startling "Killer Cops," then smashes into the anthemic "Time To Fight Back," which is street punk resistance at its fiercest. The album proceeds with the timely "Gonna Set You Straight" with violent and natural ease, and continues with the vitriolic "I Just Got Back From the USA." Then, the album takes a funny twist with "We Won't Drink This Piss" (down with bad corporate beer!) and "You Can't Stop Me," a song in which Joe delves into the character of Slapshot's playing coach Reggie Dunlop (a natural alter ego perhaps).
The Godfathers of Hardcore continue their 40th anniversary tour in 2019 with dates in Canada, Europe, SE Asia, India, and the west coast of the US.
D.O.A. was formed amidst a whirlwind of controversy and upheaval. In 1978, three guys fresh out of high school from the backwaters of Canada's suburbs heard about the punk rock revolution. In February of that same year the band formed and started playing shows. They soon realized that there were no record deals coming in any time soon.
Keithley (aka Joey shead) who was working towards being a civil rights lawyer before he found punk rock, concluded that the band had to take the "do it yourself" approach long before DIY became a popular concept. He formed a fledging record label called Sudden Death Recordsand the label released D.O.A.'s first snarling slab of vinyl, the Disco Sucks 7" EP.
Disco Sucks soon became an underground hit and the band started touring from Vancouver to their newly adopted "home base" of California five to six times a year. In 1980, Keithley coined the term "hardcore" and the band soon released their landmark album Hardcore 81. The album became a hit, the hardcore movement took off, and D.O.A. pushed that expression into common vernacular.
Over the last four decades, D.O.A. have released 17 studio albums, sold over a million albums, and played 4,000 shows on five different continents. The band's albums, shows, and attitude have won over three generations of fans and influenced the likes of Green Day, Nirvana, Offspring, Henry Rollins, David Grohl and The Red Hot Chilli peppers, to name a few. Keithley has also written two books: I shead: A Life in Punk and TALK - ACTION = 0.
From day one, D.O.A. has helped organize and lead hundreds of benefit concerts and protests for good and just causes like environmental issues, women's rights, food bank benefits, and First Nations' rights. They have organized protests and stood against war, racism, weapons proliferation, and countless other causes.
Keithley has been called a cultural politician, trying to change the world from outside the system. He's currently running for Mayor of his home town of Burnaby, under the Green Party banner, attempting to change the system from inside. Keithley and the band were also ardent supporters of the Occupy Movement, realizing this was a step towards equality in our world. He is always looking for a way to push "grassroots democracy" and like his idol Pete Seeger, he and the band won't give up.
When the band takes their wild, unbridled show live show on the road, it's a must see, because it's a chance to see one of the last real punk rock bands that gets out there, kicks ass, and tells it like it is. It's a perpetual atmosphere of chaos, veering out of control, but somehow, at the last minute, D.O.A. manages to reign all of it back in. And in an indescribable way, you are not quite the same person afterwards.
Related Articles View More Music

Stories
More Hot Stories For You