Chris Young's New Single RAISED ON COUNTRY Added To 65 Radio Stations On Official Impact Today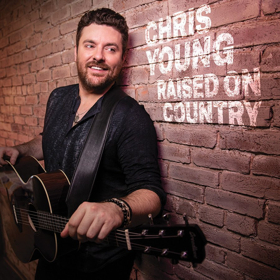 Multi-platinum RCA Nashville recording artist Chris Young officially impacts radio today with "Raised On Country"garnering 65 country radio station adds. Written by Young, Cary Barlowe and co-producer Corey Crowder, the new track is one of this week's most-added songs at country radio. "Raised On Country" is available on all platforms HERE.

"A traditionalist in an era of boundary movers" (New York Times), the 33-year old entertainer pays homage to his predecessors and country music icons Merle Haggard, Willie Nelson, Joe Diffie, George Strait, Alan Jackson and Hank Williams Jr. in his new single. "Raised On Country," released on the heels of his eleventh No. 1 hit, "Hangin' On," has been received with praise from multiple music critics, including the following:

"With his booming Southern baritone and a sonic presence that often skews toward the conservative end of the spectrum, Chris Young has never been shy about his traditional country influence. But in a new single titled 'Raised on Country,' the Tennessee native spells it out in plain English." - Rolling Stone Country

"Chris Young takes a step back to take a step forward on his new song, 'Raised on Country.' The song gives a lyrical tip of the hat to some of the classic country artists that Young listened to in his own formative years, but it's no throwback. Though the verse starts out with some appropriately twangy guitars in a fairly traditional rhythm figure, the chorus is pure modern-day radio-friendly country music with an irresistible hook that will have his fans singing along from the very first chorus and remembering the music of their own youth." - Taste of Country

"Chris Young is tracing his traditional roots in his new single, "Raised On Country." The country crooner sings the praises of the genre he grew up on, while also tipping his hat to the singers of those songs." - Sounds Like Nashville

"Chris name-checks influences Strait, Diffie, A.J., Merle, Willie and Bocephus in this funky, rollicking, lively, joyous bopper. A smile from ear to ear." - Music Row

Leading up the release of "Raised On Country" earlier this month, Young offered fans the chance to vote on artists to cover and he gave weekly acoustic performances of "Silver Wings" (Merle Haggard), "Chattahoochee" (Alan Jackson), "The Fireman" (George Strait) and "Prop Me Up Beside The Jukebox" (Joe Diffie). During his career thus far he has had the honor of recording with Willie Nelson - "Rose In Paradise" found on Young's Platinum certified The Man I Want To Be - and Alan Jackson - "There's A New Kid In Town" found on Young's first-ever holiday album It Must Be Christmas. He's also had the opportunity to tour with both Alan Jackson and George Strait.

ABOUT CHRIS YOUNG: By his 33rd birthday, RCA Records Nashville artist Chris Young has accumulated an impressive list of accomplishments, including membership in the iconic Grand Ole Opry, eleven career No. 1 singles, seventeen R.I.A.A. Gold/Platinum/Multi-Platinum certified projects, 2 Grammy nominations, 3 Country Music Association nominations and 4 Academy of Country Music nominations. As a prolific creator, Chris has given fans 7 studio albums in 12 years including Losing Sleep, his third project in less than two years. The title track is certified Platinum while "Hangin' On" is his ninth No. 1 as a songwriter. Losing Sleep (2017) and I'm Comin' Over (2015) debuted at No. 1 on Billboard's Top Country Albums Chart with "I'm Comin' Over" becoming Young's first 2x Platinum single.

Named "one of his era's finest traditionalists" by the Associated Press, Chris has quickly become an international ambassador for country music, performing to capacity crowds around the world including the sold-out C2C Festival in the UK. With a hit-packed set that highlights his eleven chart-toppers - including back-to-back No. 1s "Losing Sleep," "Sober Saturday Night," "Think Of You," and "I'm Comin' Over" - the Grammy and ACM nominated vocalist headlined the Chris Young Losing Sleep 2018 World Tour, with more than 55 arena and amphitheater shows including his first hometown headlining stop at Nashville's Bridgestone Arena playing to a capacity crowd of nearly 14,000 fans, friends and family.

2019 brings new music - the just-released anthem, "Raised On Country," and a new arena headlining tour.

For a full list of tour dates and more information, visit chrisyoungcountry.com.