Click Here for More Articles on FOOD & WINE
NITTIS Italian Restaurant Opens in Hell's Kitchen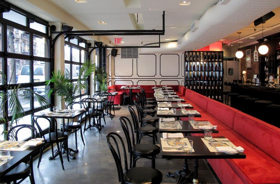 Nittis is a high-end yet comfortable concept bringing classic Italian recipes with a modern touch and aesthetic. Blending fashion and food, Nittis offers an energetic environment reimagining the Noir of the 1950's and New York in the 1980s. Patriarch Will Durollari, whose nickname "Nitti" was given to him by his grandmother and his fashion designer sons, Arben and Kuj Durollari, return to the Fashion District, where they originally started their brand BOND. Will comes from a family of culinary professionals whose father was a restaurateur and he operated restaurants throughout New York City and currently owns Pomodoro in New Jersey. The family fulfills their lifelong dream of operating a restaurant together, designing a place where like-minded creatives can gather.
Arben and Kuj, who are the masterminds behind the fashion brand BOND with clients including The Weeknd, Anwar Hadid and Migos, bring their artistic aesthetic to the concept and the kitchen. They collaborate on every aspect of the restaurant including the stylish dining room, which evokes a Noir vibe accented by the art work of Kuj. Combining vintage and contemporary elements, antiques can be found throughout the space with highlights such as a vintage gold cash register that sits on a glass pastry display case and one of kind art deco pieces they found at a nearby antique shop in the Fashion District. There are long red velvet banquettes throughout the room, accompanied by retro tables and chairs. The space is accented by a custom black marble bar, flanked by two gold sculptures, which inspired the restaurant's logo. All the furnishings were custom designed by the Nittis along with a playlist, which ranges from Dean Martin to A$AP Rocky.
Will and his son Arben are both talented cooks and have joined forces with Executive Chef Andrea Cinus Napolitano to bring back their beloved family recipes, while maintaining their old school red sauce aesthetic, but with updated modern ingredients and stylized presentations. Chef Napolitano is a culinary veteran, who has 30 years of cooking and consulting culinary experience for Italian restaurants all over the world. A Roman native, Chef Napolitano started off as a Versace model, but quickly realized food was his passion and attended ALMA, La Scuola Internazionale di Cucina Italiana. There he honed his skills and became deeply rooted in the history of Italian food. He also worked in the Vatican before landing in New York City in the early 1990's.
Nittis menu starts with Nanas Salad, a tribute to their late grandmother featuring all her signature ingredients including Bibb lettuce, tomatoes, cucumber, fennel, and basil with a lemon and olive oil dressing; a modernized Caesar salad, the Grilled Caesar with charred whole romaine hearts and pecorino, dressed in a classic dressing; Seafood Salad with fresh shrimp, calamari, squid, mussels, scallops, drizzled with olive oil and lemon and orange zest.
Appetizers such as Arancini cacio e pepe; classic Fried Calamari pomodoro and the family recipe of Braised Meatballs. Bruschetta varieties are also available with tomato basil, olive oil and garlic, and the olive tapenade drizzled with Nittis private label 25 year old balsamic reduction and olive oil.
The pasta dishes steal the show with a variety of redesigned classics including the Vermicelli Vongole with sautéed Manilla clams in a white wine sauce; the Roman Fagottini Porcini, a delicate Italian dumpling stuffed with pear and sautéed with porcini mushrooms in a comforting cognac cream sauce and truffle oil; Paccheri Vodka al la Romana in a classic vodka sauce; and Spaghetti Walnuts with sautéed garlic and walnuts in a decadently delicate prosecco sauce.
For main entrees, guests can experience the Chicken Francesina, egg battered and served with a lemon white wine sage sauce and paper thin sliced lemons; Branzino, grilled and stuffed with fennel, orange and sage; and the Florentine style NY Strip Florentina.
Daily lunch includes The Big Nitti Burger with a Pat La Frieda burger, smoked mozzarella, lettuce, tomato and sweet chili mayo; a reimagined Meatball Parmigiana on a rosemary focaccia panini served with savory pecorino topped truffle fries; and table side pizzas such as the cacio e pepe with aged pecorino and black pepper.
Brunch highlights include Lemon Ricotta Pancakes with blueberry compote and maple syrup and a classic Eggs Benedict with hollandaise sauce and choice of Canadian bacon and smoked salmon.
As a sweet ending, guests can indulge in Rainbow Cookies; an ode to the brother's childhood favorite with the Banana Crunch Cake and the Flourless Chocolate Cake that their uncle would make for them as children.
The beverage program at Nittis is also designed by the brothers, highlighting unique refreshments that have been inspired by their travels. The cocktails will be particularly intriguing with specially infused bourbons and vodkas including Captain Crunch and Fruit Loops. Signature cocktails featured include Bada Bing (berry and citrus infused gin, agave, fresh lemon juice, egg whites); The Bam Bam (Cap'n Crunch infused bourbon, creme de cacao, half and half, topped with milk foam); Walk The Plank (Fruity Pebbles infused vodka, Kahlua, lemon sour, vanilla extract, bitters, egg whites). An extensive global rotating wine list from Italy, California and France will also be available.
A coffee bar provides LA-inspired selections such as the Iced Sparkling Americano (espresso, sparking water) and the Almond Milk Iced Latte. These can all be ordered to go at the front counter as well as smoothies and homemade pastries.
Non-alcoholic choices include The Fizzy Nittis offered in varieties: fresh lemonade, grapefruit, mint and sparking water; homemade raspberry syrup, fresh lime juice and sparking water; ginger, mint, sparking water.
The staff uniforms designed by Arben and Kuj blend high fashion and street wear, pairing tuxedo style trousers with a velvet red stripe and a specially designed BOND t-shirt branded by their logo and the slogan "In the City, Grab Some Nittis"
Nittis is located at 523 9th Avenue New York, NY 10018, Website: https://www.nittisnyc.com/, Instagram: @nittisnyc, Open Mon. - Thurs. 11am -12am, Fri., Sat., Sun. 11am - 2am. Seating capacity: 68.
Photo Credit: Courtesy of Nittis, NYC
Related Articles