CASAMIGOS and Jimmy Kimmel's 20th Anniversary Special
CASAMIGOS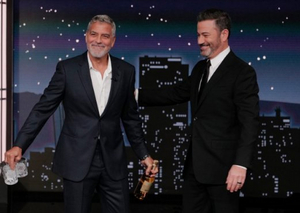 On Thursday night in Los Angeles, Casamigos founder George Clooney joined Jimmy Kimmel for his 20th anniversary special.
George Clooney entered the stage with a bottle of Casamigos Reposado in hand. George Clooney, Snoop Dogg and Jimmy Kimmel enjoyed Casamigos throughout the show and evening. Jimmy Kimmel was also joined by Coldplay's Chris Martin to celebrate his 20th anniversary special.
For more information on the Casamigos brand, please visit https://www.casamigos.com/en-us.
Photo Credit: ABC/Randy Holmes