Click Here for More Articles on FOOD & WINE
BWW Review: BROTHER JIMMY'S for Savory BBQ and Much More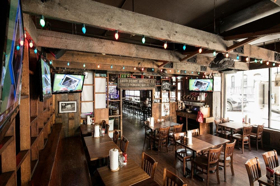 If you're looking for savory barbecue and all the fixings in a comfortable, relaxed atmosphere, plan a visit to Brother Jimmy's with two locations in New York City. Their southern hospitality, great variety of dishes, and beverages make lunch, Happy Hour, dinner and late night a pleasure. It's definitely a family-friendly spot, so gather your group. We like that Brother Jimmy's has recently made some exciting additions to their menu, yet continue to offer all of their customer favorites.
Brother Jimmy's is the brainchild of Jimmy Goldman who established the first restaurant in New York City in 1989. The popular spot has been delighting guests ever since.
We stopped by the 8th Avenue location at 31st Street for lunch on a busy workday. Our service was excellent insuring that we could enjoy our meal and return to the office on time. The venue has a sports bar appeal so you can sit back and catch the big game on multiple monitors. There are also plenty of other seating options with a spacious bar and cozy dining areas.
It's nice to know that Brother Jimmy's on 8th Avenue is just steps away from Madison Square Garden and across the street from Penn Station. Have a snack, meal, or drinks whenever you're in the neighborhood. Eating light? There are also salads on the menu.
We suggest you start out with some the popular menu items like Chicken Fingers, Wings, Popcorn Shrimp or our favorite, Frickles. The perfectly fried pickles are served with horseradish dipping sauce. New appetizers like their stuffed dumplings or the Chicken and Waffle Skewers with Bourbon Maple Syrup shouldn't be missed. Spinach and Artichoke Dip or the Grilled Flatbreads are ideal table shares and go great with drinks.
There are plenty of sandwich and burger choices that include Country Catfish or the BBQ Burger. If you have an appetite, have one of Brother Jimmy's platters. The restaurant is well known for their tender Sliced Lean Brisket, delicious Rib Dinners with wet or dry rub, and Carolina Pulled Pork. Meals come with sides that include Fried Brussels Sprouts, Macaroni and Cheese, Hand Cut French Fries, Coleslaw, Corn on the Cob and more. Portions are generous, just as they should be!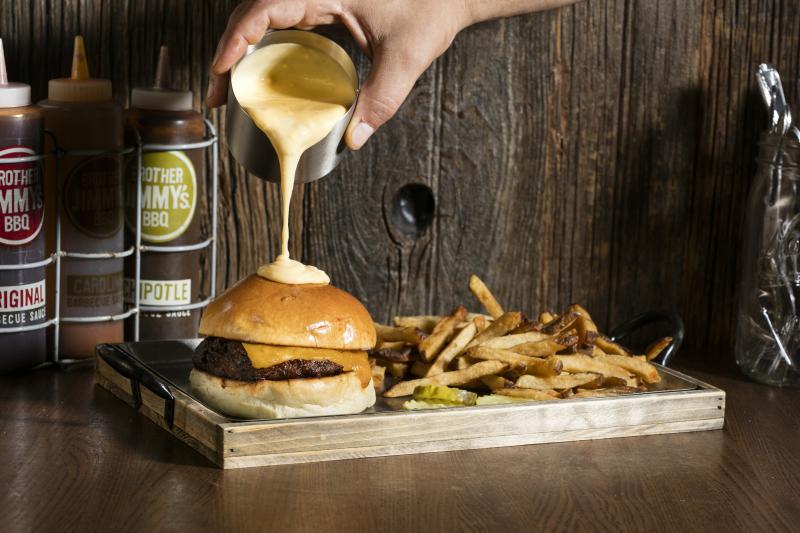 'Ol Fashioned Banana Pudding is a nice way to finish off your meal. For those that prefer something chocolatey, there are also Homemade Brownies and Fried Oreos.
Did we mention drinks? There are cocktails with a Southern flair like the Honey Badger with Woodford Reserve Bourbon, St. Germain, orange juice and honey or the Midtown Peach with Lemon Vodka, Peach Schnapps and lemonade. And of course, there's plenty of choices of beer, wine and soft drinks.
Find out what BBQ and comfort food fans have known for decades and head over to Brother Jimmy's. There are two locations in New York City - Midtown (416 8th Ave, on the corner of 8th and 31st) and Murray Hill (181 Lexington Ave, on the corner of Lexington & 31st). Be sure to check out their weekly specials, Happy Hour menu, and special event schedule. Brother Jimmy's has franchised locations in Westchester, Stanford, New Haven, Maryland/DC and Florida. For more information, visit: https://brotherjimmys.com/.
Read our recent interview with Jimmy Goldman, Founder and CEO of Brother Jimmy's: /bwwfood-wine/article/BWW-Interview-Meet-Jimmy-Goldman-of-BROTHER-JIMMYS-20181112/
Photo Credit: By Melissa Hom and Courtesy of Brother Jimmy's