Review: Ronald K. Brown/EVIDENCE at The Joyce Theater Enthralls and Inspires through January 22
Ronald K. Brown/EVIDENCE at The Joyce Theater
Ronald K. Brown EVIDENCE/A DANCE COMPANY is now at The Joyce Theater for their annual New York home season through Sunday, January 22. Dance enthusiasts and many more will want to experience their performance. As the Founder and Artistic Director of the Brooklyn based company, Brown's work is treasured for utilizing dance as an effective vehicle to encourage social justice. The show features three stunning, meaningful pieces choreographed by Brown that audiences will appreciate long after the curtain call. We attended opening night when the company received an enthusiastic standing ovation.
(Photo: Ronald K. Brown)
The program opened with the company premiere of Open Door with live music by the Afro Latin Jazz Ensemble under the direction of Arturo O'Farrill. Originally created for Alvin Ailey American Dance Theater in 2015, this work displays the company's ability to perfectly fuse the styles of African, Afro-Cuban, and contemporary dance. The dancers' grace, athleticism, and uncanny sense of rhythm are evident in Open Door.
After a brief intermission the program continued with The Equality of Night and Day. The work had its premiere at Jacob's Pillow in June of 2022 and is highlighted by a commissioned musical score by jazz pianist and composer Jason Moran with spoken word by Angela Davis who addresses crucial issues. It is a passionate piece that portrays disparities in modern society with a focus on the need for equality. The Equality of Night and Day spotlights the dancers individually but also displays the company's incredible ability to dance in perfect unison.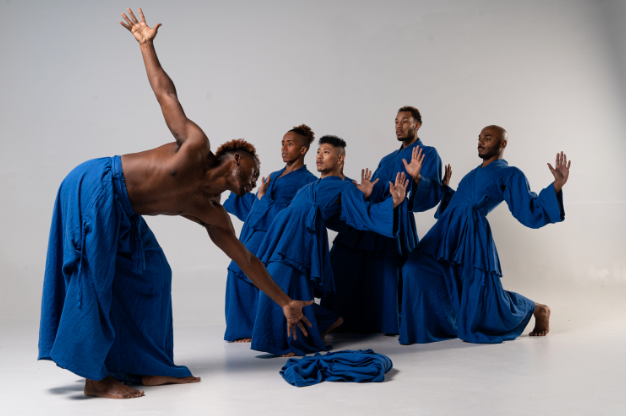 (Photo: "The Equality of Night and Day"
The final piece, Grace was a marvelous finale to a captivating evening of dance. It features music by Duke Elington, Roy Davis, Jr. and Fela Anikulapo Kuti. This energetic, moving work evokes a strong sense of spirituality. With the troupe clad in red and white, Grace proves to be visually stunning.
The outstanding dancers in the company include Demetrius Burns, Shayla Alayre Caldwell, Austin Warren Coats, Stephanie Chronopoulos, Joyce Edwards, Isaiah K. Harvey, Breana Moore, Randall Riley, Christopher Salango, and Shaylin D. Watson.
Ronald K. Brown/EVIDENCE is a gift to the dance community. The dynamic troupe of dancers bring a unique style of contemporary dance to the stage. Extraordinary costuming and lighting effects complement their current performances at The Joyce Theater. See their New York home season while you can.
Ronald Brown/EVIDENCE at The Joyce Theater has an approximate run time of two hours with two intermissions. Tickets range in price from $10-$65 and can be purchased on their web site at www.Joyce.org, or by calling JoyceCharge at 212-242-0800. Please note that ticket prices are subject to change. The Joyce Theater is located at 175 Eighth Avenue at West 19th Street. Visit their web site also to read about The Joyce Theater's detailed health and safety protocals including required face-coverings and proof of vaccination policies.
Photo Credit: Quinn B. Wharton