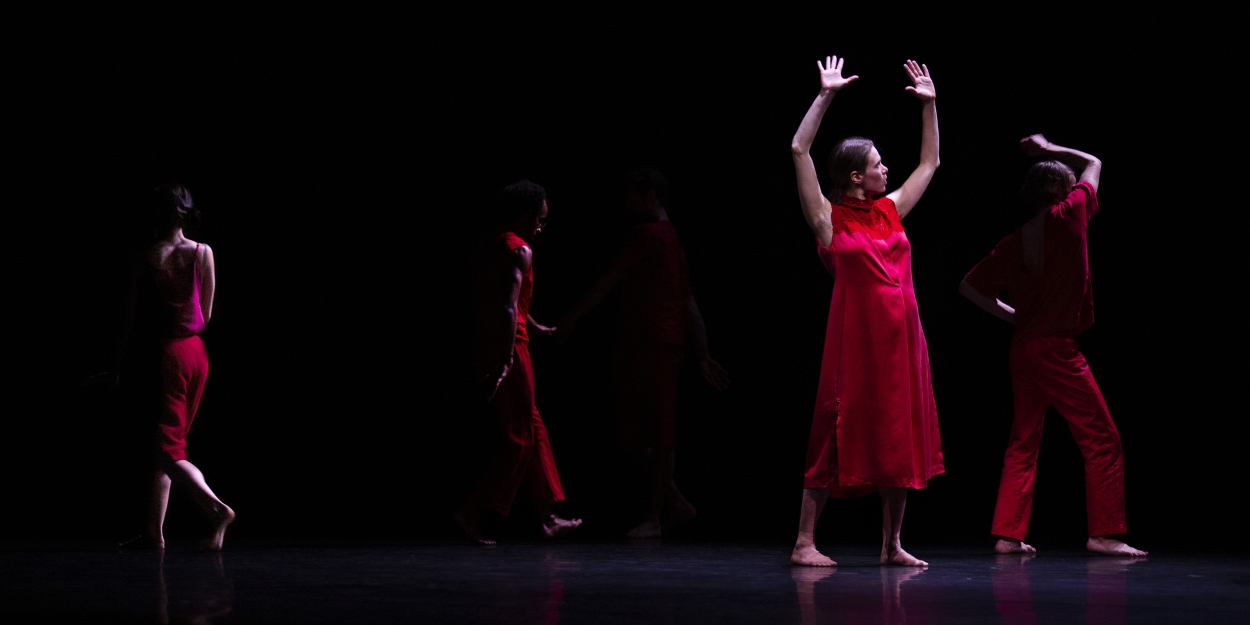 Review: Cullberg in HORSE, THE SOLOS AT The Joyce Theater
Cullberg in "Horse, the solos" will be performed at The Joyce Theater through Sunday.
Editor's Note: We welcome this guest dance review by Miranda Stuck. Read about Miranda and we look forward to more of her contributions in Broadwayworld.
Emerging from a string of eerie, dim lights appears Johanna Tengan in bright red, articulating every joint from the bottom of her feet to the vertebrae of her cervical spine. Inviting, confusing, and luminous, Cullberg's "Horse, the solos," debuts at The Joyce after its world premiere in March 2021 at Dansens Hus, Stockholm. Hay derives her vision for "Horse, the solos" from the effects of climate change in America. Her inspiration? All that is unseen in a single blade of grass.
Each dancer creeps into the space, inviting the entire audience into a hypnotic, instrumental vortex filled with vibrating strums, gentle transitions, and choreographic articulation. "'Horse, the solos' relies on two common attributes of survival, risk and efficiency," says choreographer Deborah Hay. "Both are instrumental to the choreography of the dance."
Seven dancers, all dressed in bright red garments, seem to coexist through a swimmingly subtle balance of individuality as soloists and collectiveness as an ensemble. "The directing and coaching of 'Horse, the solos,' endows each dancer as soloist throughout the dance," says Hay. Like a sculpture in a museum, the audience seems to watch Cullberg company dancers through glass, separated by the fourth wall which is never fully acknowledged. Throughout the hour, eye contact is replaced with blank, deviating expressions of wonder.
While beautiful non-human like gesticulations tick through each dancer's bodies, the lack of momentum feels unsettling, craving for more speed and surprise. There is no end or beginning to "Horse, the solos." The work presents itself as an ongoing process of never-ending exploration. It is a rare occurrence to see as many joint articulations as Cullberg presents: movements dwindle down to the dancers' pinky, big toe, left side of the rib cage, and outside of the feet. Less "dancer" and more creature like, every artist is inwardly laser focused, paying attention to every physical choice they make and the reverberations of movements around them.
The stage has quickly become a chessboard, each pattern and formation unpredictable and meticulous. "I am interested in choreography that does not look like anything and is performed by exceptionally astute and experienced performers," says Hay. "Movements are spare, disorienting, yet mysteriously human in their application within an inextricably bound space." The audience quickly learns to expect the unexpected and lose all expectations all together. There is beauty in a performance that challenges an audience's attention span and need for reason: the "why." The seven-member solo proves how performing art can appear unscripted, raw, and unusually unsynchronized. The music, created by Graham Reynolds, adds a thrill element to the performance, with even ticking, loud bell ringing, and eerie soundscape trills.
"Horse, the solos," is like a puzzle compiled of pieces from all different sets, none quite fitting correctly together. The lights switch on and off at unusual time cues throughout the work, the inconclusion resembling an unfinished sentence. "How does a dance that does not want to look like a dance, look like?" asks Josefine Wikström. "Or rather, what does a dance look like that does not contain synchronized movements, in time to music, recognizable dance styles or movements...?"
Since the 1960s, Hay has explored the idea of antidance, and how messy inconclusion and formlessness challenge the narrative of conventional concert dance, as well as audience predictability. "Horse, the solos" showcases an honest, raw hour of antimodern risk-taking flowing with unseen intention. Creating an environment for curiosity to blossom, Hay's commitment to embracing imagination and untraditional choices is admirable. "Horse is an exercise in survival," says Hay. "Why? Because that is all I care about."
About HORSE, THE SOLOS
Choreography: Deborah Hay
Dancers: Adam Schütt, Anand Bolder, Eliott Marmouset, Freddy Houndekindo, Johanna Tengan, Louise Dahl, Vincent Van Der Plas
Music: Graham Reynolds
Lighting Design: Minna Tikkainen
Costume Design: Behnaz Aram
Rehearsal Director: Jeanine Durning
Produced and performed by Cullberg
Co-produced by Mercat de les flros, Barcelona
Premiere March 25, 2021 Dansens Hus, Stockholm (without audience)
September 29, 2021 Stora Teatern, Gothenburg (with audience)
Cullberg in "Horse, the solos" will be performed at The Joyce Theatre through Sunday, February 5th. The Theater is located at 175 Eighth Avenue (at 19th Street).
Photo Credit: Shaon Chakraborty
Guest Reviewer Miranda Stuck
Miranda Stuck is a professional dancer and from Seattle, Washington. She now resides in New York City. Prior to graduating from the Ailey/Fordham Bachelor of Fine Arts program, Miranda trained classically at Pacific Northwest Ballet School. Miranda was Class of 2021 for a Master of Arts in Multi-Platform Journalism from Fordham University. Miranda currently dances with Eryc Taylor Dance, is signed with Stetts Model Management, and writes as a contributor for The Dance Enthusiast and Motion by Degrees magazine. As a performer, Miranda has previously danced with Alison Cook Beatty Dance, Matthew Westerby Company and Buglisi Dance Theatre. Miranda has danced in several music vidoes and was invited to perform in the Marc Jacobs Fall 2020 New York Fashion Week closing runway show. Most recently, Miranda appeared in Aubrey Plaza's episode of NBC's Saturday Night Live portraying "Lucia" in a White Lotus spinoff sketch. Miranda is extremely passionate about performing arts, visual and digital arts, chronic illness advocacy, as well as genuine human connection.