Review: SACRE BY CIRCA – ASTOUNDING AUSTRALIAN ARTISTRY at The Broad Stage
Circa Contemporary Circus is a unique troupe of artists that will mesmerize you from the very beginning.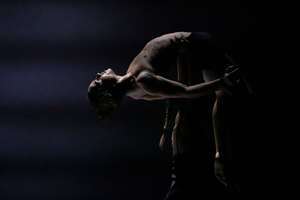 Presented Friday, February 4 And Saturday, February 5, 2022 At The Broad Stage, In Santa Monica, Ca., Created By Artistic Director Yaron Lifschitz And The Circa Ensemble With New Music By Philippe Bachman Alongside Stravinsky's Rite Of Spring; Circa Contemporary Circus Is A Unique Troupe Of Artists That Will Mesmerize You From The Very Beginning.
The company consists of powerful world-class acrobatics and dynamic performers, rich in dance, acrobatic and aerial technique. Also, plenty of emotional interpretation by the use of their bodies. As mentioned in the program, there is no storyline per se to this piece, it is a dual orchestration combining a new work and a famous classic composition to form more of something that takes the audience in and lets them interpret what they see in the moment.
The performance was done with no intermission, and rightly so, as the continuity and flowing nature of the piece demands it. The score, consisting of a new composition by Philippe Bachman for the first half, followed by Igor Stravinsky's "Rite of Spring," which is as bombastic as it is lyrical and subtle, full of tempo and mood changes, just about every few bars, sometimes. A brilliant choice for creating "Sacre" onto.
From darkness, we begin hearing electronic sounds, rumbling, like waves pounding and intense flashes of bright light, strobing to loud, piercing, erratic, synthesized sounds blurting out and become aware of silhouettes on stage, barely seen in a dim light that slowly brightens, moving on and across stage. They are the 10 acrobats you will be compelled to watch to not miss a moment, although there were multiple sections going on at the same time, at times, crosses across stage in groups, still very concealed in the dim light available between the startling flashes. It was a lot to take in. The lighting designs are quite impactful, timed specifically to enlighten the movements, patterns and lines formed, as well as the crescendos and accents in the music.
The figures move nimbly

and fluidly, yet with tension and strength, pulsing with tightly woven energy. There seemed to be constant, never-ending movement, intertwined with duets, acrobatic feats, clumps of of bodies, always in motion.
Near the very beginning, different couples perform vignettes, in between blackouts, and after a few, stunningly, when the lights start brightening we see a giant pyramid of bodies atop each other as if by magic. But the more amazing part is watching them disassemble, as they slide, slither, arch backwards, cartwheel, climb on one another and branch out into another acrobatic combination all so smoothly and seamlessly.
It is an amazing combination of dance, alluring lifts, grand leaps, ballet, balance, limberness, strength, agility, endurance, trust, fierceness, timing, graciousness, musicality; all of which were extraordinarily and uniquely performed, and gave glimpses of human interactions and emotions, sometimes subtly, sometimes gregariously, but always through the movement.
The music is legendary, and from the first sounds of the haunting bassoon, the "Rite of Spring" hints of discovery, awakenings and embarks on creating the intense sounds and rhythms of the original composition.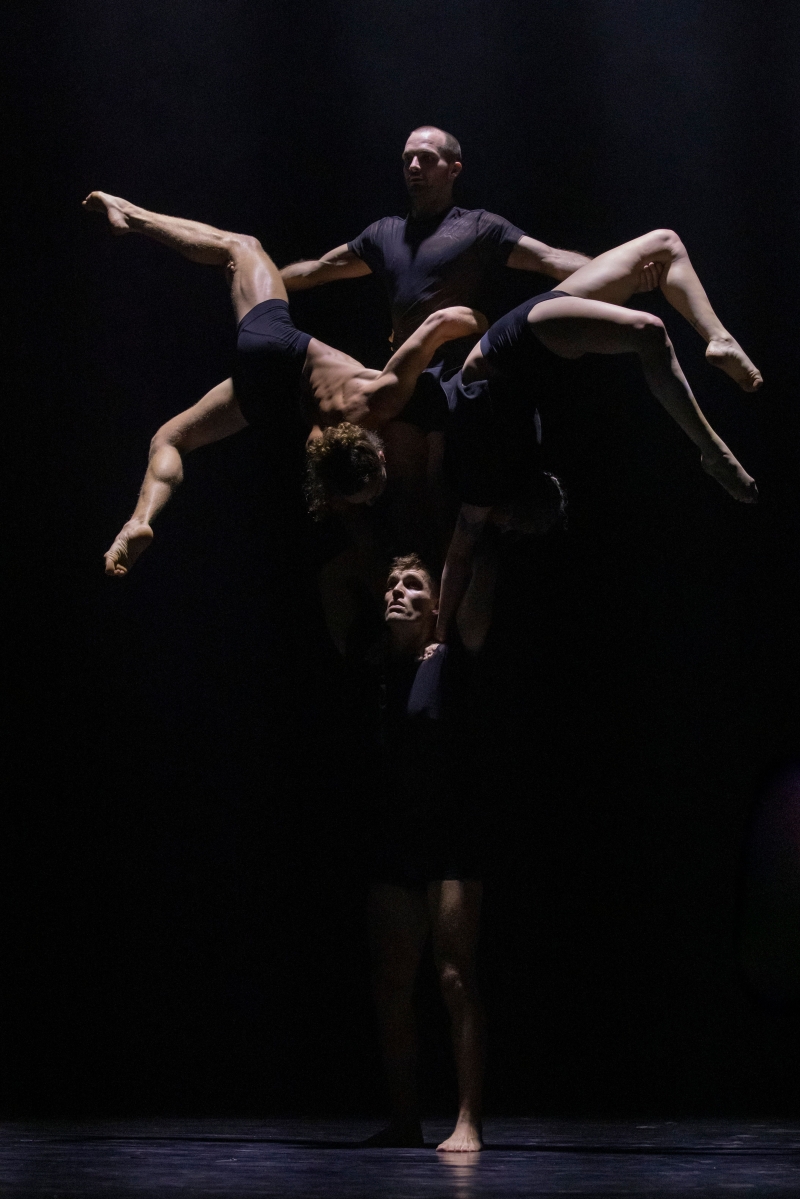 The many, many intricate and difficult lifts were astonishing to behold. The intensity of it all kept us in rapt attention, never knowing when someone might fly into the air onto someone's shoulders, do a back walkover out of it while someone else leaps over them while spinning in the air, tumbling onto the floor; there were so many different combinations of balancing feats, such as on someone's head, or on their hands, while doing a slow, controlled backbend or other gymnastic movement, it was rather mind-blowing and moving to watch.
Many pyramids were formed, and each time it was different, the way they mounted and dismounted, how many people were involved, and what was done during the assembly. The music, lighting and blackouts at just the right time fueled the impact of these stunts, and so many of them seemed nearly impossible to even dream up, let alone pristinely perform them.
Speaking with one of the performers after the show, Jarrod Takle, who was the youngest, newest cast member, (only two months with the company!) I realized he was the bottom, or base of some of the pyramids, meaning all the others' weight rested upon his shoulders, going three or four tiers high, all while everyone is in movement, twisting, slithering into the next position. Off stage, he does not appear that he would be able to accomplish that. No bulging muscles, slight of stature, and a very young-looking face, but wow, is he proficient!
The Absolutely Astonishing Acrobatic Artists are Fran Alvarez, Marty Evans, Sam Letch, Hamish McCourty, Daniel O'Brien, Kimberley O'Brien, Jarrod Takle, Luke Thomas, Georgia Webb and Christina Zauner.
The intriguing lighting design was accomplished by the creative Veronique Bennett. Costumes, by Libby McDonnell, were perfectly suited for this piece, in minimal black attire to maximize seeing every movement.
Kudos to the originality and masterful direction and choreography by Yaron Lifschitz. His work conveys humanities interconnectivity, our inherent sexual desire and relationship with divinity, all without a single word, utilizing the great talents he has nurtured. Sacre "penetrates the senses and stirs the soul."
They perform the entire 65-minute piece barefoot, showing little emotion on their faces, but conveying a range of them with their movements. It was a bit like a "happening" that we were privy to. You would find yourself gasping at the sheer difficulty and finesse of these performers. An exciting, riveting evening of theatre deluxe.
Please visit Circa's website for more information, touring schedule and to learn more about the artists: https://circa.org.au/
Photos courtesy of Pedro Grieg