BWW Review: NYCB's Fall Fashion Gala 2018 with a Moving Speech and 3 World Premieres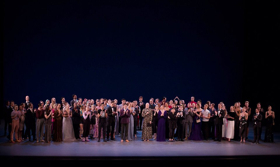 On the evening of September 27th at the Koch Theater in Lincoln Center, the annual New York City Ballet Fall Fashion Gala offered the customary Red Carpet moments as well as a performance that promised three world premieres. Yet when the curtain rose, the audience was greeted unexpectedly with the entire NYCB company onstage. As the surprised applause died down, ballerina Teresa Reichlen stepped forward to deliver a moving prepared statement she had co-written with Adrian Danchig-Waring. The words Reichlen read alluded to the recent events that caused the resignation or firing of three of NYCB's top male dancers, and perhaps also to the resignation of Peter Martins. The statement never directly mentioned the controversies, but the message was clear. In part, she read "With the world changing - and our beloved institution in the spotlight - we continue to hold ourselves to the high moral standards that were instilled in us when we decided to become professional dancers." You can read the entire heartfelt statement here: https://www.facebook.com/nycballet/photos/pb.112319735528.-2207520000.1538163576./10161197444405529/?type=3&theater
I, for one, found this to be an eminently classy way to address issues that were surely on everyone's minds. Bravi to all!
Next up was a thoroughly charming film showcasing the evening's theme, "Couture and Choreography", with clips of the designers and the choreographers at work. You can watch the video here: https://www.facebook.com/nycballet/videos/290670585091557/
The first dance offering was "The Exchange" by Matthew Neenan to music of Antonin Dvorak played live by a string quartet. I am a long-standing fan of Neenan's. This piece, with its swirling patterns and adroit skirt work inspired by the red and black costumes designed by Gareth Pugh did not disappoint. The costumes presented something of a challenge, but Neenan did a good job anyway. He is the Choreographer in Residence of the Pennsylvania Ballet and Co-Founder of Philadelphia's BalletX. Although he has created works for many prestigious companies, this was his first for the New York City Ballet. Full disclosure: Neenan was a guest dancer with the Huntington Ballet Theatre back when I was Co-Director and he was a student at SAB. What a joy to see how his career has blossomed over the years!
The second ballet on the bill was "Judah" by Gianna Reisen to the music of John Adams played live by another string quartet. This is Reisen's second work for NYCB. Remarkably, she is a mere 19 years old but her choreographic vision shows talent far beyond her years. My mind never wandered once from the action as the dancers wove in and out of shapes and formations and executed astonishing lifts with deceptive ease. As was true during the entire evening, the dancing was first rate in spite of the upheaval that has made headlines. Balanchine's legacy still seems to be assured.
The closure was an audience favorite, "The Runaway", Kyle Abraham's first work for NYCB. The program noted that the choreography was "in collaboration with NYCB." That effort was indeed successful. Performed to the music of Nick Muhly, Kayne West, Jay-Z, and James Blake with additional artists, the piece is a skillful fusion of dance styles ranging from ballet on pointe to hip hop. Kudos to Nicholas Danielson on the violin and Nancy McDill on the piano for a superb live rendering of many of the accompanying pieces. Applause also to costume designer Giles Deacon for ingenious and outlandish garb that included huge feather headpieces. Again, be sure to watch the video for which I posted a link above!
This was an evening that will surely go down in history as one of NYCB's finest moments in the face of upheaval. Mr. B. would be proud!
Photo courtesy of NYCB's Facebook page.
Related Articles View More Dance

Stories
Sondra Forsyth is Editor-in-Chief of Broadway World Dance. A National Magazine Award winner and a member of Dance Critics Association, she founded Ballet Ambassadors in (read more...)