BWW Review: Matthew Bourne's Adaptation of the Iconic Dance Film, THE RED SHOES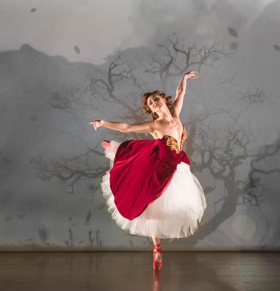 October 26th 2017 was opening night for an 11-day run at New York City Center of award-winning choreographer Matthew Bourne's adaptation of the 1948 film, The Red Shoes. I was in the audience, tingling with anticipation before the performance began. Like countless other little girls growing up with dreams of a dancing future, I had been mesmerized by the movie that was inspired by the Hans Christian Anderson fairy tale about a girl who couldn't stop dancing once she was wearing the demonically magical red shoes.
The most famous scene in the movie, in which the Svengali-like ballet director Lermantov asks aspiring ballerina Victoria Page -- played by real life ballerina Moira Shearer -- why she wants to dance, resonated with me even as a child. She retorts, "Why do you want to live?" He pauses and then says, "I must." She then says, "That is my answer, too." (You can watch the scene on YouTube here.) Although I was a youngster, I understood the conflict between Victoria's passion for ballet and her love for the young composer whom she eventually married. Fortunately, the ballet world has evolved since then so that dancers no longer have to choose between a career and a personal life. Even so, a life in ballet is still close to all-consuming for many.
And so? What was my reaction to Bourne's The Red Shoes? I have long been a fan of Matthew Bourne's work, and I gave him pretty much of a rave review for his 2013 version of "Sleeping Beauty", but his campy take on The Red Shoes didn't work for me. Yes, the dancers from his New Adventures company are superb, in particular Ashley Shaw as Victoria Page -- a role in which she alternates for this run with New York City Ballet's Sara Mearns. Also yes, the stagecraft was amazing -- in particular the moment when the train approaches before Victoria Page jumps to her death. (Or did the red shoes make her jump? That question has long been asked and never answered.)
The score, however, didn't work for me. It was a melange of Hollywood musical music by Bernard Herrmann that did nothing to enhance the plot. Actually, there wasn't much of a plot. The lead ballerina in the fictional ballet company in Bourne's version injures herself in an admittedly hilarious parody of Les Sylphides, which is why Victoria Page gets a shot at being a principal dancer. In the film, the lead dancer bows out because she's getting married, which furthers that whole issue of passion for ballet vs. a personal life. But Bourne's plot was mostly hard to follow, with one dance sequence happening after another. The woman seated in front of me asked me during intermission when we both stood up to stretch if I was able to follow the story line since she couldn't. No, was my answer. I said that we were treated to lots of exuberant dancing, but that it was all strung together with no way to get what was happening.
Yet the Millennial-looking couple behind me guffawed and hooted throughout the evening, clearly having a wonderful time. I doubt that they came to the event encumbered as I was with expectations born of my love for the film of The Red Shoes. That couple also wasn't bothered by the relatively inept choreography for pointe work. Bourne himself in a 2016 interview with Roslyn Sulcas in The New York Times admitted that choreographing pointe work intimidated him because of his lack of experience with pointe work.
All of that said, watching Bourne's choreography is a joy in itself. If you can catch a performance of The Red Shoes before the run ends at City Center on November 5th, do it! Beyond that, though, you can also experience or re-experience the 1948 film by renting it or buying it for nominal fees on Amazon video. I know you'll love the over-the-top Technicolor, the glamour, and the ballet-within-a-movie choreographed by Robert Helpmann and featuring the legendary Leonide Massine. There is also a cameo of the equally legendary Mme. Marie Rambert. Watch the film, and decide for yourself whether Bourne was ill-advised to tamper with a true treasure. I think he was.
Photo credit: Johan Persson
Related Articles View More Dance

Stories
Sondra Forsyth is Editor-in-Chief of Broadway World Dance. A National Magazine Award winner and a member of Dance Critics Association, she founded Ballet Ambassadors in (read more...)