Click Here for More Articles on Ballet!
BWW Preview: THE BROOKLYN NUTCRACKER Turns a Holiday Tradition Into an Opportunity to Honor Authentic Expressions of Diversity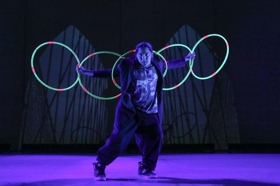 It's that time of year again-the windows of Macy's, Bloomingdale's and Bergdorf Goodman are adorned, Mariah Carey's "All I Want For Christmas Is You" is blasting from every corner and dance companies across the world (especially in America) are tying on pointe shoes, donning glittering garb and performing the enormously popular seasonal standard-The Nutcracker-which is reputed to make up about 40% of annual ticket revenues from major ballet companies.
With such a staggering amount of yearly sales dependent on this holiday classic, it's no wonder ballet companies keep up the tradition year after year despite pointed criticism from the likes of Pulitzer Prize-winning dance journalist Sarah Kaufman, who wrote several articles for The Washington Post in 2009 accusing the sometimes saccharine sweet production of threatening the future of ballet in the United States by stunting its growth and keeping companies "dull and risk-averse." (Another dance critic, Alastair Macaulay for The New York Times, attempted to refute Kaufman's claim by creating The Nutcracker Chronicles-blog features covering his "Nutcracker marathon" across America to experience multiple versions of the ballet).
But love it or leave it, it's pretty impossible to escape this production when the seasons change and the year comes to a close. So how do companies keep such a work fresh and relevant? Some New York based companies have enjoyed success with radicalizations of the original such as the more recent, erotically-charged Nutcracker Rouge from Company XIV or Mark Morris Dance Group's beloved kitschy and cartoonish retro-stylized The Hard Nut, but many choose to stay true to the George Balanchine version, choreography, costumes and all.
However, this copyrighted material has become problematic due to some of the insensitive ethnic stereotypes portrayed, most controversially in the "Chinese Tea Dance" where the rice fields pagoda hats, pointed finger choreography, the Fu-Manchu-style mustache, long ponytail and slanted eye makeup reinforce negative, outdated and offensive Asian caricatures. This became such an issue that the Balanchine Trust-partially from an urging called "Final Bow for Yellowface", a movement formed by Asian artists Phil Chan, a former dancer and arts administrator, and Georgina Pazcoguin, a soloist for the New York City Ballet-that forced the Trust to reexamine the variation and has allowed companies to make more appropriate updates to the dance.
But there's a company in NYC's most varied melting pot of Kings County-Brooklyn Ballet-who have taken it upon themselves to utilize the opportunity The Nutcracker provides not only to create dances that aren't ethnically offensive, but that celebrate diversity in such a way that it honors both the tradition it comes from and expresses the cultural richness of the borough (as well as the many global cultures who've made it their home). Founding Artistic Director Lynn Parkerson has remained committed to showcasing a culturally authentic Nutcracker that shifts the perspective of what this ballet looks like for modern, urban audiences without making the production unrecognizable to stalwarts.
While Brooklyn Ballet's The Brooklyn Nutcracker explores a multitude of dance styles, don't call it a work of fusion-for conceiver/choreographer Parkerson's mission is to create a new tradition that merges classical ballet that still remains true to Petipa's and Ivanov's original vision from the late 19th Century, the E.T.A. Hoffmann tale and Tchaikovsky's sweepingly resplendent score, with hip hop and other global genres of movement while still retaining the purity of each of the forms. When they all come together these seemingly unmatched parts blend beautifully to present a roster of artists of all races, backgrounds and talents who represent the patchwork quilt of what makes Brooklyn so unique. The second act of The Nutcracker is meant to take the viewer on a veritable feast for the senses across the world, but Brooklyn Ballet's version doesn't offer up the crusty, crumbling cookies of outdated stereotypes-instead it presents its guests with an intoxicating array of delicious divertissements as diverse, rich, scrumptious and surprising as the borough itself.
This year The Brooklyn Nutcracker is proud to showcase new special guest artists performing in the spectacle's "Spanish Hot Chocolate" and the aforementioned piece currently steeped in controversy, "Chinese Tea". The former is performed by Aliesha Bryan, a born and bred Brooklynite and first place winner of Flamenco Certamen 2016, whose lovely complexion matches the confection her piece is named for, and whose regal demeanor and powerful presence is enchanting to observe. "I came to Flamenco rather late," she related, "I was a Modern and classically trained dancer but it ceased to be fulfilling. Then I tried all styles from Oriental (belly) dance to Irish step dance but once I discovered Flamenco I became obsessed. Winning the Certamen is what launched my career and opportunities like this." Bryan is joined by two of the company's hip hop artists whose claps and street stomps compliment her furious footwork while her long braids fling as wildly as the fringe on her shawl.
The latter of the new guests for the 2018 concoction, performing the hot-button number this year, will not be merely diminishing outmoded misconceptions but instead, celebrating the time-honored traditions of authentic Chinese classical dance. Artistic Director Margaret Yuen's Red Silk Dancers embody the elegance and majesty of the ancient culture in a contemporary context and are passionate about promoting the expressions of their origins through dance. Even as a child of the tender age of eight, when Yuen first encountered the most prolifically performed version of "Chinese Tea" she knew something was off and wrong with the interpretation. What a unique opportunity (and sort of "just desserts") for the woman who has been dedicated to promoting Chinese culture and dance in NYC since 1979 to perform her version of the piece during such a landmark moment.
Repeat patrons and eager newcomers will be relieved to know that some of the modern favorites have returned and are as etched into the pavement of this production as fingerprints on wet cement.
"Arabic Coffee" is portrayed with sensual elegance by Middle Eastern belly dancer Sira Melikian who undulates to the strings and horns and shimmies to the percussive bells and tambourines of the iconic instrumental in ways both mysterious and mesmerizing. "Marzipan" is a blend of almonds, sugar and egg whites used to coat cakes or create a confection, so it is fitting that this dance features oppositions of airy and earthy interpretations-the feather-light flourishes of the corps de ballet on pointe with the rooted, sharply contrasting and ecstatically exuberant gestures of African dance styles. The show even features high-tech, light and motion-response costumes that make the "Snowflakes" shimmering and incandescent in luminous tutus-a modern twist to the adored dance.
Eight-time World Hoop Dance Champion, Native American performer Nakotah LaRance from the Hopi and Tewa tribal nations returns to dazzle audiences with his trickster persona and extraordinary talent in his electrifying Act 2 opening-an innovative juxtaposition of traditional indigenous hoop dance and contemporary hip hop one has to see to believe. LaRance's path reads like the stuff of legends: He has been at it for twenty-five years since he was four years old when he was on the "pow wow trail" with his family and became so entranced by Derrick Suwaima Davis' technique that he stole his hoops as a wily young child. The ransom for their return was that he learn from the master. He did, and now LaRance has taken those teachings and brought them up to speed. He's been performing his revolutionary style everywhere from late night TV shows to streets and stages across America and under the big top for Cirque du Soleil's Totem. "We are treading new ground on what is traditional for today," LaRance remarked. The spinning hoops of the venerable medicine dance of his Native people represent the turning of the seasons and the circle of life as the circular apparatuses transform into an eagle, a flower, a butterfly, a ladder representing the stages of life and the Earth's sphere itself.
Another one of the most interesting elements and intriguing characters in The Nutcracker of all varieties is the sometimes strange figure of Drosselmeyer, not a family member at the festivities but the local councilman who is also a magician, talented toymaker and godfather to the young heroine. In Brooklyn Ballet's version of the classic, he is played by company member Michael "Big Mike" Fields, who has earned his name from being a bullied four foot boy who transformed into the human equivalent of a grizzly (with the personality of a teddy) bear. This physical alchemy enabled the Brooklyn-born Fields to seriously consider bodily expressions as a career. He currently utilizes popping, locking and "robotic street style" to control every muscle and sinew to extort and articulate emotions without verbalization with comedy and characterization to anchor his performance. But though "Big Mike" may not be speaking on stage, he had a way with words when he explained, "Dances are languages. There are only so many arms and legs (like tongues and lips for speech) but a multitude of different ways to talk and share." Fields and the other street dance artists bring an animated vibrancy to the production and Parkerson considers them essential members of Brooklyn Ballet as the "corps de hip hop."
In a city where one can hear at least ten different languages and dialects spoken while walking a few blocks or on a single subway car, it is obvious that exploring variant forms of communication (even in entertainment) is a key to the heart of this city's eclectic mix of citizens and transients.
Parkerson has been developing this ever-evolving work since 2010 where she notes the production was "born on a Brooklyn street corner as a dance collaboration between a petite ballerina and a large hip-hop dancer ("Big Mike"). Passersby were mesmerized so I knew we were onto something. Past years' sold-out seasons confirmed that Brooklynites love seeing a holiday classic dedicated to the people and places they call home." (She is referring to the distinctly Brooklyn-centric elements the borough's residents-and anyone who's caught Brooklyn fever-will recognize as their very own and revel in).
Since shaping The Brooklyn Nutcracker into what it is today, the company has been performing it publicly for the last three years in Brooklyn, from their own small home base studio space to the Brooklyn Museum, the Irondale Center and now the gigantic (3,000 seats) and opulent Kings Theatre on December 14th for one night only. "It was the best theater in Brooklyn that could accommodate our cast of between sixty-five to seventy performers," explained Parkerson who noted that thirty-two are children and mentioned that Kings Theatre is also right setting to host the 1600 school children, foster kids and senior citizens who will be attending the special matinee that serves the community.
But even despite and perhaps because of the myriad expressions of the cherished holiday classic currently playing across America and NYC for a long while with no signs of stopping, there are many things about The Brooklyn Nutcracker that catapult the tradition into the 21st Century and that represents and respects global cultural authenticity while still honoring and rejoicing in the roots of such a timeless treasure.
The Brooklyn Nutcracker takes place on Friday, December 14 at 7:00 p.m. at The Kings Theatre located at 1027 Flatbush Avenue, between Tilden and Duryea in the Flatbush neighborhood of Brooklyn. The theater is accessible by Subway: Q to Beverley Road, or the 2, 5 and B to Church Avenue.
An additional student performance for public schools is Friday, December 14 at 11:30 a.m.
Tickets are on sale. Prices start at $25.
Tickets available for purchase at http://bit.ly/BKNutcracker2018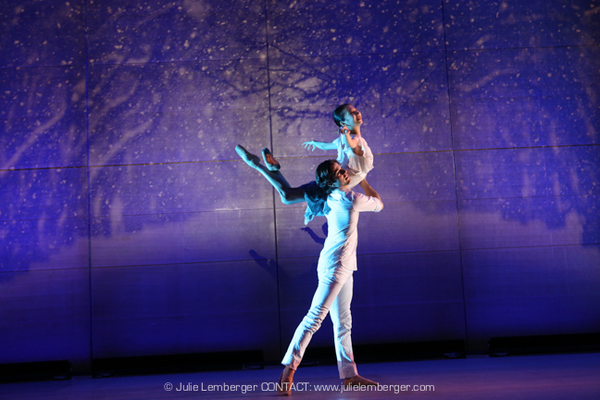 Brooklyn Ballet Nutcracker "Snow Pas de Deux". Photo by Julie Lemberger.

Brooklyn Ballet Nutcracker "Arabic Coffee". Photo by Julie Lemberger.

Brooklyn Ballet Nutcracker "Candy Cane". Photo by Julie Lemberger.