Violinist Pavel Sporcl Receives 'Torch-Bearer Award' At The United Nations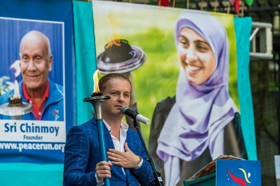 Superstar Czech violinist Pavel Sporcl is in New York to receive a special prize for his work bringing society together through music. The prize, called the 'Torch-Bearer Award', was presented outside the United Nations building this past weekend by the Sri Chimnoy Oneness-Home Peace Run, a nonprofit institute whose other activities include an international run in which a torch is passed from person to person to encourage people to express their hopes and dreams for a better world. The award "honours those people whose who have inspired and served their nations, their cities and their communities." It was presented in front of fellow luminaries and UN national delegates.
As well as being an acclaimed musician - he records for Universal Music and his last album went platinum with seven weeks of release - Sporcl devotes a great deal of time to helping to develop the classical music scene in his native Czech republic, and to nurturing the next generations of musicians and music-lovers. He is the patron of the Kocian Violin Competition for young people, and recently led a sold-out benefit in Prague, featuring some of the country's most admired violinists. He also hosts many documentaries about music on Czech Television, including a much-loved series where he introduces music for young children.
Sporcl, who received his award alongside fellow honouree, Broadway and film actor Richard Kind, said, "I am deeply proud to receive the Sri Chimnoy Torch-Bearer Award. It means a great deal to me and gives me strength to continue my work, not only as an artist, but as one of a community of artists around the world who believe that art can change lives - that this is our gift and our responsibility."
Previous winners of the award include Olympian athlete Carl Lewis, European Council President Herman van Rompuy, tennis legend Billie Jean King and Archibishop Desmond Tutu amongst many others.
Well-known in his native Czech Republic (where he is frequently recognised on the street) and beyond, Pavel Sporcl has been one of the country's highest-selling classical artists in recent years, with album sales now in excess of 200,000. He is recognised as being in the 'grand line' of Czech violinists (his teachers included Vaclav Snitil - himself a student of legendary violinist Jaroslav Kocian - as well as Itzhak Perlman and Dorothy DeLay).
He recently signed to Universal Music Group, for whom his album "Christmas On The Blue Violin" went platinum within weeks. Prior to UMG, he recorded extensively for the leading Czech independent label, Supraphon.
Pavel Sporcl has performed with many of the world's leading conductors and orchestras. With a vast range of repertoire at his command, his previous albums have ranged from the Dvorak Violin Concerto with Vladimir Ashkenazy and the Czech Philharmonic, to Bach Sonatas and Partitas, to his crossover album Sporcelain. Alongside his extensive classical activities he leads a gypsy music ensemble, who have recorded two albums and been seen in concert by more than 120,000 people. He is also very active in music education, both in special children's concerts and in television programs designed to bring children to classical music.
Pavel Sporcl is Director of the Kocianovo Usti Festival, Patron of the International Kocian Violin Competition and Patron of the Znojmo Music Festival. He is an Ambassador for BMW, for EPOS Watches and a Cultural Ambassador of the Czech Republic. His documentary series on the great Czech violinists was recently broadcast by Czech Television.