Renaissance Piano Duo Tzu-Yi Chen and Winnie Yang Come to Carnegie Hall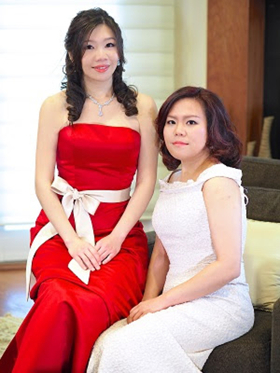 DCINY presents the Weill Recital Hall debut of Renaissance Piano Duo, pianists Winnie Yang and Tzu-Yi Chen, who will perform a specially selected classical repertoire that amplifies the art of transcription with works by Busoni, Brahms, Bolcom, Lutos?awski, and Yang. The concert takes place on Friday, April 12, 8 PM at Weill Recital Hall at Carnegie Hall. Tickets are $50. For tickets and information, visit DCINY's website.

According to the duo, "The art of transcription is a universal thread woven through the tapestry of our musical traditions. So ubiquitous is this art form that it spans the gamut of history's greatest composers. It is with this woven thread and these gathered gems that we have chosen our programming for our Carnegie Hall debut."

The evening will feature Busoni's Duettino concertante, Brahms' Sonata for Two Pianos in F Minor, Op. 34b, William Bolcom's The Garden of Eden, and Lutos?awski's Variations on a Theme by Paganini, and Yang's Sketches of Taiwan, a world premiere.

Busoni's Duettino Concertante is based on the finale of Mozart's Piano Concerto in F Major, K. 459, and is a demonstration to Busoni's virtuosity in transcription and his ability to create a dynamic interplay of figurations between two performers.

Brahms' Sonata for Two Pianos in F-Minor is a testament of the composer's own connection to the art of transcription. Brahms often reworked, rearranged, and transcribed his own compositions transforming them into works new and wondrous. This sonata exhibits Brahms' methodical perfectionism, achieving between two keyboards the quintet's symphonic breadth.

Bolcom wrote The Garden of Eden Suite for solo piano in 1974 and later adapted the piece for two pianos. The four rags that comprise the suite tell the story of the Biblical fall from grace through the ragtime idiom.

Lutos?awski's Variations on a Theme by Paganini is a transcription of Paganini's Twelve Transcriptions on a theme, which was Paganini's transcription of his own Caprice No. 24 in A minor for solo violin.

Sketches of Taiwan is a two-piano transcription of the Finale of Yang's Piano Concerto. In this work, Yang not only evokes imagery of joyful, festive scenes of Taiwan such as holiday celebrations, night markets, and lively street activity, but also paints a nostalgic backdrop to the expression of tenderness towards her distant homeland, Taiwan.

WINNIE YANG
Dr. Lan-In Winnie Yang holds two Doctorate degrees (D.M.A. Piano/ Ph.D. Composition), two Master's degrees (M.M. Piano/ M.A. Composition), and a Bachelor's degree in Piano/Composition. A graduate from Stony Brook University, Manhattan School of Music, and Oberlin Conservatory of Music, Dr. Yang is the co-founder and the music director of MuseConnect. Yang won the 2008 Stony Brook Concerto Competition and performed with the Stony Brook Symphony Orchestra. Her performance activities and compositions have taken her internationally including Carnegie Hall and Lincoln Center in New York, Smithsonian in Washington D.C., National Concert Hall in Taiwan, Dutch Royal Palace Het Loo, Japan TV Asahi Corp. Music Hall in Tokyo, among other venues. Her compositions have been commissioned/premiered by Taiwan National Symphony Orchestra, Grammy Award-winning violinist Philip Setzer, American pianist Gilbert Kalish, New York Classical Players, North/South Consonance, Amphion String Quartet, Egret Cultural and Educational Foundation, and the Myanmar Music Festival. Yang's original music "Dancing Dream" won the "Best Music Video Award" in the 2012 Mid-Atlantic Chinese Film Festival.

TZU-YI CHEN
An international award-winning performer and educator, Tzu-yi holds degrees from the Paris Conservatory and the Karlsruhe University of Music. Chen co-founded the International Friendship Ministries' Arts Academy in Columbus, Georgia, while studying at Columbus State University's Schwob School of Music. In 2017, Chen performed for the 60th anniversary of the Taiwan-Paraguay diplomatic relations in the Central Bank in Asunción, and was presented by Taiwan's National Concert Hall's Rising Star chamber music concert series. Recent US tours have taken her to nine US states, Puerto Rico, and her home base in Washington, D.C. where she teaches at the Levine School of Music, serves as a member of the music staff at the Taiwanese Presbyterian Church, and is on the New Asia Chamber Music Society's Artist Roster. Her first chamber music album produced by NACMS was released in November 2018.

DISTINGUISHED CONCERTS INTERNATIONAL NEW YORK (DCINY)
Founded in 2007 by Iris Derke and Jonathan Griffith, with its first public performance in January 2008, DCINY is a leading producer of dynamic musical entertainment in renowned international venues. Over 40,000 musicians representing 47 countries and all 50 United States have participated in DCINY productions. Since the inception of the company, DCINY has produced 17 world premieres and more than 200 concerts for over 200,000 audience members.

With unforgettable, world-class concert experiences, empowering educational programs, and a global community of artists and audiences, DCINY changes lives through the power of musical performance. In addition to being selected four times for Inc. 5000, DCINY has received national recognition with multiple American Prizes: Jonathan Griffith, Founder and Music Director of Distinguished Concerts Orchestra (Winner 2014 American Prize in Conducting, Professional Orchestra Division), DCINY's General Director and Co-Founder Iris Derke and the DCINY Team (Winner 2015 American Prize in Arts Marketing), and Distinguished Concerts International New York (DCINY) has been recognized by LUX Life Magazine as the Most Outstanding Musical Education Program 2019 - New York.