Palisades Virtuosi Presents PV & Friends Concert On December 2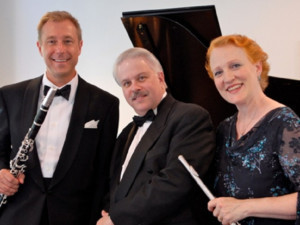 The critically-acclaimed Palisades Virtuosi flute, clarinet and piano trio will present PV & Friends, a concert on Sunday, December 2 @ 2:00 pm at The Unitarian Society of Ridgewood, 113 Cottage Place in Ridgewood, New Jersey.
The trio will perform a concert of music with guest artists, including their newest commissioned work, Pentagrams by Benjamin Yarmolinsky, a suite of five dances. Holiday works will include Christmas Sweets by Roger Stubblefield, Variations on Adeste Fideles by TJ Dipple, and Wachet Auf by J.S. Bach (arr. for clarinet & piano). Also on the program, Leonard Bernstein's Trio (transcribed by PV) performed in honor of the composer's centennial celebration and the Ludwig Thuille Sextet Op. 6 with PV and guest artists Owen Davitt, oboe, Michelle Baker, French horn and Jill Collura, bassoon.
Pentagrams will be the Virtuosi's 81st commissioned work.
Ben Yarmolinsky, a resident of New York City and Cold Spring, is a singer/songwriter, lyricist, guitarist, accompanist, conductor and lecturer. He majored in music at Harvard and spent two years in Paris, studying guitar at the Ecole Normale de Musique and privately with Nadia Boulanger. In New York, Yarmolinsky studied composition with David Del Tredici, Lester Trimble, and Ned Rorem and received a doctorate in music in 1991 from the City University of New York. He is professor of music at the Bronx Community College and author of numerous musical compositions.
Tickets in advance - $20.00/$15.00; at the door - $25.00/$20.00. Available at https://pvandfriends.brownpapertickets.com.
The Palisades Virtuosi, consisting of flutist Margaret Swinchoski, clarinetist Donald Mokrynski and pianist Ron Levy, is a 501 (c)(3) organization established to promote and enrich the repertoire for flute, clarinet and piano and present concerts that include existing and newly-commissioned repertoire for this configuration (each of their concerts includes a work commissioned by the ensemble), supplemented by solos, duos and larger works featuring guest artists. Volumes One, Two, Three, Four, Five and Six of their New American Masters CD series are available from Albany Records. Visit them at http://www.palisadesvirtuosi.org/. For photos of the ensemble, visit http://www.palisadesvirtuosi.org/Downloadable%20photos.html.
Funding for PV's commissioned works program is made possible in part by the New Jersey State Council on the Arts/Department of State, through grant funds administered by the Bergen County Department of Parks, Division of Cultural and Historic Affairs.
More Hot Stories For You
Kick Off The Holiday Season With A Livestream Celebration Tomorrow At Lincoln Center

November 30, 2022

On Thursday, December 1, at 12:00pm ET, the Christmas World of the Stavros Niarchos Foundation Cultural Center (SNFCC) in Athens comes to life in a dazzling celebration with stunning light installations, followed by a festive choral performance and singalong.
---
After 44 Years, Keyboard Conversations Still Helping Arizonans To Love Classical Music

November 30, 2022

Watching Jeffrey Siegel's Keyboard Conversations is like going to a lecture from your favorite professor, except this classical music historian also provides captivating entertainment.
---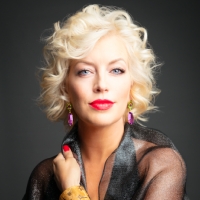 Celebrate New Year's Eve With The Santa Barbara Symphony

November 30, 2022

The Santa Barbara Symphony has announced its beloved New Year's Eve concert tradition. Downtown will be dazzling with the music of Broadway and other celebratory symphonic favorites, on Saturday, December 31 from 8:30 pm - 10:00 pm at the Granada Theatre.
---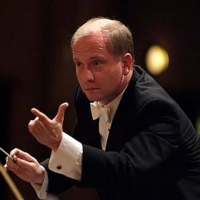 Sarasota Concert Association Presents The National Philharmonic Of Ukraine And The Emerson String Quartet In January Concerts

November 30, 2022

The Sarasota Concert Association presents the National Philharmonic Orchestra of Ukraine on Wednesday, January 18 at the Venice Performing Arts Center, and the Emerson String Quartet on Monday, January 30 at the Riverview Performing Arts Center in Sarasota.
---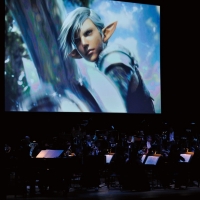 Distant Worlds: Music from FINAL FANTASY Added to 2023 Blossom Music Festival

November 30, 2022

The Cleveland Orchestra has announced Distant Worlds: music from FINAL FANTASY will be part of the 2023 Blossom Music Festival. Tickets, starting at $26 each are on sale now, November 30.
---