Composer Roger Doyle 'Godfather Of Electronic Music' Album 'The Heresy Ostraca' To Be Released By Heresy Records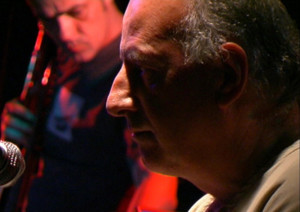 On Friday 25th January 2019 Heresy Records will release THE HERESY OSTRACA, by Roger Doyle, "The Godfather of Irish Electronic Music". The album presents a unique and imaginative reworking of material culled from his recent critically acclaimed electronic opera, HERESY, which was released by Heresy Records in March 2018.
THE HERESY OSTRACA was created by Doyle as a sister album to his opera, HERESY. The composer selected audio files from the studio recording of HERESY which were then broken up and fragmented in software. These fragments were placed across a midi keyboard and played into sequencing software. New rhythms and harmonies were layered in, resulting in new and original pieces formed from this re-assemblage. An ostracon is a fragment of ancient pottery, usually from a broken vase, which has an inscription written upon it.
The opera, HERESY, centers on the life and works of the 16th century genius Giordano Bruno who was burned at the stake for heresy after a nine-year long trial by the Vatican. Hermetic philosopher, priest, playwright, spy, cosmologist, intellectual celebrity and martyr for free speech, Bruno was one of the renaissance's most original thinkers. He prefigured quantum physics by 350 years and promulgated a philosophy that espoused the idea that the universe had no center and was populated by an infinite number of inhabited planets.
Ostracon voice samples on the album feature soprano Daire Halpin; male soprano Robert Crowe; mezzo soprano Caitri?ona O'Leary; tenor Morgan Crowley; boy soprano Alex Smith; counter tenor Iestyn Morris. The track Ghost Playhouse features the voice of legendary Irish tenor, John McCormack.
Heresy Records recording artist, Roger Doyle, is known for his pioneering work as a composer of electronic music. His recordings for Heresy Records include, Time Machine (2015), HERESY (2018), THE HERESY OSTRACA (2019) and he is prominently featured on the electronic music compilations, On the Nature of Electricity & Acoustics (2013) and A Map of the Kingdom of Ireland (2018).
Doyle has worked extensively in theatre, film and dance, in particular with the music-theatre company Operating Theatre, which he co-founded with actress Olwen Fouéré. Babel, his magnum opus, composed over a ten-year period, was released on a 5-CD set in 1999. Other works include an onstage piano score for the Gate Theatre production of Salomé that was directed by Steven Berkoff and which played in Dublin, London's West End and on three world tours, and various recordings and performance collaborations with the Netherlands Wind Ensemble.
Recent compositions include a series of soundtracks for imaginary films for the National Symphony Orchestra and Crash Ensemble. In 1997 he won the Programme Music Prize and in 2007 the Magisterium Award at the Bourges International Electro-Acoustic Music Competition. He is a member of Aosdána, Ireland's state-sponsored academy of creative artists, and Adjunct Professor at Trinity College, Dublin.
Related Articles View More Classical Music

Stories
More Hot Stories For You