Thrilling Fiction Novel Explores the Dark World of Greed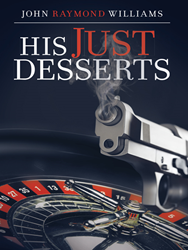 Author
John Ray
mond Williams has released, "His Just Desserts," an electrifying fiction about a man facing extreme ethical dilemmas when it comes to his selfish desires.
The novel focuses on main character Burt Donaldson's lust for more, and his complicated relationship with his wife. Even though the possibility of great fortune is upon the horizon, tough decisions must be made as he commits a fraudulent financial scheme in his own casino. Thinking it will change his life for the better, he has no clue the dangers that lie ahead, waiting to clash towards his vision of a perfect life.
Just like Donaldson, much of today's hard-working citizens assume that money will solve everything, however wealth and greed often can also create serious implications.
"I wanted to focus on a relatable aspect that most people understand," said Williams. "I know this book may pique the interest of more readers by doing so."
Williams has received critical praises from reviewers:
"In William's debut thriller, a man plots to evade taxes by cheating a casino - a scheme that goes horribly wrong when someone ends up dead…[a] positively absorbing murder mystery." - Kirkus Reviews
"His Just Desserts is a page-turner, and no time is wasted in getting to the juicy parts of the story." - Clarion Review
"His Just Desserts"
By John Raymond Williams
ISBN: 9781491749081
Available at Amazon, Barnes & Noble, & iUniverse
About the author
John Raymond Williams began writing "His Just Desserts" about 30 years ago. He wanted to introduce an original story into the mainstream that separates itself from other novels that focused on greed. He currently resides in Novar Gardens in Australia.
For Review Copies & General Inquiries Contact:
LAVIDGE - Phoenix
Lauren Dickerson
ldickerson(at)lavidge.com
480-998-2600
Featured at the Theatre Shop
T-Shirts, Mugs, Phone Cases & More
Related Articles
View More Books

Stories
More Hot Stories For You