New Book Provides Tools and Resources for Online Business Owners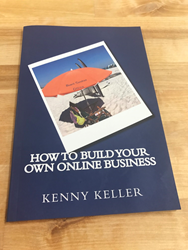 Author Kenny Keller, creator of
Helicopter Online Ground
School, announces the release of his third self-published book, "How to Build Your Online Business." He created the book at his offices at the Plymouth Municipal Airport in Plymouth Indiana.
"There are many people out there who have personal experiences and knowledge on different themes or genres that others can benefit from," Keller says. "They know that the world is changing and life is going online and digital. They have all this information, but might not know how to get it out there for others. This book and the content I have put together will help all business owners, from the beginner to the seasoned veteran."
In conjunction with the book, Kenny is also launching his online video course. This is an online, self-paced, and powerful training series on how to turn one's knowledge and passion into a successful online business.
Joseph Baker, one of Kenny's Build Your Online Business members, reviews the new book:
"A MUST READ! Using the experiences someone else has already gone through is a fantastic way not to make the same mistakes and slow the process of getting your information out there. You find out from the very beginning how the process starts and the tools or equipment you can use to easily get things started. With Kenny's prior successes and the things he has accomplished with conducting business online...this is a no brainer mentor to have on your side. Kenny's down to earth, approachable persona makes the book a great read and the content is life changing. If you have information you want to get out there in a logical sequence that people will pay you for, then this book and his online course really are guides to have in your arsenal!"
Kenny Keller's first book, Helicopter Check Ride, launched with 5-star customer reviews and hit Amazon #1 Best Seller in less than 12 hours.
This new book is a culmination of the last five years and the trials and tribulations he experienced while running his successful online business. There are chapters on getting started, audio and video equipment, uploading and launching your content into a membership site, and turning your knowledge and experiences into a steady stream of income.
About the Author:
Kenny Keller is the creator of Helicopter Online Ground School, and author of the Amazon best seller "Helicopter Check Ride." Kenny was formerly a law enforcement officer and certified firearms instructor. He took what he learned in law enforcement, along with his drive to succeed, and turned it into a successful business.
Get Kenny's new book "How to Build Your Online Business" now for only .99 cents on Amazon.
For more information about Kenny Keller and "Build Your Online Business", please contact:
Kenneth A Keller Jr.
Kenny(at)helicopterground(dot)com
Related Articles View More Books

Stories
More Hot Stories For You