Essex Books Presents Shelf Awareness: The Sun Sets on Amelia Peabody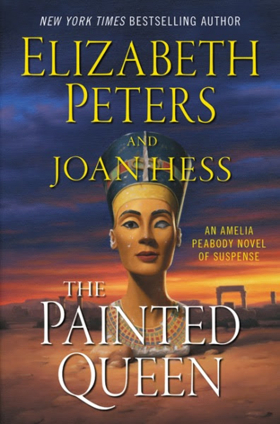 The Painted Queen, the final book in the Amelia Peabody series, has just been released by William Morrow. Though I cannot remember the precise year I discovered the series by Elizabeth Peters, I do recall my response: Gimme! One after the other, I devoured each installment. I couldn't get enough of the supremely feisty heroine whose ability to attract murder and mayhem was matched only be her keen intelligence and rapier wit. And her archeologist husband, Radcliffe Emerson? Bluster and brawn and a brain coveted by his peers, this was a man up to the challenge.
I suppose Peters could have stopped there and I would have been happy--a well-suited couple able to laugh at themselves while catching the bad guys will always hold a soft spot in my heart. But she didn't. Twisty, clever plots that kept me reading into the night? Check. Historical detail that sparked interest rather than bogged down the narrative? Yep. And the Middle East. Oh, the Middle East. As important a character as Amelia or Emerson, Peters's settings leapt off the page. After finishing one of Amelia's adventures, I felt parched, even sand-swept, a touch of wanderlust calling. It all sounds so clichéd, but I look back on the time spent reading the Peabody series as I would any cherished memory.
So what of The Painted Queen, you ask. A story begun by Peters before her death in 2013 and finished by her dear friend, accomplished mystery writer Joan Hess--I was skeptical. I needn't have been. It's all there. The repartee, battle of wills, danger, even Nefertiti's bust. Oh, how I'll miss Amelia. But hers is a fitting and adventurous end written with love and serious skill. Not a bad way to go out. Not a bad way at all.
Written by Stefanie Hargreaves, editor, Essex Books Presents Shelf Awareness for Readers
Related Articles
View More Books

Stories
More Hot Stories For You