Customer Service Guru Shares Tips and Tricks for Service Excellence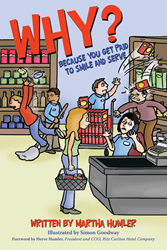 A former vice president of a multi-store retail chain has released a book containing tips and tricks managers can use to lead their business to customer service excellence. "Why?," by author Martha Humler, is an untraditional leadership guide which contains advice on what not to do as well as humorous customer service faux pas.
'Why?' consists of 29 chapters, each containing insight from Humler's vast experience in the human resources industry, as well as personal, humorous stories of sub-par customer service. Topics include "ways to keep delivering service after the sale" and "ways consumers can speak up to demand better customer service." The additional three-chapter epilogue outlines the critical components for success.
Humler has spent her career in the retail and advertising industries, including being a vice president of a 26-store retail chain. "I want to bring awareness to the push for receiving friendly and efficient service with these relatable rants," the author said. "Consumers should speak up and insist on excellence."
"I write customer service books for a living, but I've never written one like this," a reviewer wrote about the book. "Humorous, heartfelt, bite-sized chunks with the author's unique viewpoint throughout. This book is a quick read, but don't let that fool you. The lessons within will have a long, useful life in the way you think about customer service from that point onward."
A relatable and humorous look at the way many of us have experienced customer service, "Why?" offers serious knowledge regarding how to improve customer service, as well as providing a few laughs along the way.
"Why: Because You Get Paid to Smile and Serve"
By Martha Humler
ISBN: 978-1-4808-3834-5 (softcover); 978-1-4808-3835-2 (hardcover); 978-1-4808-3836-9 (electronic)
Available at the Archway Publishing Online Bookstore, Amazon and Barnes & Noble
About the author
Martha Humler graduated from the University of Maine with a degree in human development and business and spent 25 years working in retail and advertising, holding various VP human resource roles. She and her husband, Herve, a service-centric leader himself, have two children and currently live in Potomac, MD. To learn more, please visit the author's website.

Review Copies & Interview Requests:
LAVIDGE - Phoenix
Chris Peña
480-998-2600 x 519
cpena(at)lavidge(dot)com
General Inquiries:
LAVIDGE - Phoenix
Bryan Beach
480-998-2600 x 510
bbeach(at)lavidge(dot)com
Related Articles View More Books

Stories
More Hot Stories For You