BWW Review: THE WAY YOU MAKE ME FEEL by Maurene Goo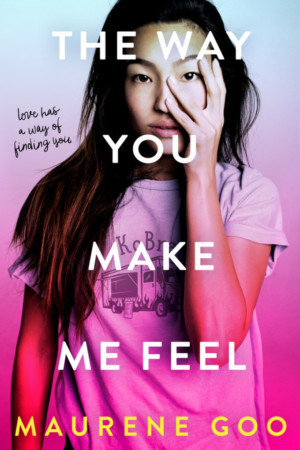 "As I stood there surrounded by three people who had the ability to do just that-crack my chest open to all the disappointment and difficulty and grief-I knew I still wanted it. The risk of the bad stuff was so worth the good stuff. People who would be there for you even when you messed up and behaved like a little jerk? They were the good stuff."
~THE WAY YOU MAKE ME FEEL
Are you making a list of the perfect books to read this summer? Make sure you put THE WAY YOU MAKE ME FEEL by Maurene Goo on your list!
I've heard nothing but great things about Goo, but never read her myself until her latest release--and now I want to run out and buy her entire backlist!
What's worse than losing your entire summer vacation because of one stupid mistake? Spending it side by side with your mortal enemy. And your dad. On a sweltering food truck...
Clara Shin isn't one to take things seriously. When her friends nominate her for prom queen as a joke, she thinks it's hilarious. She doesn't intend to actually try for the title...until Rose Carver tells her to drop out. The two girls are NOT friends and Clara decides to stay in the race just to annoy her classmate. On prom night, Clara wins the crown and immediately gets into a huge feud with Rose. The two girls almost burn the school gym down and their punishment is spending the summer working on Clara's father's food truck to help pay for the damages. Neither Clara nor Rose are going to get the summer they were anticipating, and if they can learn to work together, they might find a friendship worth keeping!
Not enough YA titles focus on friendship. Or on families. THE WAY YOU MAKE ME FEEL has a strong emphasis on both. There's still romance involved, of course, but it's more of a side story. The main focus is on Clara and her relationships with her parents and with learning to get along with Rose. I ADORED Clara's father Adrian. Clara and her dad are a lot like Lorelei and Rory Gilmore. They have a great bond and he should totally be named YA Father of the Year. He is seriously one of my all-time favorite YA dads. It's also really awesome that he steps up and makes the girls take responsibility for their actions. He came to the USA and brought his Korean and Brazilian backgrounds with him, blending the two to create the delicious food he serves on his food truck the KoBra (Korean-Brazilian food!). If the KoBra ever came to my town, I'd definitely get in line for a taste! (And often got so hungry reading this one, too!)
I really like how much Clara changes and evolves and grows throughout the novel. She forms a more close-knit bond with her father. She lets herself be vulnerable and winds up forming relationships she never thought she'd have with both Rose and a guy named Hamlet. She re-evaluates the friendships and relationships that have been so important to her for so long--and have perhaps been toxic. She discovers there is more to life than pranks and jokes. She is changing and growing and evolving. This summer changes Clara, and she exits it a completely different person from whom she was at the start. I adored watching her development and thought it was a huge focal point of the novel. I also really loved the way it chronicled growing up and the way we change and evolve and grow apart from our interests as we discover more about ourselves, which is such a crucial part of teen and young adult life. We can't stay who we are, and Clara grows up a lot in this book! Readers will really embrace her efforts as she begins her voyage of self-discovery.
I really loved seeing where Clara lives, the way she interacts with the people in her life, the things she loves that are important to her. This was a fantastic #OwnVoices book, and so much fun to read. THE WAY YOU MAKE ME FEEL is perfect for summer. If you like contemporary, you're really going to enjoy this one!
THE WAY YOU MAKE ME FEEL by Maurene Goo was published on May 8, 2018 by Farrar, Straus, and Giroux (BYR) / Macmillan Books.
Related Articles View More Books

Stories
Bonnie Lynn Wagner has been a reader for as long as she can remember. Friends frequently come to her for book recommendations, and eventually, she (read more...)