BWW Review: GIRL LAST SEEN by Nina Laurin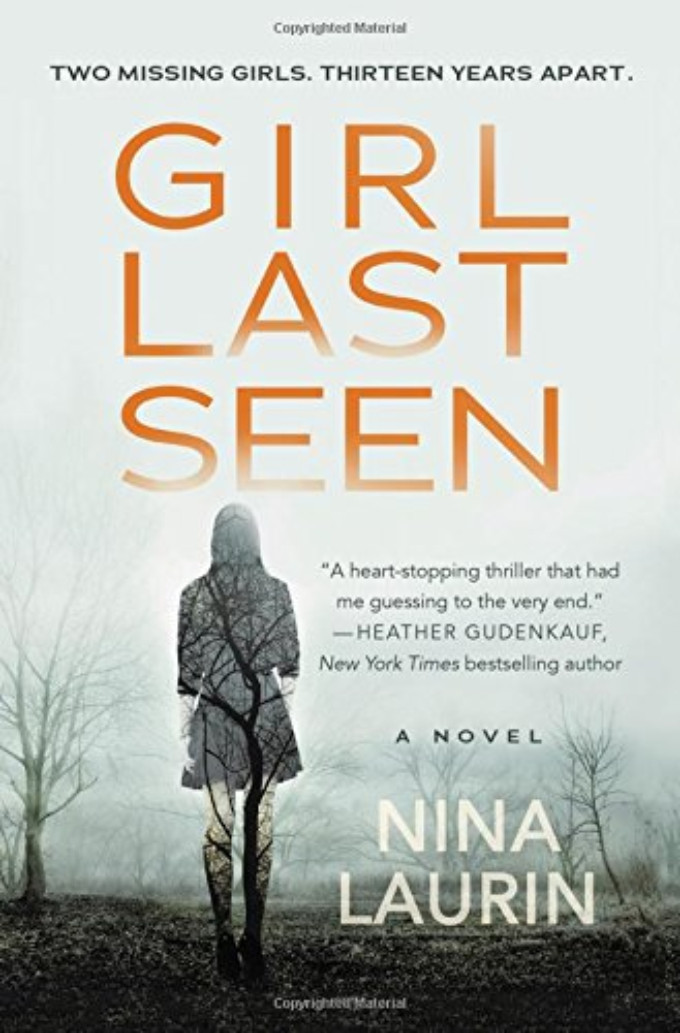 Looking for a good thriller full of twists and turns you won't see coming? Pick up GIRL LAST SEEN by Nina Laurin. Last year, Laurin hit the ground running and received a lot of attention for her debut novel. This past summer, she released a second thriller entitled WHAT MY SISTER KNEW. Her books are neither black nor white, but gray and full of flawed characters that make readers want to dig deeper to get at the heart of the story.
GIRL LAST SEEN hooks readers immediately with its summary:
Two missing girls. Thirteen years apart.

Olivia Shaw has been missing since last Tuesday. She was last seen outside the entrance of her elementary school in Hunts Point wearing a white spring jacket, blue jeans, and pink boots. I force myself to look at the face in the photo, into her slightly smudged features, and I can't bring myself to move. Olivia Shaw could be my mirror image, rewound to thirteen years ago. If you have any knowledge of Olivia Shaw's whereabouts or any relevant information, please contact... I've spent a long time peering into the faces of girls on missing posters, wondering which one replaced me in that basement. But they were never quite the right age, the right look, the right circumstances. Until Olivia Shaw, missing for one week tomorrow. Whoever stole me was never found. But since I was taken, there hasn't been another girl. And now there is.
Immediately, I was intrigued. Growing up, one of my favorite books was THE FACE ON THE MILK CARTON by Caroline B. Cooney, so books involving missing people have always captured my attention from the get-go. And one where a kidnapper is choosing victims who look alike thirteen years apart? Sign me up!
There are a lot of twists and turns readers won't see coming that keep them flipping pages, desperate for answers. Some readers will pick up on various truths because the ground is well laid-out, while others will be blown away. All readers will want answers. The first twist comes within a couple of chapters of the book's opening and propels the events of the story into action as Ella (Now going by the name Laine after her own abduction) is pulled into the desperate search for a missing girl who may have been taken by the man who once kidnapped her. She is wound even tighter into the case than she ever anticipated, and the life she has shakily created for herself begins to topple.
Following the trends in today's psychological thrillers made popular by mega-hits such as GONE GIRL by Gillian Flynn and THE GIRL ON THE TRAIN by Paula Hawkins, GIRL LAST SEEN features an unreliable narrator who knows more than she's letting on. What she knows is impeding the investigation, and also making her appear very, very guilty. What does Laine know? What does she remember that she's not telling? Will Olivia be found before time runs out?
While parts of the novel are cliche to readers familiar with the genre, Laurin is a solid, compelling author and Laine's quest to re-build her life after the trauma she faced is one that will have readers intrigued. We don't often get to see the world through the eyes of someone who has been kidnapped and survived to tell her tale after finding freedom. That alone will hook readers into the story. The fact that she may be the only one who can lead police to another missing girl thirteen years after her kidnapping? Who wouldn't want to immediately know more?
GIRL LAST SEEN by Nina Laurin was published by Grand Central Publishing on June 20, 2017.