A Classic Twist for the Apple Watch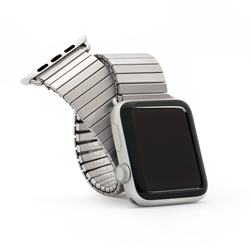 Classic engineering meets modern tech with Speidel's new Twist-O-Flex expansion band for the Apple Watch. The iconic Twist-O-Flex band has been manufactured by Speidel for the last 58 years in a variety of styles, sizes and finishes that fit almost any watch and continues to be a staple in the timepiece world.
Speidel now offers the Twist-O-Flex band in two sizes that fit both the 42mm and 38mm Series 1 and 2 Apple Watch. Constructed of high quality stainless steel, Twist-O-Flex bands offer excellent resistance to water and can stretch 5 inches beyond their initial size. This large expansion range makes it extremely easy to get the Apple Watch on and off without having to struggle with a buckle or clasp. In addition to its retro charm the Twist-O-flex band is comfortable to wear and is available in a brushed satin finish that offers a stylish appearance suitable for business or casual wear. Watchband lengths can be customized to fit any size wrist.
Speidel's new Twist-O-Flex band for the Apple Watch retails for $50 and is available at select jewelers and http://www.speidel.com. For additional details click here.
About Speidel
Since 1904, vintage American brand Speidel has been renowned for its innovative designs, operational excellence, and passion for customer service. As the #1 recognized brand in the world of watchbands and identification bracelets, Speidel offers a variety of products including the company's signature "Twist-O-Flex®" watchband, Speidel Identification Bracelets (Speidel ID's®, My First ID®), Medical Alert bracelets (Medilog®), Kid's Jewelry (My First Speidel®) and Men's Jewelry and Accessories (Anson®), as well as beautifully crafted traditional and contemporary timepieces. Speidel can be found at both exclusive independent jewelers and well known retailers across the U.S., as well as at http://www.speidel.com.
Related Articles View More Books

Stories
More Hot Stories For You