BRAVURA, New Play About David Hochstein, Makes World Premiere This November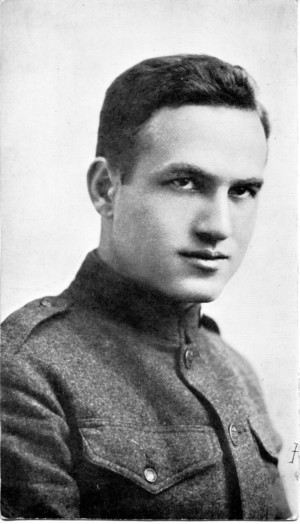 BRAVURA: The Life and Death of David Hochstein will have nine performances between November 8 - 18 at the Multi-use Community Cultural Center (MuCCC, 142 Atlantic Avenue, Rochester 14607): Thursday, November 8 - Saturday, November 10 at 7:30 PM; Wednesday, November 14 - Saturday, November 17 at 7:30 PM; and Sunday, November 11 (Veterans' Day) & 18 at 2 PM. Advance tickets are $15, $20 at the door, and group discounts are available. Tickets and more information are available at bravuratheplay.com, or call 585-450-9933.
David Hochstein was born in 1892 to Jewish immigrants living on Rochester's Joseph Avenue and graduated from East High School. Hailed as a violin prodigy, Hochstein studied with the finest teachers in Europe, thanks to the patronage of Emily Sibley Watson and George Eastman. He played with what would later become the Rochester Philharmonic Orchestra, taught at what later would become Eastman School of Music, and made his Carnegie Hall debut with a Stradivarius violin provided by Mr. Eastman. A brilliant career in music seemed assured, but the United States' entry into World War I in 1917 changed everything. Inspired by the "bravura" of the great composers he loved, 25-year-old David Hochstein traded his violin for a rifle. He was killed a year later in the Argonne forest campaign, and his remains were never found.
This is the true story that inspired Rochester playwright Stuart Loeb to write BRAVURA: The Life and Death of David Hochstein. He was in the midst of penning Ashcakes, his play about Frederick Douglass, when Grace Kraut - author of the Hochstein biography, Unfinished Symphony - asked him to consider writing a play about David. He soon became fascinated with Hochstein's story, his family - including his aunt, Emma Goldman, the famous American anarchist - and the friends, teachers, and soldiers who surrounded him. Loeb's play is a fictionalized retelling of a courageous and tragic time in Rochester's history.
"Most of all, I wanted to probe the question, 'Why did he enlist?' David had a deferment to support his mother, and his music career was really taking off. Then, when he was assigned to conduct the Army band, he requested officer training to become a second lieutenant so that he could fight instead. Why was he so determined to be on the front lines?" asks Loeb, a child psychiatrist and life-long classical music lover. "With the help of Tchaikovsky's and Paganini's music, the play brings David to life, and explains how this great Rochester hero left his 'bravura' legacy as a performer, teacher, and soldier."
After years of research and rewrites, Loeb asked well-known local director Donald B. Bartalo to take on the play's world premiere. Bartalo lost no time in becoming a passionate supporter and partner in the project.
"I'm proud to dedicate this production to all Rochester military veterans, especially to the families of World War I soldiers who fought so bravely in the trenches of Europe," says Bartalo, whose hummingbird theatre co. - along with Rochester's MuCCC (Multi-use Community Cultural Center) and its Artistic Director John Borek - is a co-presenter. "I'm also proud of our wonderful, committed cast."
That cast includes James Heath (David Hochstein), Denise Bartalo (Helena Hochstein), Stephanie Roosa (Emma Goldman), Richard Kendrick (Major Baldwin), Kate Osher (Ernestine, a nurse), David Byrne (Leopold Auer/George Eastman), Reece Gurell (Boy), Rachel Brill (Lily, a French girl), Larry Ploscowe (Private Crawford/Sergeant Hopkins), and Jahaka Mindstorm (Private Esposito).
Dr. Margaret Quackenbush, executive director of The Hochstein School, has also provided much encouragement and inspiration, and the School will benefit with proceeds from the production. The Hochstein School was founded in David's honor two years after he died.
"We are excited about Stuart's play, and the fact that it leads into our 100th anniversary in 2020," says Quackenbush, who was able to arrange for David Hochstein's great nephew, John Hochstein, to attend one of the performances. "It's time for a new generation of Rochesterians to learn about David and his amazing legacy."
"The story behind BRAVURA is haunting and tragic, the music is beautiful, and it's Rochester's own history," adds Loeb. "I hope that audiences will discover another great local hero!"