REENACTMENT A Group Exhibition On The Politics Of Historical Reenactment In Contemporary Art Comes to BRIC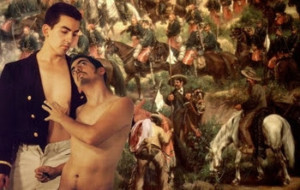 BRIC presents Reenactment, a group exhibition examining and agitating the aesthetics and politics of historical reenactment in contemporary art (January 18-February 25). In traditional reenactments, events like the American Revolution and Civil War are embodied by amateur performers using storytelling and props, all too often approaching history as unchangeable and absolute.
Through work in performance, video, and photography, this exhibition-curated by Jenny Gerow, Assistant Curator at BRIC-looks at six artists of color who are unsettling cultural mythologies and origin stories, and who approach history as fluid. With works from Ken Gonzales-Day, Crystal Z. Campbell, Marisa Williamson, Maria Hupfield, Alicia Grullón, and Farideh Sakhaeifar, the histories represented range from civil rights activism and gentrification in Brooklyn's Bed-Stuy neighborhood to the refugee crisis in Syria and the American Revolution, asserting the experiences of people underrepresented throughout history. In conjunction with the exhibition in the main gallery space of BRIC House, will be an installation by Kenseth Armstead, Master Work: Slaves of New York 1776 in BRIC's Project Room (January 18-25); and an evening of performance, featuring Hupfield and Grullón (January 24).
In a film installation by Crystal Z. Campbell, the artist reanimates a piece of recently erased local history. Prior to the demolition of the Slave Theater, a theater in Bed-Stuy where Reverend Al Sharpton held rallies and rose as an activist figure, Campbell trespassed on the abandoned property, unearthing a roll of undeveloped film of amateur kung-fu movie, called Go-Rilla Means War. (The theater's former owner-Judge John L. Phillips, Jr.- sometimes called the "kung fu judge," was the director of the film.) From that film, whose 20,000 frames Campbell manually scanned then soundtracked with a part-historical, part-fictional narrative, the artist created an installation chronicling the story of Judge Phillips, his kung fu movie house/social justice epicenter, and Robert Kennedy and the Community Development Corporation movement combating redlining. Now a casualty of local gentrification, a new complex of residential and retail spaces will soon stand where the theater once stood as a black neighborhood hub.
A more distant Brooklyn history is evoked in Alicia Grullón's performance work-back to the Battle of Brooklyn on August 27, 1776, the first large battle in the Revolutionary War, following the Declaration of Independence. By inserting herself, a woman of color, into reenactments of this battle, the artist questions what "revolutionary" histories we're so widely taught. Four photographs from a reenactment at Green-Wood Cemetery appear in the exhibition, alongside texts including the press release for the "Trail of Broken Treaties" delivered in Minneapolis MN in 1972 and James Foreman's "The Black Manifesto" delivered at The Black National Economic Conference on July 10, 1969 (which Grullón carried in her boots during the reenactment). On January 24 at 7pm, Grullón will give a performance- A rehearsal of the past for the future-where she will dress in period costume from the Battle of Brooklyn, and in a mic check fashion, will lead the audience in the steps of holding and preparing a musket to fire while reciting pertinent verse. Grullón formerly explored the critical potentials of reenactment at BRIC in 2016 through Filibuster, in which she reenacted the 11-hour filibuster by Texas State Senator Wendy Davis, as part of BRIC's Whisper or Shout exhibition.
Ken Gonzales-Day's Bone Grass Boy: The Secret Banks of the Conejos River series-created over two decades ago-flips the perspective of the traditional 19th century frontier novel, which persistently used Native and Latinx characters as inferior backdrops for the heroic tale of Western conquest by white characters. Via an installation comprised of 19 photographs hung within a hand-painted mural, a printed copy of the artist's novella, and a severed head in snow, Gonzales-Day traces his genealogy through camp aesthetics, reinventing his ancestors as characters, and performing them through the photographs. The story centers on the characters of Ramoncita, a Native/Latina indentured to a rancher, and Nepomuceno, a New Mexican soldier. Through an expansive photographic narrative, Gonzales-Day uses these characters to uncover missing histories surrounding the U.S.-Mexican War (1846-48), as told through a queer, intersectional critique. The themes Gonzales-Day touches upon in this series, such as immigration, US-Mexico relations, the AIDS crisis, and the transgender rights movement, are reflected thematically through his still painfully relevant vantage point of the 1990s, when AIDS continued to consume queer lives and the U.S. government imposed new militaristic border policies.
Marisa Williamson takes a performative, character-driven approach to the reconsideration of perspective in looking back through history. The artist took on the persona of Sally Hemmings-the enslaved woman of mixed race owned by President Thomas Jefferson who was thought to be his mistress-carrying out a continued performance that included giving tours of the American Wing period rooms at the Met, leading "full-body" workouts as Hemmings; and even placing Hemmings in a postmodern talk show alongside the likes of Monica Lewinsky, Oprah Winfrey, Ben Affleck, and Tituba of Salem Village. For the exhibition at BRIC, Williamson is creating all new work, turning a queen sized bed into a prototype for Sally Hemming's grave site, complete with a full mattress of living plants and an epitaph that reads "Dream On." Also included is a video installation interweaving Hemming's history with that of Cherry Jones, Williamson's second cousin and history interpreter at Monticello.
Farideh Sakhaeifar's latest works find humanity and its absence in particularly brutal recent histories. The prints from her You are in the war zone series depict the Syrian Civil War and refugee crisis, and overexpose drawings made of the media's coverage of conflict and human suffering with photographic scenes of everyday life in New York City. Her Untitled (Halabja) linocuts pair text from The Inconvenient Atrocity: The chemical Weapons attack on the Kurds of Halabja, Iraq by Susan Schurman with imagery that sets decontextualized faces and body parts cut from magazines against the insinuating outlines of her linocut prints, bearing the subtle traces of tragedy. Sakhaeifar will hold open rehearsals in the gallery space for a performance relating to the Untitled (Halabja) with dancer Isabel Umali. Based on the first-person account of the victims of the chemical warfare attack the resulting performance presents the expression of trauma through reenactment.
Opening up the collaborative potential of reenactment is the multidisciplinary artist Maria Hupfield. An artist of Anishnaabe (Ojibway) heritage, and a member of Wasauksing First Nation, her work includes object making, video, performance, and community activism. Often creating work by hand-sewing industrial felt, she builds forms based on ritual or traditional clothing that become activated through performance. Her work is focused on the production of shared moments that open spaces for possibility and new narratives. Located in the windows of BRIC House will be the 30 ft. Solidarity Acknowledgement Banner, part protest banner, part land acknowledgement, with text in the form of a concrete poem: "speaksolidaritybuild solidarityradicalsolidarity awakesolidarityaction." Hupfield will also perform Electric Prop and Hum Freestyle Variations: BRIC, a 20 minute, multimedia performance piece in collaboration with fellow BRICworkspace artist-in-residence, Tusia Dabrowska, activating objects currently on display in the gallery (January 24 at 7pm). This project incorporates scored and un-scored movement, sound, and vocalizations with the live electric music by Wiktor Podgorski.
Kenseth Armstead's ancillary exhibit, Master Work: Slaves of New York 1776, also opens on January 18 (with a reception on January 17, 7-9pm), and runs through February 25 in the BRIC House Project Room. Master Work, while standing alone, also further intensifies the discussions at play in Reenactment. In the confines of a room cramped with coded Revolutionary-era objects, 20,000 duck feathers-one for each slave in the colony of Revolutionary War-era New York-are tarred to perforated steel frames along the walls. The other objects, denoting the messages of freedom from British oppression and the ensuing promises of the American dream, evoke innumerable ideological hypocrisies in their placement against the mired symbols of the people to whom such visions of autonomy and empowerment were denied.
Reenactment comes at a time where America simultaneously reckons with and perpetuates histories of oppression. Conversations about historical monuments and legacies that have been upheld for far too long open the floor to perspectives the country has, throughout its history, cast into the margins as a defense of power structures supporting the white, rich, and male. Reenactment brings together a diverse array of personalized histories from people of color in an assertion of the inherent problems of the singular nature of the word "history."
Accompanying Programming
Opening Reception for Reenactment and Kenseth Armstead's Master Work
Wed, January 17 from 7-9pm
Celebrate the opening of these new exhibitions at BRIC House.
Coffee & Conversation
With Jennifer Gerow, curator of Reenactment and Master Work
Sat, February 3 at 12pm
Join BRIC for a cup of coffee and gallery talk with the curator of Reenactment and exhibition artists Maria Hupfield and Farideh Sakhaeifar and Master Work artist Kenseth Armstead.
Performance and Discussion
with Maria Hupfield and Alicia Grullón
Wed, February 7 at 7pm
Performances by Reenactment artists Maria Hupfield and Alicia Grullón, followed by a discussion moderated by Harry Weil, Manager of Programs at Green-Wood Cemetery. Electric Prop and Hum Freestyle Variations Studio is a twenty-minute performance piece by Maria Hupfield, presented in collaboration with artist Tusia Dabrowska. The multi-media performance incorporates scored and un-scored movement, sound, and vocalizations to intervene in BRIC's gallery. In A rehearsal of the past for the future, Alicia Grullón will lead the audience through a performance that combines recitation, a tutorial on musket loading, and protest.
Free Tours for Groups & Individuals
Wednesdays, 10:30 & 11:30am
Visit BRICartsmedia.org/exhibitiontours for more information.
About the Artists
Crystal Z. Campbell
Born in Oklahoma; based in Brooklyn, NY
Crystal Z. Campbell investigates historical narratives and the politics of witnessing using sound, film, sculpture, photography, and installation. Campbell sees history as a series of questions. Her work critically examines unsettled historical narratives and explores the gaps in our social and cultural collective memory. She undertakes an excavation, mining through archival images, documents, and ephemera, in an effort to find answers to questions, or more questions. She blends fact and fiction and places the past and present in dialogue with one another in an attempt to put together unknown histories. Campbell's works have exhibited nationally at Smack Mellon, Brooklyn; the Studio Museum of Harlem, Exit Art, and Wave Hill, all NY; Institute of Contemporary Art, Philadelphia, PA; Children's Museum of San Diego, CA; and Project Row Houses, TX. She has exhibited internationally at Artericambi and Artissimma, Italy; Futura Contemporary Art, Czech Republic; de Appel Arts Centre and Art Rotterdam, Netherlands. She has had residencies at the Whitney Museum of American Art's Independent Study Program, Skowhegan School of Painting and Sculpture, and MacDowell Colony. She has received honors and awards from Marfa Contemporary, TX; National Academy of Fine Arts and Rijksakademie van Beeldende Kunsten, Netherlands; Sommerakademie Fellowship at Zentrum Paul Klee; Mondriaan Fellowship, and others. Campbell received her BFA at University of Oklahoma, her MA from University at Albany-SUNY, NY, and her MFA from University of California-San Diego. She is currently a Tulsa Artist Fellow. (crystalzcampbell.com)
Ken Gonzales-Day
Born in Santa Clara, CA; based in Los Angeles
Ken Gonzales-Day is an interdisciplinary artist whose conceptually driven works explore topics of race, identity, and representation. In Bone Grass Boy (1996) Gonzales-Day considers the socio-political representational histories of the Mexican-American experience portraying himself as all the characters in a staged photonovella set during the Mexican American War. Gonzales-Day's work has been exhibited in LACMA and LAXART, Los Angeles; Tamayo Museum, Mexico City; Palais de Tokyo, Paris; and the New Museum, NY; among many others. He appears in prominent collections such as Smithsonian American Art Museum; Los Angeles County Museum of Art; Getty Research Institute; Art Gallery of New South Wales, Sydney; Santa Barbara Museum of Art; Eileen Norton Harris Foundation; L'École des Beaux-Arts, Paris; and Museum National d'Histoire Naturelle, Paris; Williamson Gallery. His Photo Arts Council (PAC) Prize winning book, Profiled, was published in 2011 by the Los Angeles County Museum of Art (LACMA). In 2017, Gonzalez-Day was awarded the Guggenheim Fellowship in photography. (kengonzalesday.com)
Alicia Grullón
Born and based in New York City
Through her performance art, Alicia Grullón critiques the politics of presence, an argument for the inclusion of disenfranchised communities in political and social spheres. Grullón's contribution to this debate centers on social interventions and performative reenactments that assert the lived experiences of people left out of history. Grullón's works have been shown in numerous group exhibitions including those at Smack Mellon, BRIC, Casita Maria Center for Art and Learning, and El Museo del Barrio, all in NY. She has taken part in several biennials and festivals including The Uptown Triennial at Columbia University, The (S) Files at El Museo del Barrio; Performa 11; the Bronx Museum AIM Biennial; and Art in Odd Places. She has completed residency and fellowship programs with the Wallach Art Gallery, Arts Council Korea, the Five Colleges Women's Studies Center, A Blade of Grass Foundation, and Culture Push, among others. Grullón has received grants to support her work from the Puffin Foundation, Bronx Council on the Arts, the Department of Cultural Affairs of the City of New York, Crompton Foundation and Franklin Furnace Archives. She received a BFA from New York University and an MFA from the State University of New York at New Paltz. (aliciagrullon.com)
Maria Hupfield
Born in Ontario, Canada; based in Brooklyn
Maria Hupfield is a Brooklyn-based artist of Anishnaabe (Ojibway) heritage, and a member of Wasauksing First Nation. Her work includes object making, video, performance, and community activism. Often creating work by hand-sewing industrial felt, she creates forms based on ritual or traditional clothing that become activated through performance. Drawing from Anishinaabe traditions as well as the western history of performance art, Hupfield's objects and performances are meant to act as mediators between the body and its environment, and to respond to issues related to cultural memory, material culture, and identity. Hupfield has exhibited in SITE Santa Fe 2016; Museum of Arts and Design, NY; Wave Hill, Bronx; Power Plant, Toronto; and the 7a*11d International Performance Festival, Toronto. Her project Artist Tour Guide was commissioned by the Smithsonian's National Museum of the American Indian, NY. Artist Jason Lujan and Hupfield work together to run Native Art Department International, a blog that presents artwork by indigenous artists alongside and on par with International Artists. She has received grants and residencies from the Joan Mitchell Foundation, Wave Hill, and the Canada Council for the Arts, among others. Hupfield received an MFA from York University, Toronto, and a BA from the University of Toronto and Sheridan College. Her work is represented by Galerie Hugues Charbonneau, Montreal. (mariahupfield.wordpress.com)
Farideh Sakhaeifar
Born in Tehran, Iran; based in Brooklyn, NY.
Sakhaeifar's reveals hidden human expression in social and political struggles through the absence and presence of the figure in her photography, sculpture, and installations. A new work in progress will look at the chemical attack on Halabja, Iraq juxtaposing first hand accounts of the survivors with photographs taken of the aftermath. She will be collaborating with jazz musician Amir ElSaffar and modern dancer Isabel Umali to choreograph a performance of the accounts to be staged in front of a wall sized linocut. Sakhaeifar has had shows at Cathouse FUNeral, Brooklyn; William Holman Gallery; Parsons the New School; and CP Projects Space at the School of Visual Arts, all NY; and the College of Wooster Art Museum, OH. She has received awards from and has had residencies at BRIC, Lower Manhattan Cultural Council, Residency Unlimited, and International Center of Photography. Farideh received her MFA from Cornell University, College of Art, NY and her BFA from Azad Art and Architecture University in Tehran, Iran. (faridehsakhaeifar.com)
Marisa Williamson
Born; Based in New York City
Marisa Williamson is a New York-based multi-disciplinary artist. Her work explores the materialities of inheritance, memory, storytelling, race, ethics and aesthetics through performance, video, and images. Her most recent works have placed a focus on the embodiment of Sally Hemmings, the slave and mistress of Thomas Jefferson. Sally Hemmings enters various video pieces as a ghost, meant to unsettle and disorient the viewers. These particular projects ask questions of intimate antagonism, racial and gendered identity crises and politics. Williamson zooms in on the story of Sally Hemming's without labeling her as a runaway or revolutionary, but rather placing an emphasis on this woman's' creativity, survival, endurance, and forced intimacy that constitute so much of everyday life, then and now.
She received her BA from Harvard University and her MFA from CalArts. She was a participant in the Skowhegan School of Painting & Sculpture in 2012 and the Whitney Museum's Independent Study Program in 2014-15, and she attended the Shandaken Project at Storm King in 2015. She has staged site-specific performances at and in collaboration with Thomas Jefferson's Monticello, Pioneer Works in Brooklyn, Storm King Art Center, and most recently at the Metropolitan Museum of Art. Williamson's short film exploring Hemings' time spent in Paris, shot on location in France, has screened in Boston, Philadelphia, and New York. Her videos, performances, and objects are exhibited regularly in Los Angeles, Chicago, and New York. (marisawilliamson.com)
Kenseth Armstead
Based in Brooklyn and Earlton, NY
Kenseth Armstead is a multimedia installation artist. His works have been exhibited at the Whitney Museum of American Art; the Brooklyn Museum; The Solomon R. Guggenheim Museum; the Studio Museum in Harlem; the Berlin VideoFest; and the MIT List Visual Arts Center. His videos, drawings and sculptures are included in the collections of the Centre Pompidou, African American Museum in Dallas, Texas and numerous public and private collections. The New York Times, L Magazine, Art in America, Village Voice, The Boston Globe and The Washington Post have favorably reviewed his videos, sculptures and multimedia installations.
Armstead received a BFA from the Corcoran College of Art & Design in 1990. While still an undergraduate, he participated in the Skowhegan School of Painting and Sculpture. Upon completion of his degree, he moved to New York City to attend the Whitney Museum of American Art Independent Study Program (1990-1991.) He now holds an MS in Integrated Digital Media from the Polytechnic Institute of NYU, which awarded him The Excellence in Digital Media Award in 2005.
Armstead has co-authored multimedia installations collaboratively with the art-band, X-PRZ, which he co-founded with his mentor Tony Cokes in 1991. He was also the founding Managing Editor of Rhizome Internet, (rhizome.org) which he helped launch in 1996.
Scenes from Spook were presented in the Art Gallery of the Siggraph Asia 2009 conference in Yokohama, Japan. Outtakes from the Spook project were included in a feature length documentary which was broadcast on PBS nationally; "Lafayette: The Lost Hero," directed by the academy award nominated, Oren Jacoby. Armstead was also an historical consultant on the project.
Artist Residencies have significantly contributed to Armstead's practice and professional growth. A non-exhaustive list includes, Harvestworks (2006); the Castle Trebesice outside Prague, CZ (2006); the Lower Manhattan Cultural Council's, Workspace Program (2007); Eyebeam Center for Art + Technology (2009); and the Brooklyn Museum, Library and Archive (2013); and Socrates Sculpture Park (2015.)
Kenseth Armstead is a 2017-18 recipient of the ArtFP, an open call for Brooklyn-based visual artists to exhibit at BRIC House. For more information, visit BRICartsmedia.org/ArtFP
Image courtesy of Ken Gonzales-Day
About BRIC
BRIC is the leading presenter of free cultural programming in Brooklyn, and one of the largest in New York City. We present and incubate work by artists and media-makers who reflect the diversity that surrounds us. BRIC programs reach hundreds of thousands of people each year.
Our main venue, BRIC Arts | Media House, offers a public media center, a major contemporary art exhibition space, two performance spaces, a glass-walled TV studio, and artist work spaces.
Some of BRIC's most acclaimed programs include the BRIC Celebrate Brooklyn! Festival in Prospect Park, several path-breaking public access media initiatives, including BRIC TV, and a renowned contemporary art exhibition series. BRIC also offers education and other vital programs at BRIC House and throughout Brooklyn.
In addition to making cultural programming genuinely accessible, BRIC is dedicated to providing substantial support to artists and media makers in their efforts to develop work and reach new audiences.
BRIC is unusual in both presenting exceptional cultural experiences and nurturing individual expression. This dual commitment enables us to most effectively reflect New York City's innate cultural richness and diversity.
Learn more at BRICartsmedia.org.
BRIC's contemporary art program benefits from generous private funding from Alloy, Astoria Bank, Milton and Sally Avery Arts Foundation, Edwin Barbey Charitable Trust, The Bay and Paul Foundations, Bloomingdale's, City Point, Con Edison, The Educational Foundation of America, Ford Foundation, Forest City Ratner Companies, The Hearst Foundations, Lambent Foundation, Stavros Niarchos Foundation, The Robert Lehman Foundation, New York City Cultural Agenda Fund in The New York Community Trust, the Oppenheim Family Fund, Scherman Foundation, TD Bank, TF Cornerstone, Tiger Baron Foundation, and Pia and Jimmy Zankel, as well as numerous individual supporters.
Generous public support is provided by the National Endowment for the Arts; New York State Council on the Arts with the support of Governor Andrew Cuomo and the New York State Legislature; Mayor Bill de Blasio and the New York City Department of Cultural Affairs, Commissioner Tom Finkelpearl; New York State Assembly Members Joseph R. Lentol, Walter Mosley, Annette Robinson, and Jo Anne Simon; Brooklyn Borough President Eric Adams; New York City Council Speaker Melissa Mark-Viverito, the Brooklyn Delegation of the New York City Council, and New York City Council Members Inez Barron, Robert E. Cornegy, Jr., Laurie Cumbo, Rafael L. Espinal, Mathieu Eugene, Vincent Gentile, Brad Lander, Stephen Levin, Darlene Mealy, Antonio Reynoso, Mark Treyger, and Jumaane Williams.