Monodrama MY LAI Comes to BAM Harvey Theater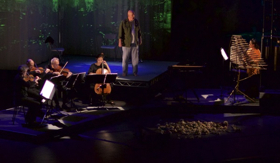 An evening-length sung monodrama, My Lai focuses on the emotional toll of the infamous 1968 civilian massacre by US troops in Vietnam and the military's attempted cover up. This wrenching account of the event and its aftermath is told through the eyes of Warrant Officer Hugh C. Thompson, Jr., who attempted to stop the killing. Composed by Jonathan Berger with libretto by Harriet Scott Chessman, the work is scored for tenor, string quartet, and traditional Vietnamese instruments, and features tenor Rinde Eckert, Kronos Quartet and instrumentalist Vân-Ánh Võ who plays the ?àn Tranh (zither), the ?àn B?u (monochord), the ?àn T'rung (bamboo xylophone), and tr?ng (traditional drums). The program at BAM will begin with a short piece by Berger, created in collaboration with Kronos Quartet's David Harrington and Vân-Ánh Võ, titled My Lai Lullaby.
The massacre of over 500 innocent civilians by American soldiers in the village of My Lai on March 16, 1968, was one of the darkest moments of the Vietnam War-one that traumatized the nation and swayed the course of history. The events of that day may well have gone unnoticed save for the actions of a young army helicopter crew led by pilot Thompson who, by happenstance, witnessed the killings in the course of a routine reconnaissance flight. Appalled by what he saw, Thompson interceded by reporting the incident, and making three landings that ultimately allowed civilians to escape. During one landing-aghast at their inability to stop the slaughter-Thompson threatened to have his crew open fire on his fellow troops if they continued killing villagers. When they touched down a second time, Thompson's crew spotted movement in a ditch of victims. While searching the mass grave for survivors, they found a child bloodied, but living, pulled him from his dead mother's grasp, and flew him safely to a hospital in Qu?ng Ngãi. The refusal of Thompson and his crew to remain silent about the massacre forced the military to conduct an inquiry and trial that shook the national conscience, and left Thompson vilified as disloyal for much of his life.
My Lai takes place in a hospital room where Thompson, surrendering to cancer, is under hospice care. Despite his courage that day and his beleaguered perseverance for justice, he remains deeply wounded, irrevocably haunted by the senseless suffering he witnessed. There is no closure or resolution to the grief, sorrow, and rage he feels because of his fellow soldiers' brutality.
The staged version of My Lai had its world premiere at Chicago's Harris Theater where the Chicago Tribune praised the libretto stating, "Chessman's memory play mixes poetry, slang and hurt with fierce brilliance," and characterized the score as "growly thickets of notes, pages of anguished arpeggios and contrasting stretches of elegiac calm to relieve the pervasive agitation, despair and dread." Eckert's performance was a "tour de force" whose "strong technique coped splendidly with the high-lying vocal lines."
For ticket information, call BAM Ticket Services at 718.636.4100, or visit BAM.org.
Photo credit: Zoran Orlic