Click Here to Visit the College Center

Blogs are the opinions of the authors and do not necessarily reflect the opinions of BroadwayWorld. BroadwayWorld believes in providing a platform for open and constructive conversation.

Student Blog: 11 Theatre-Adjacent Movies for Your Next Movie Night
MARTHA GRAHAM, MARTHA GRAHAM, MARTHA GRAHAM!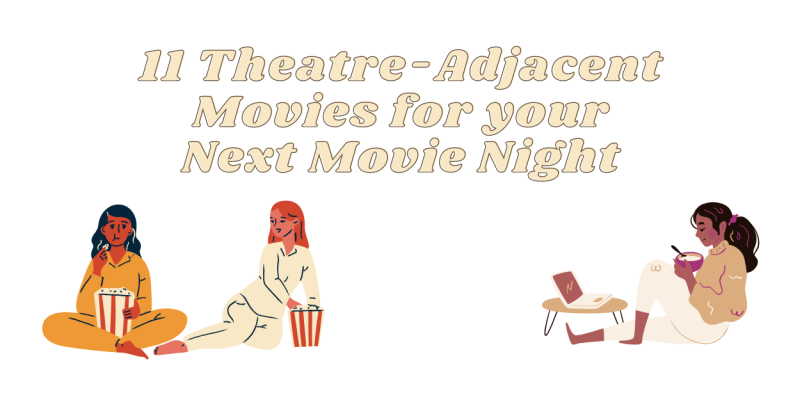 As we are well within a year of quarantine, the art of the movie night has not been lost to us. Whether you do it in-person with your "quarantine bubble", or online using a service like Netflix Party or Discord's video screening feature, here are some theatre movies and pro-shots to add to your Friday night plans.
1. The Birdcage (1996)
Can be found on: PlutoTV
Adapted from the play La Cage aux Folles, The Birdcage is a delightful farce in which a planned dinner goes awry. Armand Goldman (Robin Williams) is the owner of a drag club in South Beach, and lives with his partner Albert (Nathan Lane). Armand's son Val wants to get married to his girlfriend, whose parents are the conservative Senator Kevin Keeley, and his wife Louise. After a dinner is planned, hilarity ensues.
This movie comes in at around 2 hours, and is a hilarious weekend movie to watch with friends.
2. Much Ado About Nothing (2011)
Can be found on: Digital Theatre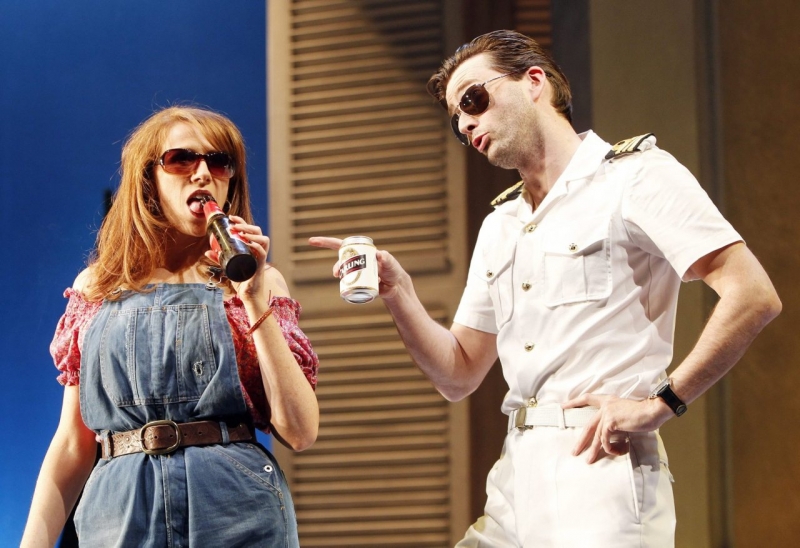 This adaptation, starring Catherine Tate and David Tennant, has The Bard's comedy taking place in a beach vacation. With golf carts, Tommy Bahama shirts, and white paint-based physical comedy, this production delights many.
Beatrice (Catherine Tate) and Benedick (David Tennant) share a mutual discontent for one another, while Claudio (Tom Bateman) and Hero (Sarah MacRae) are madly in love with each other. When Claudio and Hero try to get Beatrice and Benedick together, their stories take a turn.
Coming in at 2 hours 40 minutes long, this is a delightful weekend movie, especially with some takeout dinner.
3. Sweeney Todd (2007), "Live from Lincoln Center" Sweeney Todd (2014), and Sweeney Todd (1982)
Can be found on: Prime Video (2007), Apple TV (1982), YouTube (2014)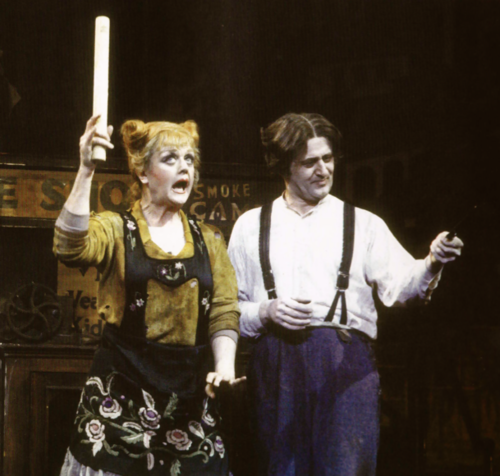 I cannot, in good faith, recommend just one version of Sweeny Todd. There are so many professionally filmed productions to choose from, and each has its own unique twist. The Tim Burton film version darkens the imagery and makes an audience feel uneasy, while the original production with Angela Lansbury has a more light-hearted, comedic feel. And even so, my favorite production of Sweeny Todd just so happens to be a concert - the one at Lincoln Center, to be exact. The introduction to this version was enough to draw me in - playing in on the fact that "this is a concert", and subsequently destroying the hall to create the set. All three of these productions are worth a watch, and could even be made into a 3-night Sweeney Marathon.
4. Fiddler on the Roof (1971)
Can be found on: PlutoTV
Fiddler on the Roof has truly cemented itself as a classic, both as a movie and as a musical. Adapted from Tevye and His Daughters, the musical follows Tevye (Chaim Topol), his life in Anatevka, and his daughters. This movie is a classic, and is a great family introduction to musicals - especially considering the impact the show has that spans multiple demographics and generations. It comes it at 3 hours long - it could be split into two "acts" if you desired!
5. Evening Primrose (1966)
Can be found on: Prime Video
Who would I be without a fairly obscure, fairly old TV musical recommendation?
Evening Primrose was written when Stephen Sondheim and James Goldman hit a period of writer's block while writing Follies. The musical takes place in a department store, where poet Charles Snell (Anthony Perkins) hides until closing, eventually rejoicing at his newfound freedom. There he meets a group of people living in the department store, and meets Ella, a young girl that was kept as a servant since she was lost by her mother in the hat department. Charles, Ella, and all the others cannot leave, due to the presence of the menacing and mysterious "dark men". Coming at just under an hour, this is the perfect horror-thriller-romance mall musical to watch on a rainy day.
6. Peter Pan Goes Wrong (2016)
Can be found on: BroadwayHD
What is a stage manager's worst nightmare? A show going wrong. The Mischief Theatre Company has capitalized on this concept, and all of their shows are meant to be destroyed. In Peter Pan Goes Wrong, the Cornley Polytechnic Drama Society has secured a spot on the BBC to perform their production of Peter Pan. Set pieces break, lines are mixed up, and everything falls apart by the end. Coming in at just under an hour long, this TV version of Peter Pan Goes Wrong is a great special for holidays, larger family gatherings, or casual nights in.
7. The Rocky Horror Picture Show (1975)
Can be found on: Prime Video
If you haven't seen Rocky Horror yet, you're missing out.
A parody of old horror movies and tropes with a queer twist, Rocky Horror follows Brad and Janet (Barry Bostwick and Susan Sarandon), a white-bread couple whose car breaks down in the middle of the woods. When they go to the nearby castle to call for help, they get sucked into the world of Dr. Frank N. Furter (Tim Curry) and his science projects.
Considered a cult classic, this movie is always good to watch late at night with friends, and eventually in a shadowcast setting (once things are back to normal!).
8. Mamma Mia!
Can be found on: Peacock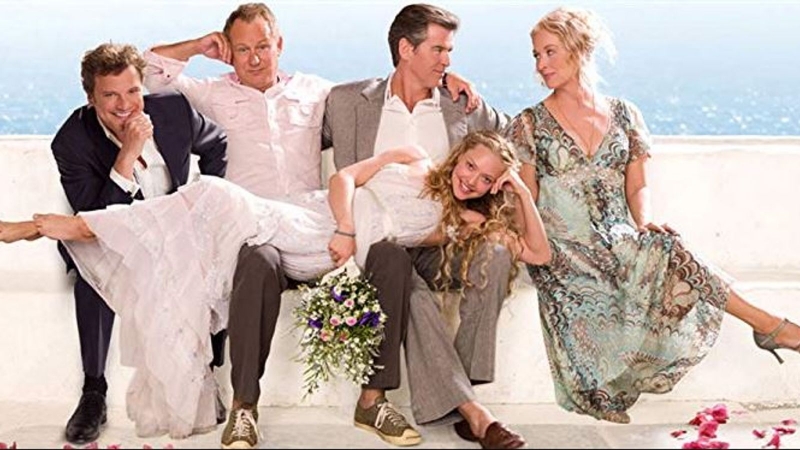 Mamma Mia! is a true classic at this point, despite only being a decade old. Sophie (Amanda Seyfried) is about to get married, and she wants her father to be there to give his blessing. When she finds out there are three men instead of one, she invites them all - and the story continues! With Meryl Streep, Christine Baranski, and Julie Walters, this movie is star-studded, and is the perfect movie to watch with the family during summer break.
9. Falsettos (2016)
Can be found on: BroadwayHD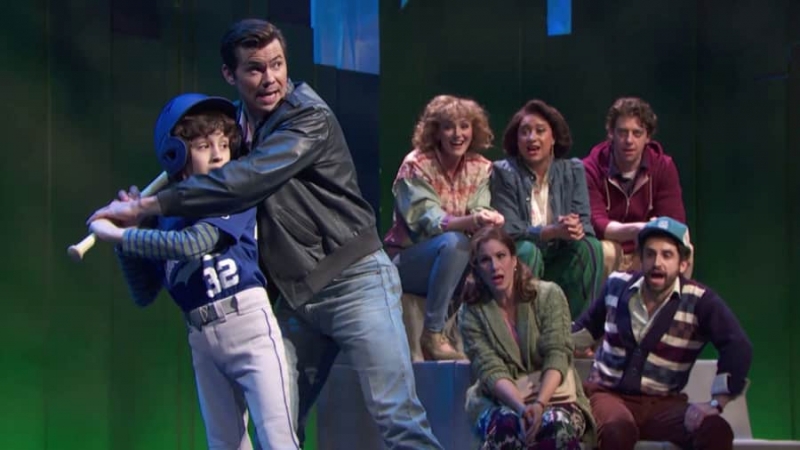 From the Lincoln Center Theatre: "FALSETTOS revolves around the life of a charming, intelligent, neurotic gay man named Marvin, his wife, lover, about-to-be-Bar-Mitzvahed son, their psychiatrist, and the lesbians next door. It's a hilarious and achingly poignant look at the infinite possibilities that make up a modern family... and a beautiful reminder that love can tell a million stories."
Coming in at just under 2 hours and 30 minutes, this is a great weekend watch with your partner or family - the story is unique, heartfelt, and the production is a must-see.
10. Angels in America (2017)
Can be found on: National Theatre at Home
Angels in America is an epic that first premiered in 1991 with Millennium Approaches, and in 1992 with Perestroika. This play, while definitely a good read, is also a good watch with this 2017 production.
Prior Walter (Andrew Garfield) has been diagnosed with AIDS in 1985. His partner, Louis (James McArdle), leaves him due to guilt, and crosses paths with Joe (Russel Tovey), a clerk and confidante to Roy Cohn (Nathan Lane), powerful Republican lawyer with ties to Donald Trump. Joe's wife, Harper (Denise Gough) is an agoraphobe and a drug addict, struggling with religious identity. A convergence of sorts occurs, and Prior is visited by the Angel of America (Amanda Lawrence).
With the whole play coming in at around 8 hours long, it is best consumed in the home as a miniseries - similar to how the 2003 TV miniseries is structured. Each part has three acts and two intermissions, which makes 6 episodes out of the two-play epic. There is so much that I cannot fit into a succinct description, so I always recommend people watch the play themselves.
11. Possibly in Michigan (1983)
Can be found on: YouTube
This short opera film is not for the faint of heart - Cecelia Condit's cannibal horror consists of unsettling visuals and vocals, creating a sense of unease throughout the whole experience. I first watched this film in early 2019 after a friend recommended it. I was thoroughly shaken.
The film follows Sharon and Janice as they shop their way through a mall, being stalked by a mysterious man wearing a mask. They discuss violence, perfume, a poodle's untimely demise, and more.
I would consider this film/opera to be one of the great feminist horror works of the 20th century, discussing beauty, stalking, and neuroticism. This surreal work is truly unique, and if you have a taste for horror, this may be your next favorite theatrical short film.
Have you planned your next movie night? What will you be watching?
Much Ado gif from: hdstwn on tumblr
Header and icon created with assets from Canva