New Salem Witch Trials Play Comes to Haverhill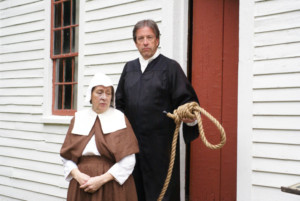 An original play "Saltonstall: One man's stand against Salem witch trials" will debut on November 1-4, at the Chester Hawrylciw Theater on the campus of Northern Essex Community College in Haverhill, Mass.
The play tells the true, courageous story of Nathaniel Saltonstall who was appointed to the panel of judges tasked with trying dozens of witchcraft cases as fear gripped the region. It was an honor to be appointed, yet after only one trial Saltonstall resigned in disgust. He became one of the earliest voices against the hysteria despite knowing it would threaten his career, his family, and even his life.
New Hampshire author Michael Cormier wrote the original story and the play is by Cormier and Director Myriam Cyr. Cormier grew up in Haverhill and the bulk of the research was done at The Buttonwoods Museum that was once the Saltonstall estate. Along with capturing the hysteria of the time in Salem the play beautifully incorporates the local setting overlooking the Merrimack River.
Cyr, a founder of Punctuate4 Productions, has extensive professional credits in theater and film as an actress, director, and author. She starred opposite Al Pacino in his theatrical production of "Salome" and on film, she appeared in the horror film "Gothic" and as Ultra Violet in "I Shot Andy Warhol." Most recently, she performed and directed "Moving Bodies" at the Theater for the New City in New York City.
"It is a great honor to shed light on this side of the story. The witch trials remain one of the most intriguing historical events of our nation. Very little is known, testimonies are often inaccurate or biased and profoundly unjust," said Cyr. "In a society where cows had a higher legal status than women, due process for these 'creatures' was not ever truly a consideration. Only one judge, Nathaniel Saltonstall had the courage to stand for truth before scores of innocent victims were sent to their deaths."
The cast includes experienced actors from Portsmouth, N.H. to Sharon, Mass. The creative development team includes Myriam Cyr, Patricia Jamison, Robert Kerrigan, and Cat Stramer.
The staged workshop production of "Saltonstall: One man's stand against the Salem witch trials" will have five performances November 1, 2, 3 at 7:30 p.m. and November 3 and 4 at 3:00 p.m. It is supported in part by a grant from the Haverhill Cultural Council.
It is a rare opportunity to see a new work that captures a critical moment in local history with a story that is as relevant today as it was three centuries earlier. Tickets are $18 in advance or $25 at the door, Chester Hawrylciw Theater, Spurk Building, 100 Elliot St., Haverhill. To reserve seats go to www.punctuate4.org.
About Punctuate4 Productions: The Punctuate4 Productions is a North Shore non-profit organization designed to educate, entertain, and promote the arts and culture in every form for all ages in Massachusetts and beyond. We stimulate, promote, and develop interest in the dramatic and literary arts; develop, produce and present theatrical and other dramatic and literary works in various forms and formats to the general public and audiences of all ages. www.punctuate4.org